You're dealing with actual cash value (ACV) policies.
That means the insurance is only paying for small repairs, or they're paying like $10,000 to $12,000 on an insurance claim for a $20,000 roof replacement. And that can happen on the retail or the insurance front.
When it does, it's up to US to then flip these into retail jobs.
Now, if you're working insurance claims, whether it's hail, wind, or hurricane, sometimes, you may struggle because of these ACV plans — or because the repairs are paid marginally, and you just can't go anywhere with it.
So, you need to flip it to retail. Often, this turns into a race to the bottom.
And many folks who are really good at selling an insurance job aren't that great on the retail front.
Well, that's going to change because I'm going to teach you how to:
Approach the ACV or repair jobs
Turn them into retail projects so you can actually WIN the business
Before we get started, I first want to say welcome or welcome back. My name is Adam Bensman, The Roof Strategist. Everything I do here — and on my YouTube channel, Instagram, and my podcast (on Apple and Spotify) — is designed to help you and your team smash your income goals and give every customer an amazing experience.
And the same applies for my all-in-one sales training, sales strategy, and sales system, the Roofing Sales Success Formula & Complete Sales Strategy. It works for both storm and retail, and there are currently thousands of people across the U.S. using this, from itty-bitty companies to some of the top 100 roofing companies in America.
Now, let's get into these ACV and repair jobs and how to flip them into retail.
FREE "Pitch" Like a Pro Roofing Sales Training
240+ Video Library for Storm and Retail
For Roofing Sales Reps & Owners With New Hires: All the training you need to be a "million dollar" closer!
Get Instant Access FREE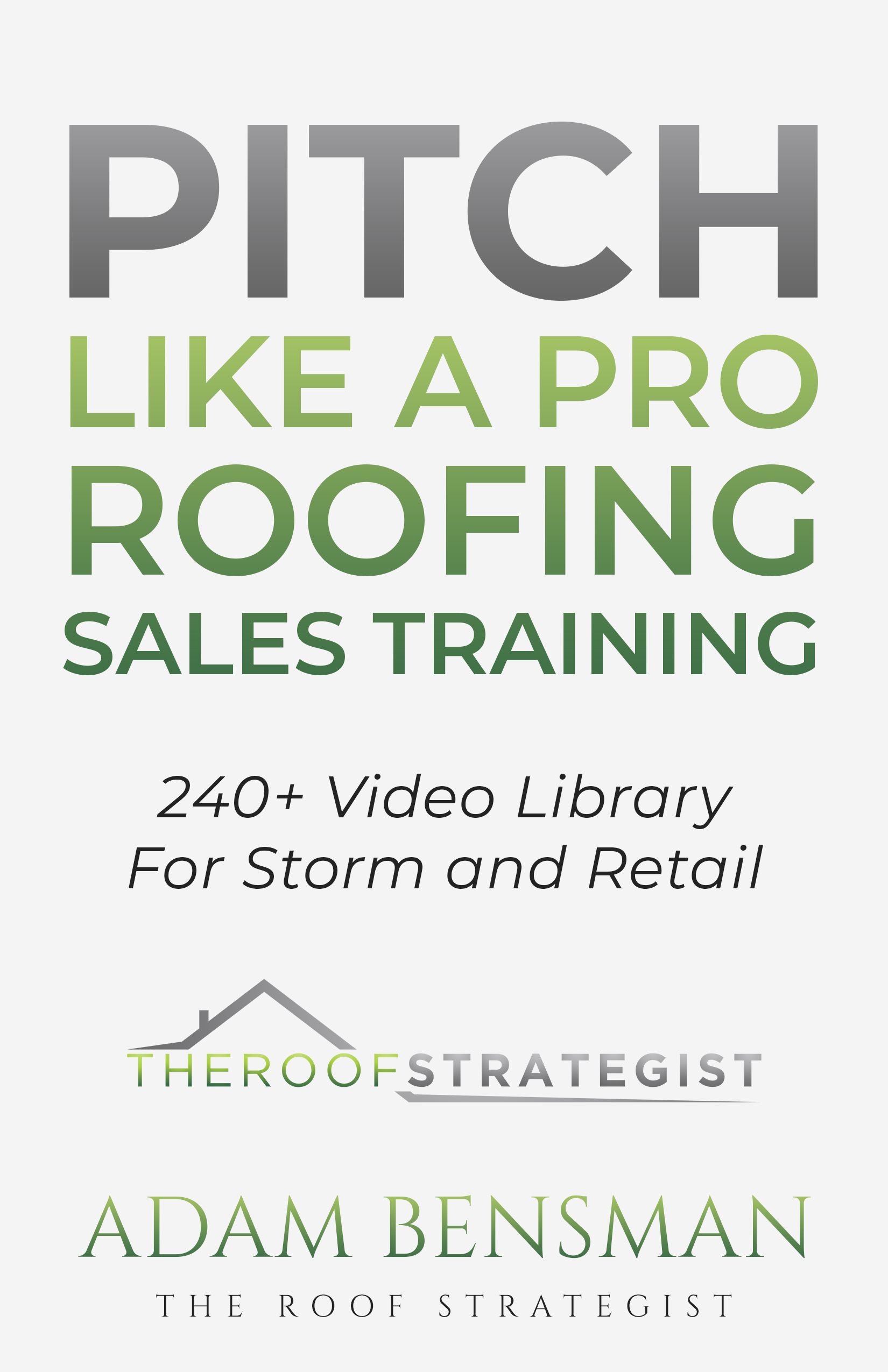 How to Approach ACV & Repair Jobs
First, let's cover some groundwork. We need to approach the sale as insurance first.
Why?
Because this is how we're going to showcase our expertise and our value.
Now, this is one of the reasons why I believe every roofing sales rep should use contingency agreements (and I have an entire playlist of videos on How to Use the Contingency Agreement as a Closing Tool).
I know some people don't agree with me on that, and that's cool. If it ain't broke, don't fix it.
But as we approach the insured, the homeowner with an insurance claim, we can position our expertise and the value we provide as an expert in:
Insurance restoration
Hail damage
Storm damage
Roofing Sales Script for ACV & Repair Jobs
When we approach ACV and repair jobs from the insurance side of things, we can say something like this to homeowners:
Hey, Mr. And Mrs. Homeowner, we're not just a roofer.
What we're able to do for you is meet with the insurance carrier and identify ALL the items that are damaged or need to be repaired in order to get your roof put back together into pre-loss or pre-storm condition.
And we understand not only the roofing technical side but also how this whole process works using Xactimate. That's the software that most insurance carriers use.
So, even though you may have an actual cash value policy, my mission is to help reduce those expenses for you as much as humanly possible by getting absolutely everything identified on the roof.
Now, as we go through this and you meet with that adjuster, you might get those first round of repairs.
But this is where we showcase our value. We can:
Supplement
Bring those repairs up as high as possible in a way that's 100% reasonable and due to the homeowner
Remember, if the homeowner were to pursue just the repair, they need the proper compensation and line items on the estimate. You will be able to help them with that to bring down the replacement cost value (RCV).
ACV & Retail Roof Jobs: How to Become the Contractor of Choice
So, let's just say there's a retail bid that you're going to provide, and they're paying out of pocket.
Your actual cash value might start low, but the higher you make it, the less the homeowner will have to pay out of pocket.
That's why we want to approach this from the insurance side of things.
It lets us showcase our expertise and our value.
Now, I know what you might be thinking, Hey, well, how do we secure this job? How do we make sure that the homeowner doesn't flip to someone else?
Technically, we can't hold their toes to anything. And you can't sign a contingency agreement for a retail project.
But we CAN start the relationship off right, with the proper expectations.
Now, with those proper expectations, there's an opportunity to overcome one of the biggest objections that that homeowner is going to have — and that's price.
Therefore, you are likely going to be the contractor of choice as you develop a relationship with the homeowner because you have:
Showcased the value you provide
Reduced that out-of-pocket expense for the homeowner
Demonstrated your expertise
And you're more likely to now get that retail job.
How to Flip to Retail
How are we supposed to flip from the insurance side into retail?
We want to take a very similar approach as we did on the insurance side, but there's one key difference.
And that difference is who is footing the bill.
Now, what do I mean when I say, "flipping to retail"?
First, we need to overcome the BIGGEST objection homeowners have, which is who will do it the cheapest.
And this is why I always teach in my Car Park Closing Formula to overcome the biggest objection — the price — right out of the gate.
What most homeowners don't realize is that:
A roof estimate is not apples to apples: In fact, it's apples to French fries or apples to oranges.
Price does NOT equal value when it comes to estimates for their roof: Homeowners will want to compare prices and estimates, but going for dollar for dollar isn't going to serve them best.
How to Flip to Retail: Educate the Homeowner About Roof Estimates
I want to ask you a question right now. Do you believe in your heart of hearts that you are the absolute BEST contractor to do the job, win the business, take care of the customer and do the right thing — stand behind your work and give them an amazing experience?
Hopefully, you're sitting there thinking, HELL YEAH, absolutely!
In that case, it's your responsibility and your ethical duty to communicate this clearly to the homeowner, so (s)he can make a smart decision and not just choose the lowest-dollar amount, thinking they're getting the same or the best value.
So, it's through this process that I:
Explain how estimates are prepared
Go through each and every line item, walking through line item by line item
Point out the contractor is accountable for doing each and everything on that estimate
With a lump sum estimate for just a few bucks, there may be just has a few line items — like remove and replace the roof. And homeowners will look at that and think, Oh, well, I want to go with that one.
BUT what the homeowner does not realize is that it is up to the contractor with a cheaper estimate to:
Cut corners on the install
Reuse certain materials, like flashing or edge metal
So, we need to:
Educate the homeowner on what to look for in an estimate
Break down the fact that many contractors DUPE homeowners into thinking, Hey, we're a better value because we're cheaper.
What to Ask to Bring the Pain, Show Your Value & CLOSE
The homeowner needs to understand what's actually being done and to help them with that we do NOT want to tell them anything — we want to ASK questions like:
Did the other contractor tell you what grade of shingle they're using?
Did the other contractor talk about what type of ice and water shield or W-metal they're using in the valley?
Or how many rows of ice and water shield are they using?
What about the type of Ridge cap? Are they reusing the pipe jack flashing?
Are they replacing the roof-to-wall flashing or step flashing? What about the edge metal?
Did they give you a choice of edge metal color?
When you start asking these questions, the homeowner can't answer because they don't know.
This is how we bring the PAIN to help them realize they have a problem. After all, people buy things when they have a problem and they need to seek a solution.
So, our mission is to:
Educate the homeowner about the difference between line item versus lump sum estimates
Ask those questions to open the wound, so that homeowners realize, Oh my gosh! I might be about to make a horrible choice.
I'll even ask the homeowner:
Hey, would you be comfortable writing a $20,000 check for a kitchen remodel if you didn't know what kind of cabinets or countertops you'd be getting?
NO is what they say, and their roof's the same. You just don't see it.
I'll also ask:
Are you comfortable writing a $20,000 check to a company that has ZERO accountability because there's nothing listed on the estimate?
Again, NO, is what homeowners will say.
With our detailed estimate, which is why you need to provide a detailed estimate line by line (think of it like an Xactimate scope gone retail):
There's full transparency and accountability.
The homeowner knows exactly what they're getting.
They don't end up trusting a roofer who's going to reuse 20- or 30-year-old flashing.
Recap: How to Flip from Insurance to Retail in Roofing Sales
Now, let's quickly review how we're going to flip from insurance to retail. To do this, we need to:
Focus solely on approaching this from the insurance perspective to bring the value, showcase our expertise, and, most importantly, build that relationship with the homeowner (and, yes, time could be wasted here, but this is sales. You're not going to win everyone, but when you build that relationship the right way, and you WILL showcase that value.)
Collect the highest ACV possible
Educate the homeowner about what to look for on estimates
Ask questions that are very challenging to answer
By doing this, you can present your retail estimate and close the deal.
Get More Roofing Sales Strategies, Tips & Videos
If you want more on closing, canvassing, pitching, or any other topic in roofing sales, check out my all-in-one sales training, sales strategy, and sales system, the Roofing Sales Success Formula & Complete Sales Strategy.
This exclusive program covers everything from knock to close, with packages for individual roofing sales reps and entire teams. Many roofing sales companies LOVE this program because it's a consistent process to train everybody on a relatable sales system that WORKS and that's a lightning-fast way to get results.
If you have questions, just call or text (303) 222-7133 for more info or a private demo.
You can also subscribe for the latest roofing sales training videos and/or get a copy of my Pitch Like a Pro roofing sales training video library. It includes every roofing sales video I've ever done, organized by category, along with a bunch of tips, tricks, and more. It's great for new people and seasoned veterans, and it's updated all the time to help you and your team smash your income goals and give every customer an amazing experience.
And don't forget to check out my Marketing Battle Pack for instant access to 70+ pieces of my proven, turnkey roofing sales and marketing materials. It's an entire suite, specially designed for sales teams, managers, and owners, providing:
Scripts
Scheduling
Direct Mail Letters
Door Hangers
Goal Projection Planners
A LOT more!
It's affordably priced and comes with a 100% money-back guarantee. There's also a playlist of instructional videos in there, explaining every single thing. So, you can watch the videos, and you'll know exactly what to do.
Thanks for joining me, and I look forward to sharing more with you in the next blog.