So, how much should you actually be making in roofing sales?
What should you be earning if:
You're brand new to the industry?
You're a seasoned sales veteran, with 1, 2, or 10 years of experience under your belt?
If you're wondering what you should be taking in and how you compare with others, that's EXACTLY what I'm going to cover here.
Roofing Sales Income & Commissions: Disclaimer
First, one ground rule — I want you to throw out that thinking that fixates on the question, how do I compare to others?
Why? Because some great things are happening in our industry. People are coming together, bringing integrity and honor back to roofing sales and drowning out those scumbags who've given all of us a bad name.
With that, there's been an emergence of activity online, like Facebook groups and discussions. And I see a lot of chat out there, which is really good stuff, by the way.
Still, when people are celebrating wins, we start sizing ourselves up, and it can paint a false sense of reality, making us think that:
Everybody's doing all these amazing things.
I just sit here and suck.
And that is NOT the case.
After all, roofing sales is personal development in disguise. Write that one down.
I'll be the first to tell you I don't really care that much about roofs. In fact, I really don't care about roofs at all. I'm not passionate about it. What I AM passionate about is this industry and the opportunity it presents for us to jump in and literally have a game of personal development.
And as we get better at communication — and at sales, organization, discipline, time management, and conflict resolution — we end up:
Serving more customers
Landing more sales
Making more money
So, you have to embrace the journey. You have to embrace the suck as the endurance and adopt an athlete's perspective, saying to yourself, Hey, I'm in this to just get better each and every day.
Remember, we all come in at different places with different backgrounds, and someone may earn twice what you did in their first year, but it doesn't matter because it's not YOU.
So, all I want you to do is:
FOCUS ON YOU.
Concentrate on what you need to do to get better and move the needle every day.
By the way, thanks for joining me today. My name is Adam Bensman, The Roof Strategist. Everything I do here — and on my YouTube channel, on my podcast (on Apple and Spotify), and in my Roofing Sales Success Formula & Complete Sales Strategy  — is designed to help you and your team smash your income goals and give every customer an amazing experience.
Now, let's dive in.
FREE "Pitch" Like a Pro Roofing Sales Training
240+ Video Library for Storm and Retail
For Roofing Sales Reps & Owners With New Hires: All the training you need to be a "million dollar" closer!
=
Get Instant Access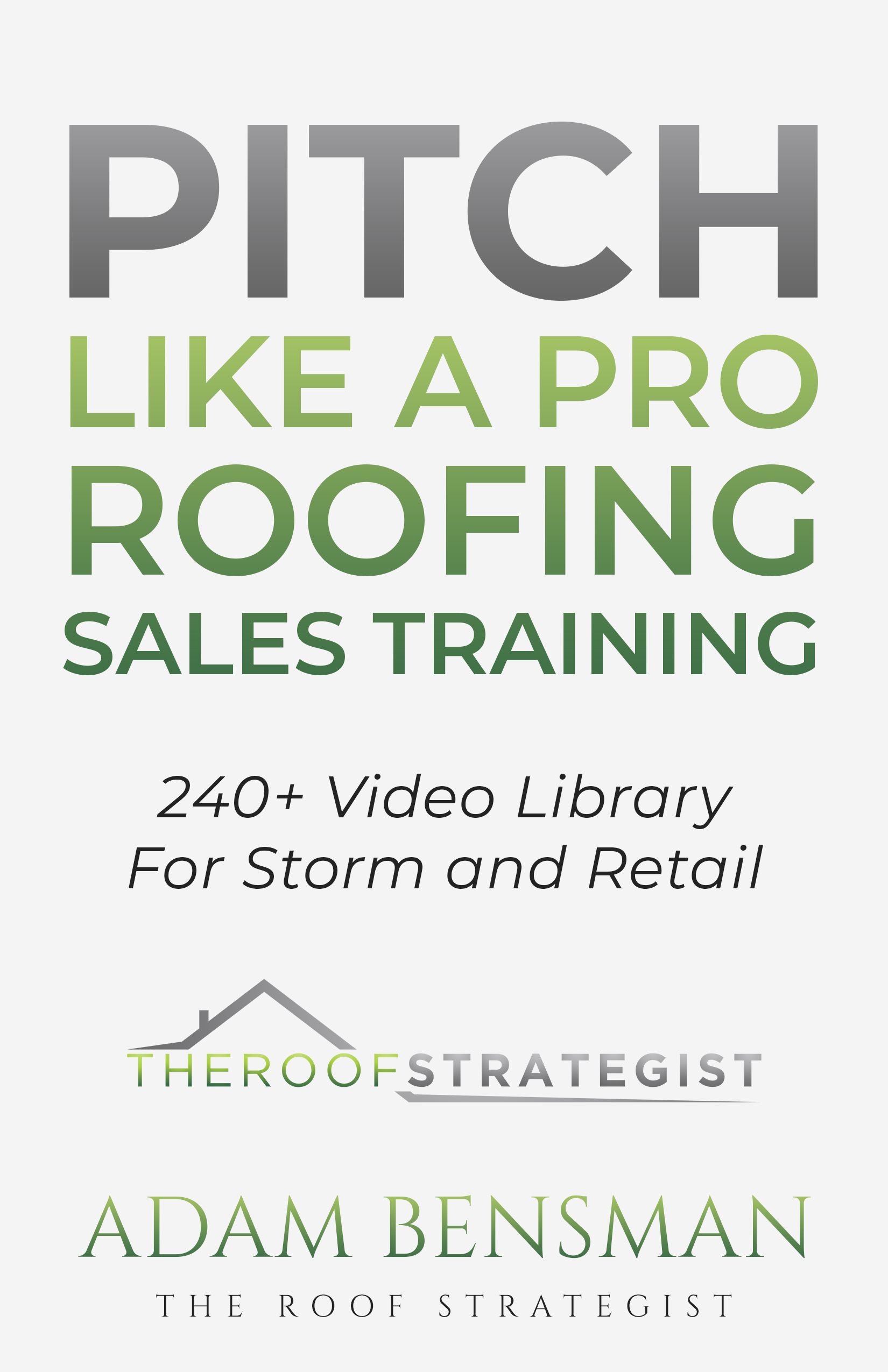 Roofing Sales Income: How Much Should You Be Making Now?
Truthfully, I believe that anyone who's a decent to good fit in roofing sales should earn a minimum of $75,000 a year. Now, some people don't, and some people struggle.
In fact, one gentleman, Caleb, struggled for several months, getting denial after denial (I've mentioned Caleb a few times before — and Caleb, I appreciate you because your story is really inspiring).
So, Caleb got on a streak where he made some sales and would then get denied, and it was just this roller coaster. Door after door would get slammed in his face. That happened for 4 to 5 months.
Still, Caleb was relentless. He didn't quit. Then, 3 months after turning 21, Caleb made his first six figures while still in his very first year in this business. It's wild. And, unfortunately, many people quit too soon.
So, I believe $75,000 is a reasonable first-year goal. Realistically, though, $100k is also realistic on the low end, and $150k would be around mid-range.
Now, I have worked with some folks who've done up $300k in their first year, and that's on the high end. And I just had dinner with a gentleman who left a job as a schoolteacher and earned $450k in his very first year in roofing sales. So, again, crazy story, almost half a million dollars in his first year.
Will everyone do that? No, only the very top salespeople will do that.
So, I want to break this down a bit to:
Substantiate these numbers
Help you see where you shake out in all of this and why
Again, $75,000 is the minimum to cover what you give in terms of the schedule, the hours, the stress, the expense, and the wear and tear to your vehicle. If it were me and I were not earning at least $75,000, I would just get a job elsewhere. Even if I'd earn less than $75,000, I'd have fewer costs.
So, that's my threshold for figuring out if you're a good fit for roofing sales, and it averages out to about one sale a week. If you're truly working full-time and if you're not doing one sale a week, it's not a good fit. That's my opinion.
And if you're actually out there working, you should be doing more. If you're not:
It does NOT mean you should quit.
You need to take a hard look at this and ask yourself, Am I the right person for this?
If you are the right person, it means we need to start fine-tuning some of those sales skills.
Again, roofing sales is personal development in disguise. You're going to get better at time management. You're going to have a pipeline, with more referrals from the previous year.
So, I'm going to break down some of the factors behind these numbers you see thrown out online. This is going to help you understand what's really going on, especially if you're tempted to compare yourself (it's human nature after all).
Roofing Sales Income Factor #1: W2 vs. 1099
If you get a W2, you're an employee of a roofing company. That means:
Your employer has a higher cost to have you on as an employee: I believe there's a 7.5% tax that employers have to pay.
You get more stability: For example, you can go buy your first home. If you were an independent contractor, you'd have to wait to accumulate two years of tax history before that's possible.
You may get paid less, but you get more benefits: Many roofing companies offer employees benefit plans, perks, and other protections that a 1099-ed worker doesn't get.
Alternatively, 1099 workers usually get higher commissions because they cost the company so much less.
Roofing Sales Income Factor #2: Location
The price of a roof in Mississippi is VERY different than the price of a roof in Minnesota, Texas, or Florida. In fact:
In Mississippi, roof prices are far lower than they are in Minnesota or Florida.
Right now, the cost per square in Minnesota and Florida is probably about double that in Mississippi and Texas.
So, there's more profit in locations where roof prices are lower. Plus, we have to remember the size of the roofs being sold.
I have some guys in south Texas who are on average $10,000 while the folks up in Minneapolis are at $22,000.
So, location and roof size matter.
Roofing Sales Income Factor #3: Retail vs. Storm
Storm deals can be really BIG, and they're often easier to do at a high volume because:
There's an established need.
Those roofs are damaged.
On the other hand, with retail, we have to go create the need. Not everyone needs a new roof.
Roofing Sales Income Factor #4: Leads
Are you self-generating your leads? Are you out knocking on doors?
Or is your company setting those appointments?
Imagine if you had to go set every single appointment and generate your own leads. That's going to take WAY more time than if you had an appointment setter and you literally start your day looking at your calendar to figure out where to go.
Roofing Sales Income Factor #5: Your Responsibilities
Some companies run a project from cradle to grave, meaning from the minute you sell the job, EVERYTHING that happens — from ordering the material to managing production, cleaning up, and invoicing — is done by you. It's more time-consuming, but your commission will be higher.
Alternatively, other companies focus on keeping salespeople selling. That's it. You turn in deals, and the office staff handles the rest. With fewer responsibilities, there can be a little lower commission because you have a lot more time to focus exclusively on selling.
That's why it's so important for you to understand what kind of person you are.
If you're horrible at math, managing details, or managing your time, you definitely do NOT want to be selling for a company where you're doing everything cradle to grave.
If you're an amazing salesperson, you just want (and need) to be out front of people. So, you probably want to go to a company that's got leads. And in retail, you can just plug in, just show up, have conversations, close deals, and move on to the next one.
So, you need to really zero in on what's a good fit for you. By the way, if you're new to roofing sales, I've done videos on How to Choose the Right Roofing Company to Sell for and The Brutal Truth of Roofing Sales, in which I break down what those realistic expectations are and the aspects of this career that people just don't talk about.
Recap: How Much You Should Earn in Roofing Sales
Wrapping it all up, realistically $75k is the minimum you should earn in your first year in roofing sales. That is absolutely doable, and $150k is a reasonable mid-range target.
And as you see and hear about others' income — and as you think about your own — remember these key considerations:
W2s vs. 1099s
Location (where you're selling, including the size of the roofs and the profit margins in your market)
Retail vs. storm
Whether leads come in or you're self-generating them
Your responsibilities
Get More Roofing Sales Strategies, Scripts, Tips & Videos
If you want more on any topic in roofing sales, you'll find it in my all-in-one sales training, sales strategy, and sales system, the Roofing Sales Success Formula & Complete Sales Strategy.
This exclusive program covers everything from knock to close, with packages for individual roofing sales reps and entire teams. Many roofing sales companies LOVE this program because it's a consistent process to train everybody on a relatable sales system that WORKS and that's a lightning-fast way to get results.
If you have questions, just call or text (303) 222-7133 for more info or a private demo.
You can also subscribe for the latest roofing sales training videos and/or get a copy of my Pitch Like a Pro roofing sales training video library. It includes every roofing sales video I've ever done, organized by category, along with a bunch of tips, tricks, and more. It's great for new people and seasoned veterans, and it's updated all the time to help you and your team smash your income goals and give every customer an amazing experience.
And don't forget to check out my Marketing Battle Pack for instant access to 70+ pieces of my proven, turnkey roofing sales and marketing materials. It's an entire suite, specially designed for sales teams, managers, and owners, providing:
Scripts
Scheduling
Direct Mail Letters
Door Hangers
Goal Projection Planners
A LOT more!
It's affordably priced and comes with a 100% money-back guarantee. There's also a playlist of instructional videos in there, explaining every single thing. So, you can watch the videos, and you'll know exactly what to do.
Thanks for joining me, and I look forward to sharing more with you in the next blog.