I don't want to replace my roof. It's just going to hail again in a few years.
Have you heard this objection before?
Yes — that's my guess if you live in an area like Texas that gets repeatedly hit by hail. You'll even hear homeowners say this when they have higher deductibles.
Now, this topic was inspired by Marty, who commented on one of my YouTube videos, asking:
Adam, how do I get past this objection?
If it's just going to hail again later, why would the homeowner do something NOW?
Well, I'm going to give you a few punchy points to:
Communicate the facts to a homeowner.
Help you encourage them to take action today.
After all, our job as ethical salespeople is to:
Lay out all the information.
Act as a guide to help homeowners make the best decision for them.
NOT force them to make decisions (no one can force those decisions).
Provide the RIGHT information to help people make that BEST decision.
That is what we'll be covering today.
Before we get started, I want to say a quick welcome or welcome back. Adam Bensman, The Roof Strategist, here, and everything I do here is designed to help you and your team smash your income goals and give every customer an amazing experience.
So, if you like this video and you want more sales training, sales strategies, and sales tactics — maybe even some conversations about what it's like to be in roofing sales and how to maintain the right mindset to perform at a high level and earn a high income — then I invite you to join me right now inside my FREE training center.
Just click that link — there's absolutely NO catch, and it includes training for owners and managers too.
Now, let's get started.
FREE "Pitch" Like a Pro Roofing Sales Training
240+ Video Library for Storm and Retail
For Roofing Sales Reps & Owners With New Hires: All the training you need to be a "million dollar" closer!
Get Instant Access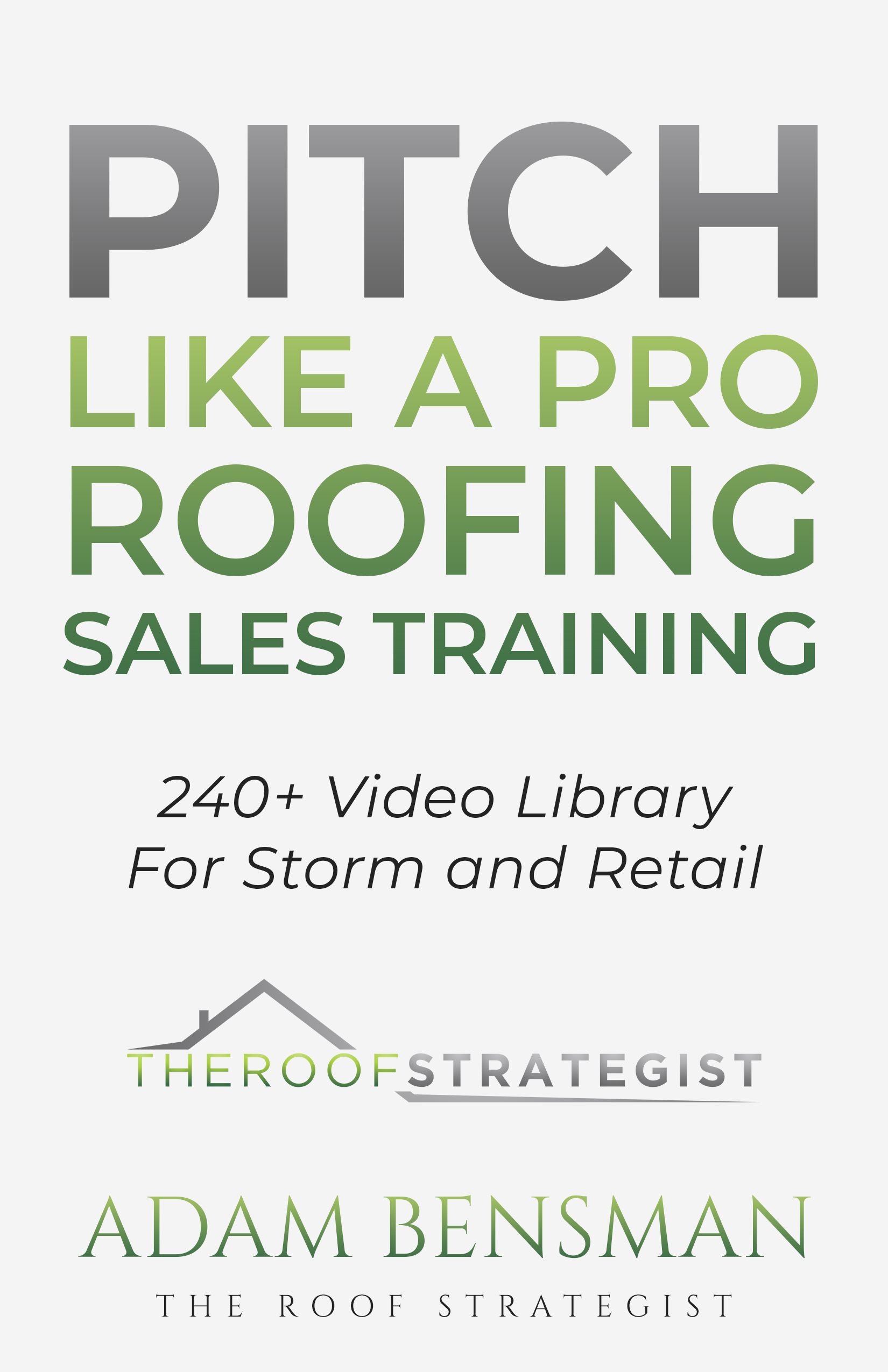 Hail Objection in Roofing Sales: What the Homeowner Thinks
To get past the hail objection in roofing sales, first, we need to understand what's going through the homeowner's mind when they see us.
To the homeowner, our logos ALL say the same thing — they say, "I SELL ROOFS." So:
The homeowner greets you.
They don't want to take action on their roof today.
You're the person that makes money selling roofs.
With that, if you start to overcome the objection with a rebuttal, which is a combative way of overcoming this objection:
The homeowner's going to feel cornered.
They're going to fight back.
They're going to think, feel, and/or say, "You're NOT going to force my decision. It's going to hail again. You know it, and I know it. Don't yank on my leg. I'm not doing anything."
So, instead of going with the combative approach, we need to acknowledge them and their concerns. To do that, we need to say something like:
Yes, it probably WILL hail again.
The problem is we don't know where, we don't know when, and we don't know how bad it will be.
I think we all can agree on that because that's the TRUTH.
So, step one is acknowledging reality before we go any further. With that, it's easier to tango with someone via rebuttal because we agree with them.
How to Overcome the Hail Objection in Roofing Sales: Share 2 Facts
Now, we're going to lay out information for the homeowner to help them understand the facts. I'm going to share a lot of different angles of attack for you here, so you can grab the right tool for the job.
Again, you're not going to use a hammer for a screw, so take ALL this information to heart. That way, you can pick which information to use to overcome that objection in the exact situation that customer is facing.
So, here are the facts we need to share with homeowners who raise this hail objection with us.
Roofing Sales Fact 1: Insurance policies CHANGE.
The reality is that insurance companies are changing their policies left and right. This seems to be spreading like wildfire.
This explanation is going to create MORE URGENCY for a homeowner to take action NOW. It taps into the legitimate fear that things will be more expensive in the future.
And we're NOT manipulating or making things up when we say that. In fact, here's how we can explain this to homeowners:
I agree with you, Mr. Homeowner, that it very well could hail again, and we don't know when that will be. It may be next year — or it may be 5 or 10 years from now.
The reality is that insurance companies' policies ARE changing.
In fact, in Florida, this is happening A LOT when roofs hit a certain age.
The carriers are DROPPING homeowners saying, 'We will only renew you if you get a new roof.'
So, if you don't take action today, the carrier could come back and say, 'Oh, you know what? By the way, at 10 years, we're NO LONGER INSURING YOU, unless you buy a new roof.
You HAVE to go out of pocket to buy a new roof.'
So, if you don't do anything, you might not get insured.
Then, you have to buy a new roof out of pocket.
That is reality number one.
Roofing Sales Fact 2: Roof prices are going up.
The second reality to share with homeowners is all about cost. The truth is in today's economy:
Rates are increasing ~5% to 12% per quarter.
Over a year, that's about 4 to 5 rate increases.
The price of roofing is going up nearly two times every five years.
So, a $20,000 roof today will be a $40,000 roof in five years.
Now, if this homeowner who just got hit with hail and says, "I don't want to do anything about this. It's going to hail in five years," and they do decide to wait five years, they could end up getting a letter from their insurance company saying:
We're dropping you unless you get your roof replaced and it's new.
At this point, you're coming out of pocket, not with $20,000 but with $40,000 for that new roof.
So, not only are insurance companies changing their policies, with rates increasing all the time, but we're also seeing trends in ACV policies, with a percentage of home value or special deductibles for hail or wind.
In fact, I heard recently — and please take this with a grain of salt because I can't fact-check this — that insurance carriers are working on a different way to write exclusions for hail or wind claims, which is basically roof damage.
They're making the roof a percentage of home value and calculating that in a way that they can basically come back and say:
The roof was basically worth the same amount as the deductible.
The roof's no longer insured after a hail, wind, or hurricane event.
Roofing Sales Hail Objection How to Create the Need to ACT NOW
If the homeowner who has an opportunity to get a new roof today waits — and if their policy doesn't get renewed, the insurance company can come back and say:
With our new policy, you have a percentage of home value, meaning your roof's not insured.
That means that:
You have a $5,000 deductible now.
In five years, you're paying out of pocket, and the price of that roof will now double and be $40,000.
Once you share that, you can then ask:
So, do you want a roof today?
If your insurance company does end up changing your policy after 10 years and you need to replace your roof, this could really help you.
After all, your new roof meets those requirements because you just did it.
But if you don't do anything and then your roof gets damaged, you're essentially paying retail prices out of the gate.
Now, if homeowners knew this information, backed up by your own stories of being in the field, they will be FAR more likely to do something TODAY to avoid that really big loss in the future.
So, we need to:
Communicate this in a real-world, relatable experience.
Share what we've seen and how we've helped customers who've been in the SAME situation.
When we share this, we create real urgency for a homeowner to make that decision.
Those are just a few different ways to overcome the hail objection in roofing sales.
Want More Roofing Sales? Or Training For Your Team?
We've helped thousands of sales reps overcome the same sales challenges you're probably facing. Like not getting enough leads, getting stuck on objections, or not closing sales in the house.
Learn how we can help you:
Get trained up in a lightning-fast 9.5 hours
Self-generate more leads
Become a confident closer
Pick a time for your 1-on-1 demo.
Or use the links below to get instant access, 100% Risk Free! Backed by our 30-Day 'NO BS' Money Back Guarantee.
Thanks for joining me, and I look forward to sharing more with you in the next blog.