I want to wait until storm season ends.
You probably hear this A LOT, especially from homeowners in really competitive markets where it hails very frequently. If we get these hailstorms earlier in the season:
Many homeowners are resistant.
They could literally be instructed by their insurance agent or the claims hotline to wait until the end of storm season to file a claim.
And thank you to one of my YouTube subscribers for inspiring this topic with a comment on one of my recent videos (Roofing Sales Objection: I Don't Want to File a Claim).
So, I'm going to teach you 3 different angles of attack to overcome this roofing sales objection — "I just want to wait until the end of storm season to file a claim."
Before we get started, though, I first want to say welcome or welcome back. If you're new, I'm really glad to have you here.
My name is Adam Bensman, The Roof Strategist. Everything I do here — and on my YouTube channel, Instagram, my podcast (on Apple and Spotify), and in my all-in-one sales training and sales system currently used by thousands — is designed for one purpose.
And that is to help you and your team smash your income goals and give every customer an amazing experience.
So, if you haven't already done it, subscribe to my videos, so you can get notified about every new video I create.
Now let's get into this.
FREE "Pitch" Like a Pro Roofing Sales Training
240+ Video Library for Storm and Retail
For Roofing Sales Reps & Owners With New Hires: All the training you need to be a "million dollar" closer!
Get Instant Access FREE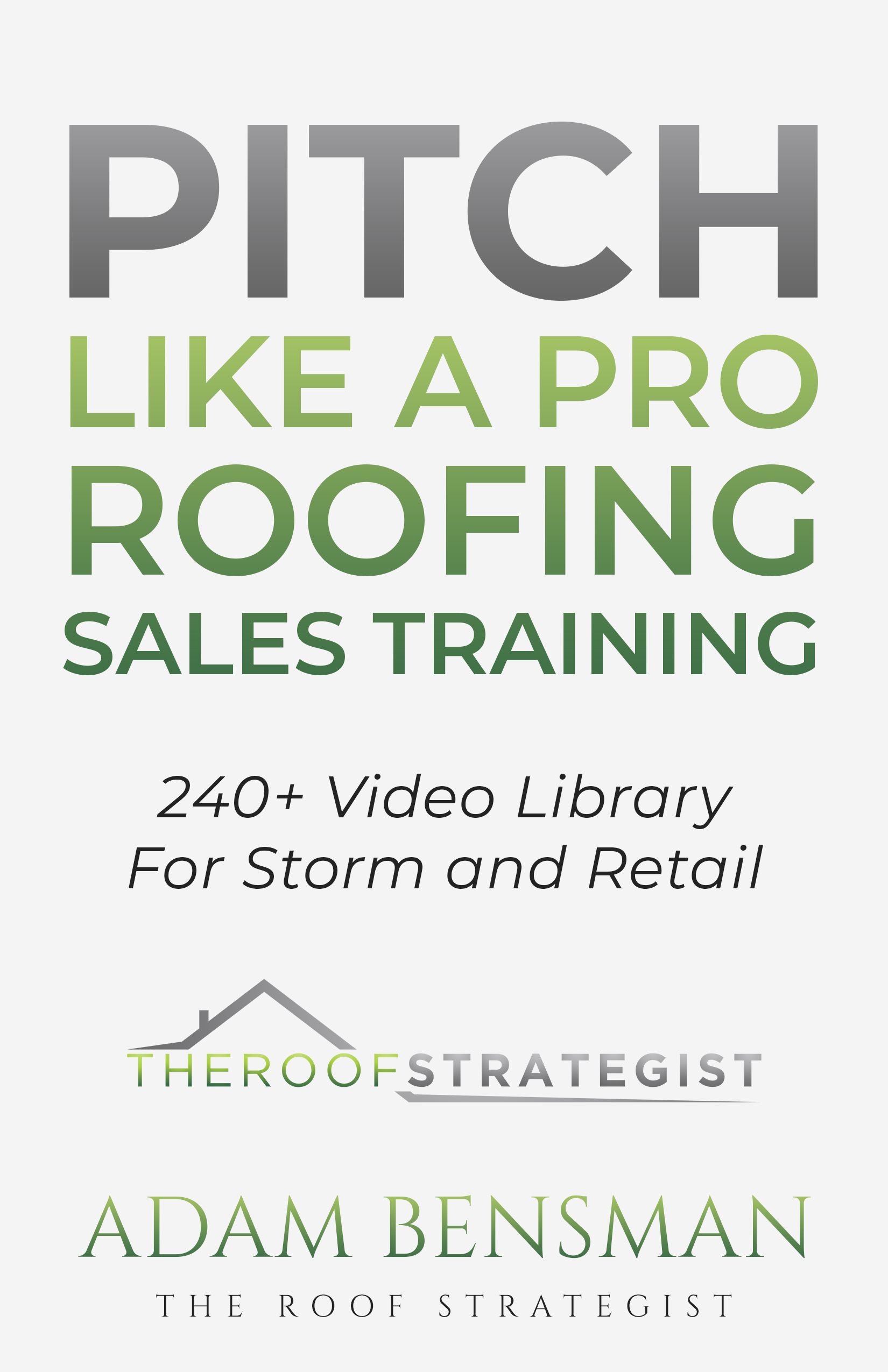 Angle of Attack #1: Ask When Storm Season's Over
This is obvious, but it's often overlooked. And it's simply to ask the homeowner this:
When is storm season done? When is storm season over?
Why do we just want to ask such a simple question?
Well, for many of us, we want to use urgency. We want them to sign NOW and get this claim filed NOW, but we don't really know what kind of information we have.
After all, if someone says storm season's over in four weeks and they think, Oh, I'm just going to wait, that's an easier objection to overcome than if they want to wait eight more months.
So, asking the simple question, When is storm season over? is the first approach to overcoming this objection because it will put all the facts at our disposal.
Now, again, if they say they want to wait three weeks to a month, we can speak to that using the levels of urgency that I'm going to be bringing up here as points number two and three.
So, again, as a reminder:
Acknowledge them and their concerns.
Reassure them that you're happy to help.
Overcome (or start to overcome) the objection by asking that question, When is storm season over?
By the way, not everyone knows the answer to this one.
Angle of Attack #2: Ask Who Covers Price Hikes
The second angle of attack to overcome this waiting objection is to ask about price. Specifically, ask the homeowner this question:
Hey, did the insurance provider discuss with you who'd be responsible for any potential price increases that occur between now and then?
Now, this I've done a video on How to Use Urgency to Close More Sales Right Now. The reality is we've been seeing more price increases these days than we have in the past.
Usually, it's once to twice per year. Now, since 2020, we're getting:
Price increases quarterly. That's FOUR times a year.
Price hikes between 7 and 20%.
So, we have a 7 to 20% quarterly price increase. That's factual information. And many insurance companies are battling contractors on this because, even though the scope said one thing, the roof got done four months later after prices increased by 20%. That is significant on the cost side.
So, when we supplement the right way, we are usually able to get the insurance carrier to take ownership and pay for that.
But the truth is that:
It's often a battle.
Homeowners aren't really equipped to navigate these price changes, especially if they're trying to play games, keep the insurance company at arm's length, and get an estimate from the contractor, only to find that the price goes up later.
Our job is to eliminate what they don't know and explain that:
There could be a 20% rate increase.
That extra cost could fall on the homeowner if the insurance company plays games, homeowners don't have contractors on their side, or if homeowners just don't know the truth.
So, again, I just want to simply say something like this to the homeowner:
Hey, I understand you want to wait, and I respect that.
May I ask, did your insurance company state who'd be responsible for any material increases that occur between now and then?
Today's rate increases are pretty high. We've been seeing quarterly rate increases of about 7 to 20%, and I'd hate for the price to go up 20% in the next few months.
If the insurance carrier tells you to wait and, suddenly, prices go up, you could end up paying $3,000 or $4,000 more for the same roof.
We just don't want to see that happen.
So, that is an effective strategy to overcome the waiting objection while creating the sense of urgency to get the homeowner to act and file that claim.
Quick Summary: 2 Ways to Overcome the Waiting Objection in Roofing Sales
When homeowners say, "I want to wait to file a claim until storm season is over," respond with two questions, asking:
When is storm season over? This gives you an opportunity to hear their ideas and explain what you really know about storm seasons.
Did the insurance company talk to you about the rate increases and who pays for them? This lets you educate the homeowner about costs and create a sense of urgency to get them to act now.
Angle of Attack #3: Explain Material Availability Issues
Now, the third strategy to overcome the waiting objection in roofing sales is to explain material availability issues. Again, these issues are all due to the current climate and the bottlenecks that we're experiencing in our supply chains.
So, educate the homeowner about this. Here's a roofing sales script you can use to easily explain supply chain issues to homeowners:
Listen, during these unprecedented times, we are seeing material shortages, supply chain issues, and manufacturers having their BEST years ever. They can't even keep up with demand.
We've also seen another one of the largest manufacturers restrict their color availability for production to feed who they can.
And this material availability becomes a very REAL issue.
Now, here's where we tie this in from an urgency standpoint. Let's say the homeowner waits to file a claim until the end of storm season. If they wait, say, 7 months from the date of loss, then:
The insurance company comes out.
They get the scope, now 7.5 months in.
The materials might be backordered.
What if they can't get in queue for 3 to 6 months? Now, if there's ANY delay, they could be waiting 5 months longer. Add that to the 7 months they've already waited, and the homeowner is now beyond the 12-month threshold to get the claim filed and get all the work done.
There's a 12-month statute of limitations here. By the way, that starts from the date of loss, meaning the date of the hail event, and it includes getting the work done and invoicing the insurance carrier.
Also, keep in mind these statutes of limitations differ by company and type of loss. They can range from 6 months to 3 years, depending on the state you're in and whether it's hail, wind, or hurricane damage.
So, if the homeowner drags their feet too long, and then they wait to select a roofing contractor, thinking they can just get it done:
They could run into material availability issues.
That could extend the wait far beyond the 12-month limit.
The homeowner may NOT actually be able to get the work done.
Recap: 3 Strategies to Overcome the Waiting Objection in Roofing Sales
Now, you have 3 really effective angles of attack to overcome the objection, "Hey, I just want to wait until storm season's over."
Again, to get past this objection, we need to:
Gather the facts and ask when they think the storm season is over: Do they think storm season will end in a month? Or do they believe it'll go on for another 7, 8, or 9 months? Either way, the next two angles of attack can help you educate homeowners and overcome this objection.
Ask about price increases: Do they realize roofing prices are increasing faster than ever? And do they know who's going to cover the higher costs if they wait? Homeowners can be stuck footing the bill for those price increases if they don't have a contractor helping them or if they don't understand how the process works.
Educate them about material availability issues: These issues, paired with delays in filing a claim, could put homeowners beyond that threshold. Even though they were trying to do right, they could end up being beyond the time constraints of getting that claim filed and getting made whole. Therefore, the full financial responsibility will end up landing on the homeowner.
So, next time a homeowner objects and says they want to wait for storm season to end before filing a claim, you now have 3 very powerful ways to respond, educate them, and overcome this objection.
Get More Roofing Sales Strategies, Scripts, Tips & Videos
If you want more on overcoming objections, closing, canvassing, pitching, or any other topic in roofing sales, check out my all-in-one sales training, sales strategy, and sales system, the Roofing Sales Success Formula & Complete Sales Strategy.
This exclusive program covers everything from knock to close, with packages for individual roofing sales reps and entire teams. Many roofing sales companies LOVE this program because it's a consistent process to train everybody on a relatable sales system that WORKS and that's a lightning-fast way to get results.
If you have questions, just call or text (303) 222-7133 for more info or a private demo.
You can also subscribe for the latest roofing sales training videos and/or get a copy of my Pitch Like a Pro roofing sales training video library. It includes every roofing sales video I've ever done, organized by category, along with a bunch of tips, tricks, and more. It's great for new people and seasoned veterans, and it's updated all the time to help you and your team smash your income goals and give every customer an amazing experience.
And don't forget to check out my Marketing Battle Pack for instant access to 70+ pieces of my proven, turnkey roofing sales and marketing materials. It's an entire suite, specially designed for sales teams, managers, and owners, providing:
Scripts
Scheduling
Direct Mail Letters
Door Hangers
Goal Projection Planners
A LOT more!
It's affordably priced and comes with a 100% money-back guarantee. There's also a playlist of instructional videos in there, explaining every single thing. So, you can watch the videos, and you'll know exactly what to do.
Thanks for joining me, and I look forward to sharing more with you in the next blog.