CONTINGENCY FEAR!
Homeowners can FREAK out when they see the paperwork come out. They don't want to be locked in, and they're concerned about owing you money.
This contingency fear keeps us from signing on the spot.
So, I'm going to teach you one of the most powerful sales strategies that pulls the levers of psychology to remove risk.
We call it risk reversal.
Why Risk Reversal in Roofing Sales?
Risk reversal means taking all of the worries, the fears, and the consequences away to give that homeowner an easy path to saying 'yes.'
Have you ever watched a late-night infomercial that promises a refund within the first 30 days? Something like "if you don't like your order within the first 30 days, call us, we'll refund you, and you can keep it for free"?
That's risk reversal. It's a money-back guarantee that basically provides a path to:
Put people at ease
Get people to see that they have nothing on the line or nothing to risk by taking action
So, I'm going to teach you a very simple strategy for using risk reversal with the contingency agreement because I know it's one of the biggest fears homeowners have.
If you use this strategy, you can put your homeowners at ease in a truthful, ethical way and earn their business.
Welcome or welcome back, by the way. My name is Adam Bensman, The Roof Strategist. And everything I do here (and on my YouTube channel, Instagram, and my podcast on Apple and Spotify) is designed to help you and your team at smash your income goals and give every customer an amazing experience.
And amazing experiences for customers mean they're comfortable, they're satisfied, and they're excited. And the reality is you CAN help them feel that way when you present the contingency agreement the right way.
Before we get started, I'd like to invite you to get your FREE copy of my Pitch Like a Pro roofing sales training video library if you don't have it already. It is full of videos on the contingency agreement, including an entire playlist devoted to the topic. When used effectively, those can be extremely powerful roofing sales tools.
Now, let's dive in.
FREE "Pitch" Like a Pro Roofing Sales Training
240+ Video Library for Storm and Retail
For Roofing Sales Reps & Owners With New Hires: All the training you need to be a "million dollar" closer!
Get Instant Access FREE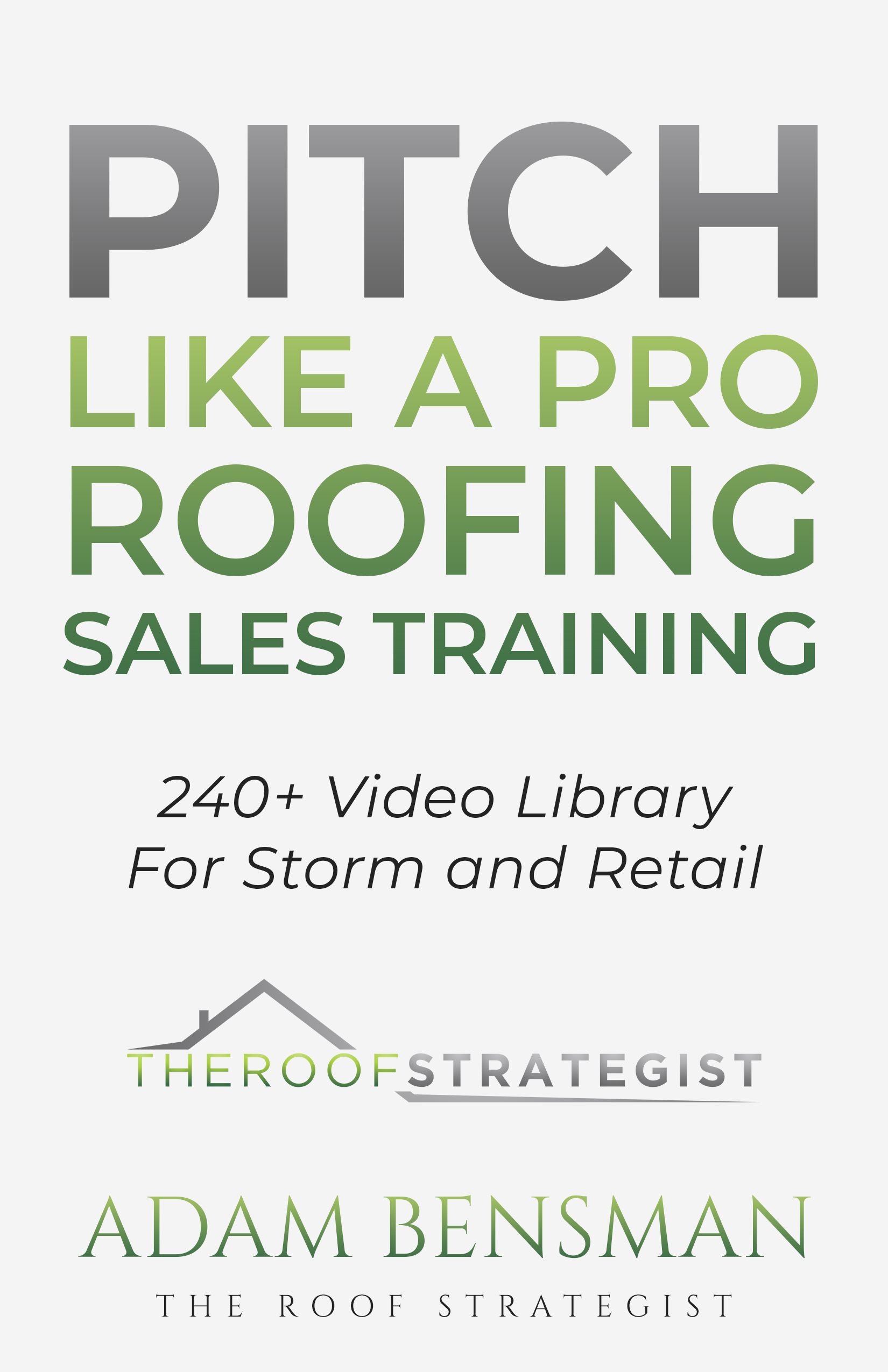 Contingency Agreements in Roofing Sales: It's All About How You Present It
I'm going to tell you a short story to highlight a key point about contingency agreements.
I worked with a gentleman in the Dallas area who only did the handshake deal. He didn't use contingencies. So, I asked him if he was getting cancelations, and he said 'yes.' And we sat down together and went through the contingency agreement, especially this piece I'm about to teach you.
Last time I met with him, he had signed six 80-square homes over the weekend using the contingency agreement. Now, he uses it all the time.
So, the reason I share this with you is it's ALL about how the contingency agreement is presented — and it's about presenting it in a way that is advantageous to the homeowner, meaning in it's their best interest, instead of ours.
After all, one of the golden rules of marketing is addressing the "what's in it for me?" question. That's what everyone's thinking — what's in it for me?
So, we need to present this information in a way that shows that it's ultra-valuable to the homeowner and that it's not about us.
Again, if you want to see that contingency agreement playlist, simply enter your name and email for free, instant to my Pitch Like a Pro video library.
Now, let's talk about the contingency agreement, homeowners' fear of signatures, and risk reversal.
Overcoming Contingency Objections in Roofing Sales: Put Yourself in Their Shoes First
The very first thing we need to do is get out of our own head and get into the mind of the homeowner to know exactly how they're feeling. This, by the way, is one of the BEST things that we can learn to do when we're in roofing sales (and, quite frankly, it's a skillset that I think everyone should develop).
So, let's say you are the homeowner in this scenario.
What are you, the customer, feeling when you're faced with signing something? You're probably experiencing concern and fear. And you're probably wondering:
Am I locked in?
Do I owe you money?
What happens if the roof doesn't get approved?
Do I have a contract now to replace my roof?
Am I required to use you?
These are all of the fears that are running through that homeowner's mind as they're signing something.
So, we need to turn this frown into a smile and alleviate their concerns. We need to explain why signing the contingency is a good, safe choice. And we do that by using the powerful strategy of risk reversal.
How to Present the Contingency Using Risk Reversal
Risk reversal is the process of removing those fears and turning that frow upside down into a smile, so homeowners feel safe signing the contingency agreement.
How do we do that?
First, we need to highlight the true potential outcomes. And those are the:
Best-case scenario: If all goes well, they get a new roof.
Worst-case scenario: If something goes wrong, the contingency agreement states that the project is 100% contingent on the insurance company proceeds. So, if the roof does NOT get approved, the homeowner does NOT owe us anything.
Now, here's the other good news. There's time, energy, and effort on our behalf that we don't bill for now but that provides value. We meet with the adjuster and the supplement team, and these are resources we use to get the roof done.
The other reality is that doing a roof on a cash-bid basis is more labor intensive, time intensive, and resource intensive. However, we understand that homeowners aren't going through something pleasant, and we do this to provide value and earn that sale.
So, in worst case scenario, the homeowner is no worse off. They're in the same position as before.
Now, let's walk through this using a roofing sales script.
Roofing Sales Script: How to Overcome Objections to the Contingency Agreement
Here's what you can say to homeowners who object to the contingency:
Mr. or Mrs. Homeowner, in the WORST-case scenario, the insurance company comes out and says there's not enough damage to cover the roof.
If that happens, you don't owe us. We do NOT bill you for the time, energy, and effort to do this because we believe we can truly help you. And you're no worse off. No harm, no foul.
And this contingency agreement will then become just dust in the wind. We all go our merry ways.
Now, the best-case scenario?
In the BEST-case scenario, you get a new roof. That means you're protected under a new material and labor warranty, which means your obligation is only your deductible. That's it.
Now, if you are using my all-in-one roofing sales training, sales strategy, and sales system, which includes the Battle Pack, you'll see the language I use to describe this is the "price-lock guarantee."
The price-lock guarantee states that the homeowner's ONLY obligation for the project is their deductible — no more, no less (unless there are elective upgrades or any rotted decking that may be discovered that the insurance company does not compensate for. Those are the only two exclusions).
By the way, if the policy's ACV, then you don't want to advertise this. You just need to make sure you have all your ducks in a row. You don't want to promise something you can't deliver.
So, to wrap it all up and make it easy for the homeowner to say 'yes' to signing the contingency, here's what you can say:
So, best-case scenario is a brand-new roof and a new warranty for just the deductible, and guess what?
We offer ALL of our services to make this happen for you for FREE.
But remember, the only way that we are able to work down this path is by becoming the contractor of choice to do the work.
So, for this reason, Mr. or Mrs. Homeowner, you truly have everything to gain and nothing to lose.
That closing line is of my favorites. And that's how you break down that worst-case versus the best-case scenarios.
And when you're closing with, You have everything to gain and nothing to lose. Does that make sense?, you're going to get that "yes." Then, follow that up by asking, "Would you like to move forward on this project with us?"
That's when we go into getting that signature and closing the contingency agreement.
Get More Roofing Sales Strategies, Tips & Videos
If you want more help with contingency agreements or anything in roofing sales, check out my all-in-one sales training, sales strategy, and sales system, the Roofing Sales Success Formula & Complete Sales Strategy. This exclusive program covers everything from presenting to closing. If you have questions, just call or text (303) 222-7133 for more info.
You can also subscribe for the latest roofing sales training videos and/or get a copy of my Pitch Like a Pro roofing sales training video library. It includes every roofing sales video I've ever done, organized by category, along with a bunch of tips, tricks, and more. It's great for new people and seasoned veterans, and it's updated all the time to help you and your team smash your income goals and give every customer an amazing experience.
And don't forget to check out my Marketing Battle Pack for instant access to 70+ pieces of my proven, turnkey roofing sales and marketing materials. It's an entire suite, specially designed for sales teams, managers, and owners, providing:
Scripts
Scheduling
Direct Mail Letters
Door Hangers
Goal Projection Planners
A LOT more!
It's affordably priced and comes with a 100% money-back guarantee. There's also a playlist of instructional videos in there, explaining every single thing. So, you can watch the videos, and you'll know exactly what to do.
Thanks for joining me, and I look forward to sharing more with you in the next blog.