A roofing sales success formula for entire teams?
Could this actually be a real thing?
ABSOLUTELY.
The formula for success in roofing sales is actually quite simple.
Why Do Roofing Sales Teams Need a Success Formula?
Imagine this. You have control of your team and every new hire who comes onboard, and you say:
Listen, I'm going to give you the step-by-step plan to follow to get you making the most sales.
This plan is tested, proven, and guaranteed to work to get you as efficient as humanly possible in the roofing sales field.
So, let's pump the brakes for a minute.
We all know that the biggest mistake that sales leaders make is to just say:
Hey, here's some basic training. Now, just get out there and go do it.
But what happens with that?
With just basic training, sales teams have to work really hard, and they try to figure it out.
That means that everyone is kind of starting from the ground up — and that there is this big, long learning curve.
FREE "Pitch" Like a Pro Roofing Sales Training
240+ Video Library for Storm and Retail
For Roofing Sales Reps & Owners With New Hires: All the training you need to be a "million dollar" closer!
Get Instant Access FREE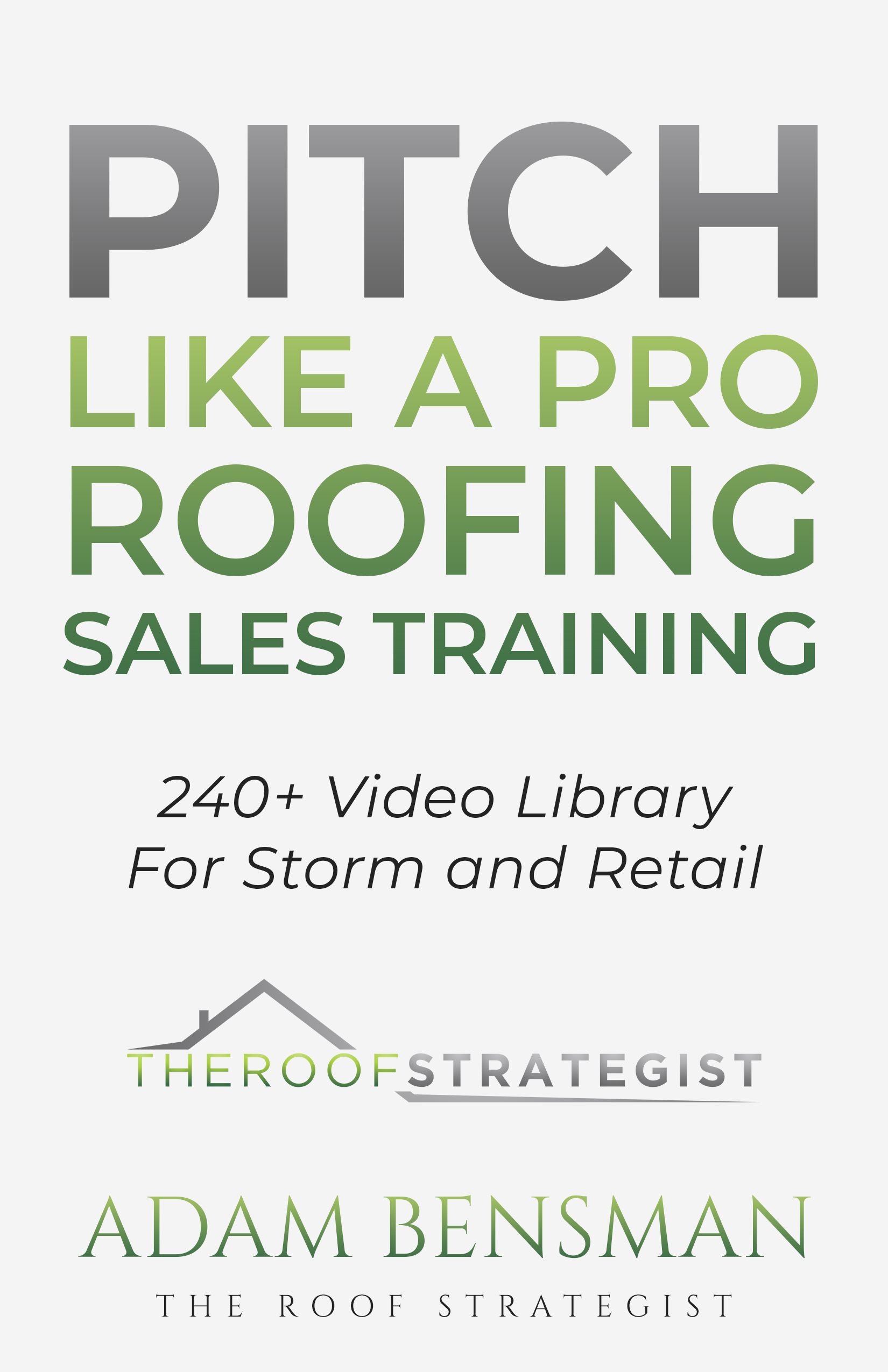 How the Roofing Sales Success Formula Levels the Learning Curve
Now, trial and error and learning from the ground up are not the only options here.
We can slash the roofing sales learning curve, throw it out, and give teams a literal formula for success.
In fact, with the Roofing Sales Success Formula, teams will know exactly:
How to generate leads
What materials to use to generate those leads
What to do when they get a new customer
What to do when the job is scheduled, on the install day, when the install is complete, and when the job's paid in full.
And by the way, the success formula gives teams the tools they need for each appointment.
It lays out precisely what to do to:
Bring home a closed deal
Effectively present for both storm and retail roofing sales
Bring up objections before the customer does
If your team has access to this Formula for success, everyone who's on your team now can learn and start using it. And everybody who comes on board in the future can quickly get up to speed and start using the Formula.
The results will be a high-performing team.
How to Get the Roofing Sales Success Formula
You can get the Roofing Sales Success Formula for your existing team (and any new hires) and try it out for 30 days.
How?
By checking out my Sales Team Plan.
It's backed by my 100% money-back guarantee, so you and your team can try it out risk-free.
When you do, I'll jump on a call with you and share more details. And we'll get each and every member of your team armed with:
A daily sales plan
A personal sales strategy
A personal closing strategy
These tools and strategies are going to flatten the learning curve and arm your entire roofing sales team with the know-how and skills to achieve their best possible performance.
Want More Roofing Sales Strategies, Tips & Videos?
Subscribe for the latest roofing sales training videos and get a copy of my Pitch Like a Pro roofing sales training video library. It includes every video I've ever done, organized by category, along with a bunch of tips, tricks, and more. It's updated all the time to help you and your team smash your income goals and give every customer an amazing experience.
Also, check out my Marketing Battle Pack for instant access to 70+ pieces of my proven, turnkey roofing sales and marketing materials. It's an entire suite, specially designed for sales teams, managers, and owners, providing:
Scripts
Scheduling
Direct Mail Letters
Door Hangers
Goal Projection Planners
A LOT more!
It's affordably priced and comes with a 100% money-back guarantee. There's also a playlist of instructional videos in there, explaining every single thing. So, you can watch the videos, and you'll know exactly what to do.
Thanks for joining me. I look forward to sharing more with you in the next blog.