Hey, Adam, here at The Roof Strategist. Today, we're going to talk about a sales tactic you can use to generate leads when:
Door knocking is dead: This can happen when you're late on a storm, so knocking on that door means you're going to get your teeth kicked in because you're the 100th person there.
You're in an area where the homes are very spread out: It can take forever to drive door to door in these areas, and it's just not an efficient use of your time.
So, when I'm in these situations, I find a creative way to fly under the radar and get the deal. And I do that with my "Under-the-Radar" Sales Letter, which I'm going to share with you here.
How No-Knocking Roofing Sales Works: 7 Steps
Getting leads without knocking on doors works a little differently than door-to-door roofing sales. Here's what I do:
I drive through the neighborhood and look for homes that have not had their roofs done yet.
When I see those, I write down the addresses precisely (remember to look at the mailbox if you can't find the home's street number). This is how we'll reach out without door knocking.
With those addresses in hand, when I'm sitting back at the office, maybe having a beer at the end of a long workday, I print out my Under-the-Radar Sales Letter. Now, I've tested this Sales Letter in multiple markets and multiple storms, and I have clients who have used this all over the country. Why? Because it reads like a personal letter. And it works.
I sign each letter by hand using blue ink. That blue ink pops and makes it look really personal and authentic.
I fold up each letter, put it in an envelope, and address each envelope by hand.
I hand stamp each envelope, putting the stamp on just a little crooked so that, again, it looks super personal. These little touches can make the difference in whether people notice, open, and read your letter.
I mail the letters out.
As you're driving around, you can easily grab 15 to 20 addresses a day. So, it really doesn't take much time at all. Plus, when you get people who call back, these turn into almost guaranteed set appointments. And the closing rate on these leads is insane!
FREE "Pitch" Like a Pro Roofing Sales Training
240+ Video Library for Storm and Retail
For Roofing Sales Reps & Owners With New Hires: All the training you need to be a "million dollar" closer!
Get Instant Access FREE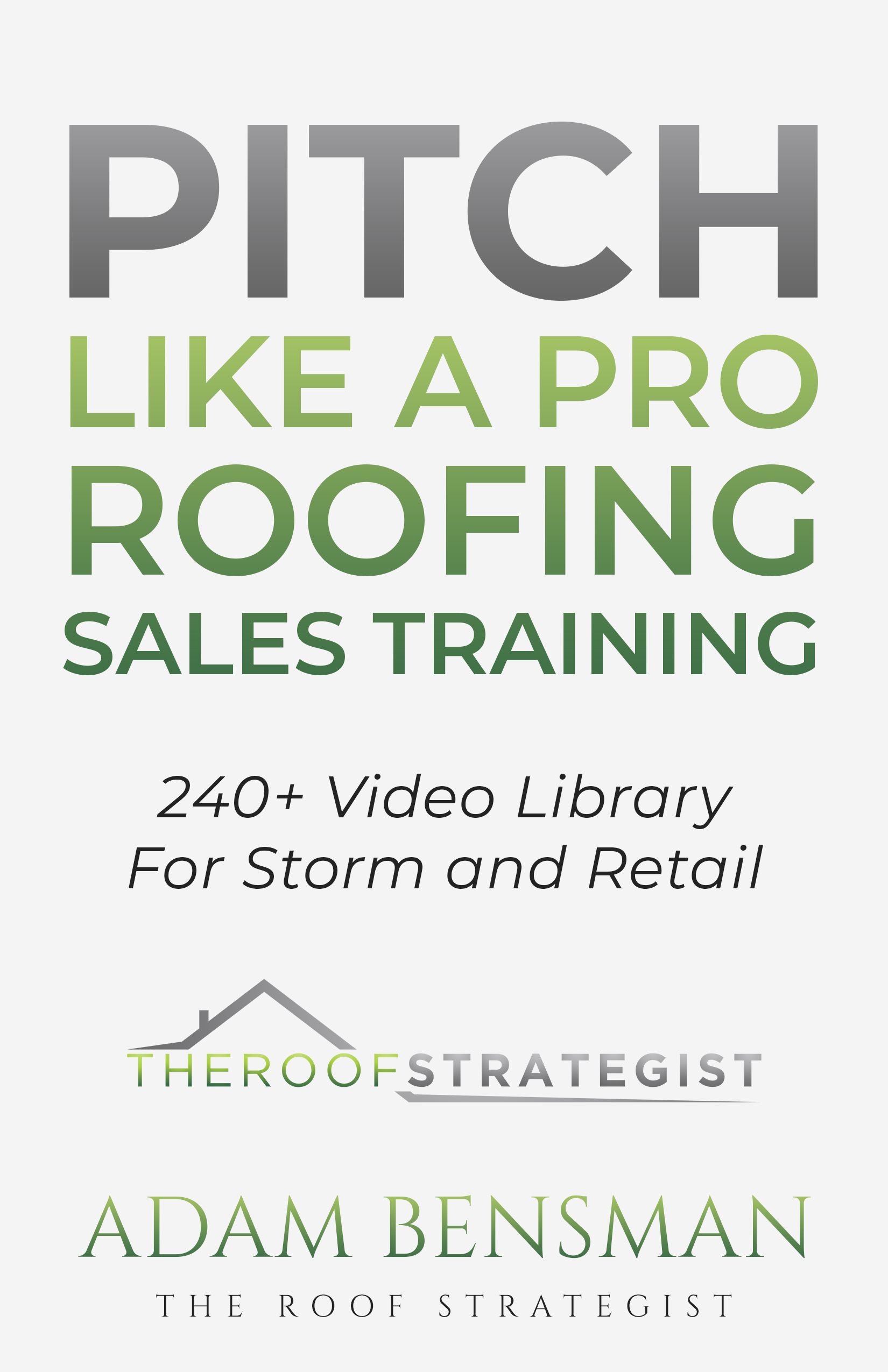 A Look at the Under-the-Radar Sales Letter
So, here's how the letter opens:
Dear Homeowner,
I just drove by your house on the way back from visiting my customer. I noticed your roof doesn't look like it's been done after the big hailstorm and wanted to offer my help.
Then, it explains that I can help no matter where they are in the process. If you're looking for more on the Four Stages of the Claims Process, click on that link to see my video on the topic. That'll help you really ace your pitch.
This letter has spaces for my phone number, my email address, and my name so that it's all super personal — and so that the Sales Letter reads like I wrote it directly to them.
If you want to get your hands on a full copy of this Under-the-Radar Sales Letter, it's part of my Marketing Battle Pack. You can instantly download it and easily customize it — simply fill in some blanks. Then, click Print, and you'll have your own Under-the-Radar Sales Letter to immediately start helping you get more sales.
So, whenever you're cruising around, write down those addresses. With the Under-the-Radar Sales Letter, those addresses are another way to generate HOT leads that will make you more money.
Want More Roofing Sales? Or Training For Your Team?
We've helped thousands of sales reps overcome the same sales challenges you're probably facing. Like not getting enough leads, getting stuck on objections, or not closing sales in the house.
Learn how we can help you:
Get trained up in a lightning fast 9.5 hours

Self generate more leads

Become a confident closer
Pick a time for your 1-on-1 demo.
Or use the links below to get instant access, 100% Risk Free! Backed by our 30-Day 'NO BS' Money Back Guarantee.
Thanks for joining me, and I look forward to sharing more with you in the next blog.