What do you do when you walk up to the house and they have a video doorbell or a security camera at the top corner of the door?
This CAN be an opportunity for you, even if you're kind of afraid of it and want to pretend it's not there.
Well, I'm going to teach you how to actually set appointments or even make sales, right through video doorbells in home security systems.
Now, this is an updated version from the last time I did a video on how to approach video doorbells.
Why?
Because I've trained even more people since then, and I've learned even more strategies. And the coolest part about what I do is I get to learn from everyone who I serve.
So, I have my ears to the ground.
And thousands and thousands and thousands and THOUSANDS of folks who are tuning into my YouTube channel, my Instagram, my podcast (on Apple and Spotify), and more are successfully applying these concepts.
In fact, here are a few quick success stories:
William emailed me recently, telling me that he'd been using my roofing sales training over the last month and a half, and it helped him make his first sales ever. He wrote, "Your training has helped me to get straight to the point with the most value, and I sold someone a roof. through her doorbell camera while she was at work. I knocked and pitched through her ring, using the SLAP Formula. She let me do the inspection, and when I came down, I let her know her options. Then, she told me to come by the next morning, so she could sign. I just want to say THANKS for your training! It's helped me learn a new industry and sell 10+ roofs since I started only six weeks ago." So, he was able to sell the deal through a ring camera.
Josh messaged me after watching one of my old videos. He wrote, "I ring the bell every time and schedule the inspection through the ring camera. It WORKS!"
A gentleman at this Owens Corning event that I was speaking at came up to me and said, "Adam, I learned that I'm on camera ALL the time, and I've found out how to use that in my favor!"
Now, I bring all of these people's experiences up because I believe that:
A rising tide lifts all boats.
The reality is most of the folks who lead our industry have gathered experience from working with other people.
So, instead of sharing what I've learned, I get to share what I've learned from supporting tens of thousands of people, whether it's online or at in-person training events.
With this experience, I want to share an updated version of how to sell or set appointments through video cameras.
First, I want to say welcome or welcome back. My name is Adam Bensman, The Roof Strategist. Everything we do here is designed to help you and your team smash your income goals and give every customer an amazing experience.
And my "WHY" — the reason why I do this — is that I've found that:
About 66% of first-year sales reps quit or get fired.
That's largely because they weren't equipped to succeed.
I want to change that. So, if you like this and want more, regardless of whether you're new to roofing sales or you're a seasoned rep looking for a leg up, I invite you to join me inside my FREE training center.
Just click that link or text the word "FREE" to (303) 222-7133, and we'll send you a link that gives you instant access.
Now, let's get to selling on ring cameras.
Ground Rules for Selling through Video Doorbells in D2D Roofing Sales
Before we dive in, here are three ground rules to set the stage for the discussion that follows:
We're ALWAYS on camera: In our modern world, we're on camera when we're driving. There are dash cams, police cameras at intersections, redlight cameras, tollway cameras, and cameras throughout the city. If we leave home, there are good chances we're on camera. In fact, pretty much every single commercial building has video cameras, and these days, many homeowners have cameras as part of their security systems.
We can take advantage of cameras: Knowing we're on camera means we can use this to our advantage, instead of hiding from it. I want to teach you how to use cameras to your advantage, even if the person is not home. And that's the coolest part. They don't even need to be home for this to work (and I'll be touching on that more in a bit).
We can get tactical with this: I'm going to show you how to put this all together.
Now, I've shared stories about Josh and William. William sold the deal because the person responded to the doorbell ring, and Josh scheduled the appointment after ringing the doorbell too.
But what if William and Josh went to a house where no one was home?
FREE "Pitch" Like a Pro Roofing Sales Training
240+ Video Library for Storm and Retail
For Roofing Sales Reps & Owners With New Hires: All the training you need to be a "million dollar" closer!
Get Instant Access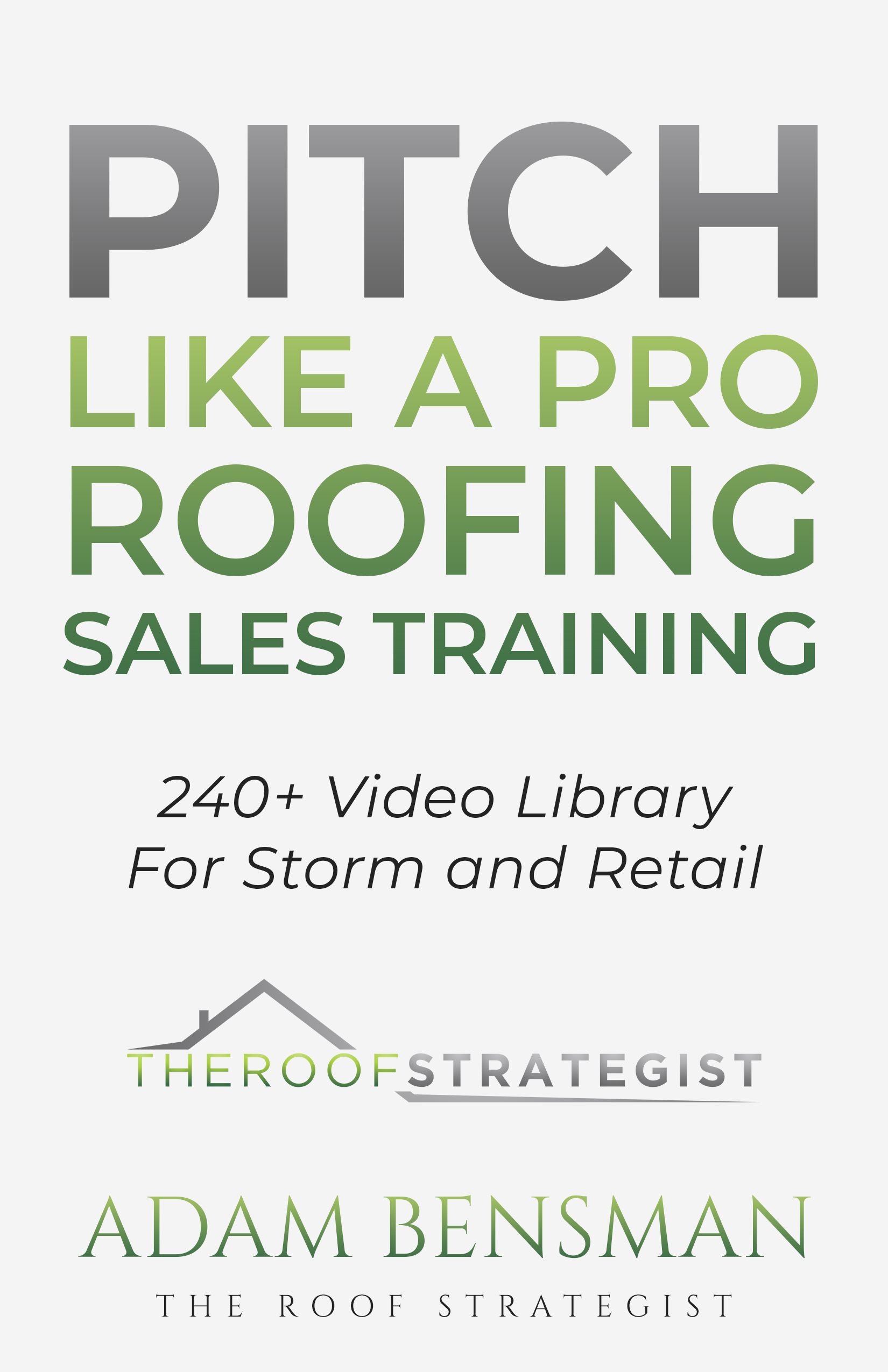 D2D Roofing Sales: How to Sell When No One's Home
I've been asked about this more and more recently — what to do when no one's home — and the solution here is really freaking cool.
Now, if folks aren't home and they have a camera at their door, these folks WILL watch those recordings, wondering:
Who showed up while I was away?
What did they want?
What did they say or leave behind?
For the most part, those recordings will feature delivery drivers who:
Don't acknowledge the camera.
Walk up, put the package down, and do whatever they need to do (like take a picture or something).
Leave.
So, what if we broke the norm? What if:
We captured their attention right there through the camera when they are watching that recording?
You could still do your pitch through the camera?
Now, there are a few different avenues to do this, and I'll teach you how right now.
How to Use the SLAP Formula to Sell via Video Doorbells
First and foremost, we need to use the SLAP Formula and act as if that homeowner has answered their door.
Why? Because this homeowner could:
Invite us back.
Contact us for a lead.
As we do this, we're going to leave behind letters (and I've done countless videos on this topic. Check out my playlist on How to Use Direct Mail Letters and Door Hanger Letters to generate more leads).
Now, I don't use those glossy door hangers that everyone else does because homeowners tend to see those as "marketing garbage," instantly tossing them in the garbage.
Instead, I use a plain piece of paper folded up with a kind little note that says:
Stopped by at 4:15 p.m.
– Adam
I also use blue painter's tape to stick my note to the door, so that it STANDS OUT.
How to Put It All Together: Roofing Sales Roleplay
Let's get into some roleplay, so you can see how it all works and what you can really do with this.
To get started, you're going to look at that camera that's at the door. Then, you're going to dive into your pitch, saying something like this:
Hey, my name's Adam. By the way, adorable garden. That gnome you have there is the cutest thing ever.
So, hey, listen, the reason I'm stopping by is that I've been talking to some of the folks here on Lexington Lane about their roof and that recent storm that hit the area.
I simply wanted to stop by and ask where are you guys at in the process?
Now, I'm sure you've been bombarded with roofers, and I do things a little differently. I left you a personal note with a little bit more information.
I'm going to go ahead and tape this to your door, so you can learn more. And my contact information is inside.
Now, I'd be honored to support you going forward. So, take a look at that letter and then reach out via text, call, or email, and we'll take the next steps from there.
Thank you so much, and I wish you the best. Goodbye.
Then, you leave, and here's what happens next:
When that homeowner gets home and they think, Wait a minute — I watched that recording. That guy was there.
The homeowner has seen your face. You've built that familiarity, you've had that touchpoint, and they've seen that note on their front door.
That homeowner is going to be CURIOUS. They're going to peel the note off the door, open it up, and wonder who put it there.
And that note explains why you stopped by, your offer, your pitch, and how to contact you.
So, even if they're not home, you CAN maximize your door-knocking efforts because:
They've seen you, and they've seen the letter.
They will either call you off the letter or they'll see you again when you show back up for that follow-up.
They are already familiar with you when they call or when you show back up. That can increase your likelihood of making contact, starting that conversation, getting the inspection, and, of course, getting the deal.
Now, you can leverage the ring video cameras, video doorbells, and security cameras, using them to help you deliver your pitch.
So, remember, as you approach that door:
Don't be shy.
Start complimenting things that you see because you're going to be capturing that homeowner's attention.
Take those opportunities to pitch to cameras because you can still make a great impression, set appointments, and close deals even if the homeowner isn't home when you knock.
Want More Roofing Sales? Or Training For Your Team?
We've helped thousands of sales reps overcome the same sales challenges you're probably facing. Like not getting enough leads, getting stuck on objections, or not closing sales in the house.
Learn how we can help you:
Get trained up in a lightning-fast 9.5 hours
Self-generate more leads
Become a confident closer
Pick a time for your 1-on-1 demo.
Or use the links below to get instant access, 100% Risk Free! Backed by our 30-Day 'NO BS' Money Back Guarantee.
Thanks for joining me, and I look forward to sharing more with you in the next blog.