If you're new in roofing sales or considering a career in roofing sales, I'm guessing you're wondering when should you go ALL IN?
Should you be doing this on the side of your full-time job, or do you try to split the difference and get a part-time gig?
Or maybe you're wondering how long is it going to take to start getting money rolling in?
Well, I'm going to answer all that and more here.
First, I want to say a quick welcome or welcome back. I'm Adam Bensman, The Roof Strategist. Everything we do here — and in my FREE training center and the Pitch Pro Movement — is designed to help you and your team smash your income goals and give every customer an amazing experience.
The fact that you're here tells me that you're EXCITED about:
Betting on yourself
Trying something new
Investing in a new career path that could absolutely transform your life and help you earn life-changing money
In fact, there are A LOT of roofing salespeople who hit the multi-six-figure mark in their very first year, sometimes earning even $300,000 in their very first year. Getting there is the hardest part, though.
So, I want to talk through a few of these different scenarios because everyone is going to have a different view and different comfort levels on what kind of risk they can take on.
When I Went All in with Roofing Sales: My Story
When I got into roofing sales in 2000, I was a massage therapist at a franchise and:
I was earning under $20,000 a year.
I was living on a strict $4.20/day budget for groceries.
I NEVER went out to eat.
Now, I was lucky enough to have squirreled away a little bit of money — I had roughly $2,000 saved up. That was about 6 to 8 weeks of cash flow for me to make this work.
At the time, many people were giving me advice, saying:
Adam, don't leave the "stability" of the massage therapy gig to go all in on this commission-only job.
It's door to door. Who does door-to-door sales?
And it's commission only! You have NO sales experience. It's roofing. You know NOTHING about roofs.
I get it. Those people truly loved me, and they wanted what was best for me.
Still, I knew in my heart of hearts, as I began calculating how our company worked, that I would likely earn MORE in just one roofing sale just in an entire month doing the massage therapy at that franchise I was working at.
So, I made this decision, and it was a very scary decision.
FREE "Pitch" Like a Pro Roofing Sales Training
240+ Video Library for Storm and Retail
For Roofing Sales Reps & Owners With New Hires: All the training you need to be a "million dollar" closer!
Get Instant Access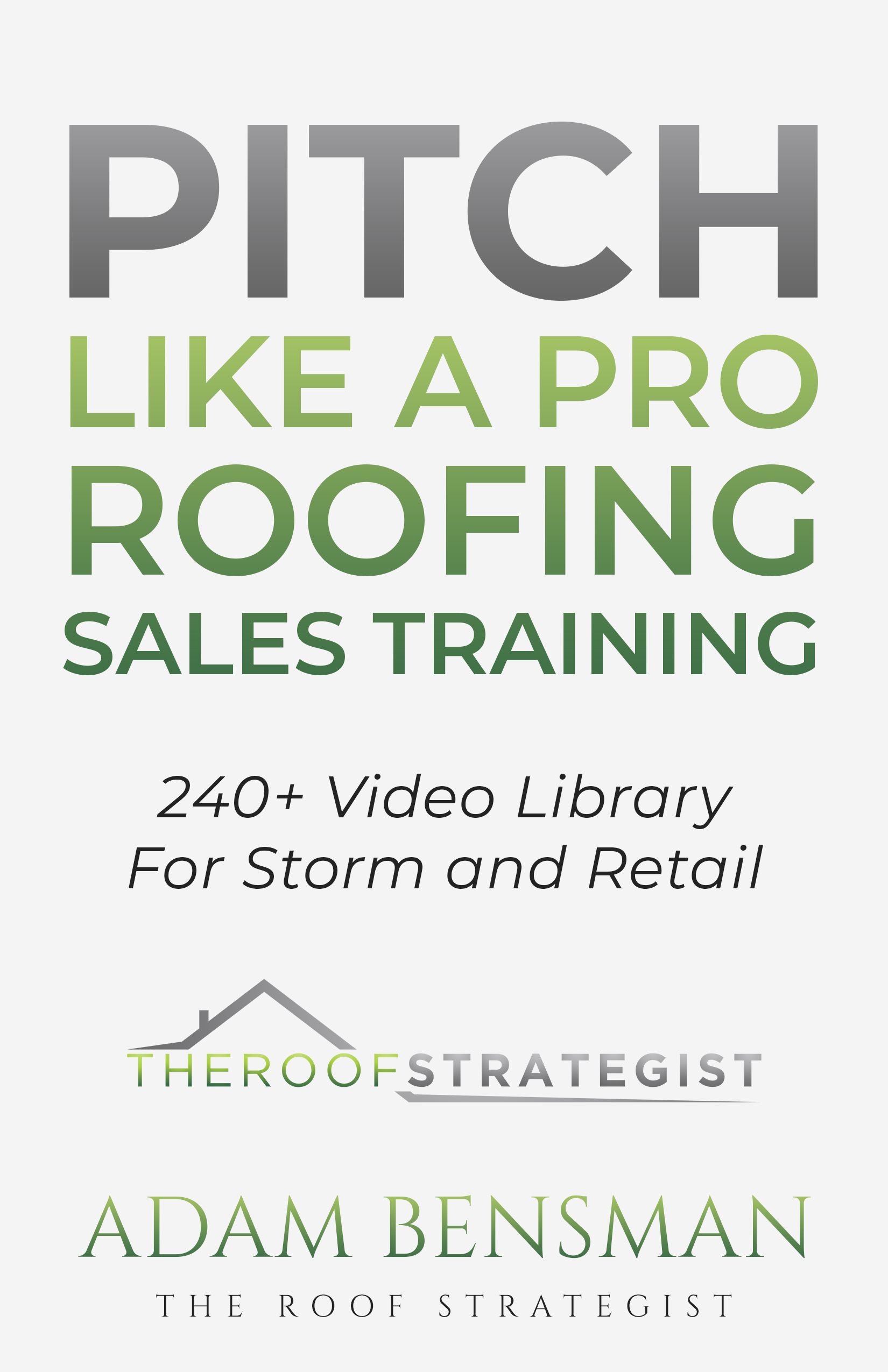 How I Decided to Go All In with Roofing Sales
When I was deciding whether to go all in, I started to look at my hours at the massage therapy franchise. I was working nights and weekends because that's when people want massages.
Unfortunately, that's also the absolute PRIME TIME to be out selling roofs.
So, for me to try to juggle everything meant that:
I was out trying to knock on doors at like 10:00 a.m. on weekdays.
The more I started to try to juggle all of this, I realized that I couldn't give it my all.
Trying to keep both going meant I was going to slip. I had my feet on different sides of that fence, and I was going to FALL on that fence right — and that was NOT going to feel good.
So, I decided to go all in and:
I gave my notice, quitting the massage therapy gig.
I gave roofing sales everything I had.
Now, I'm the type of person who visualizes what's going to happen, and I did not doubt myself. That didn't mean that I wasn't scared or nervous at the time I ABSOLUTELY was.
Still, when I made that leap and shifted my mindset:
I was already SUCCESSFUL.
I had already hit that income goal.
I knew I could bet everything on myself.
I built the metaphorical parachute on the way down after jumping out of the plane.
To clarify, at that time, I was in my 20s, living alone. I was not married, had no children, and had little responsibility. So, I could make that leap. And I would encourage you to do the same as soon as you're able to go all in.
Of course, I have spoken with folks who are sole income earners for their households, with children. And I would be probably jeopardizing the livelihood of an entire family if I was like, you got this man because I don't know you, your situation, or your other financial obligations.
Plus, everyone's risk tolerance is different.
Objectively speaking, the sooner that you can go all in, the better.
That's because it takes some time and energy to get things going in roofing sales and, generally, there's about a 6-to-8-week delay from making a sale to getting paid.
Also, every company's different. Some companies offer:
A low base pay or salary
Advances on commissions
Draws that can come in early
Startup pay
There's a whole variety of pay plans out there (and you can learn more about those in my video on Roofing Sales Pay Plans). So, you can kind of shake that out for yourself to see what that looks like.
Generally speaking, however:
Count on 6 to 8 weeks if you're successful out of the gate.
Consider a 2-to-3-month buffer for cash flow as you get started.
And many folks end up quitting too soon. In fact, one gentleman emailed me, telling me that:
He earned just over $200,000 after getting a really SLOW start.
He had started earning about a few hundred dollars of commission, working his way up to $3,000 and keeping pace after that.
He turned that trickle into BIG money and he would've missed out on earning that multi-six figures in his first year if he quit too early.
The point is that I want you to be prepared and have realistic expectations that the absolute HARDEST part of this industry is your first six months. It's getting in the swing of things, feeling confident, learning a new craft, and learning new sales in new environments.
So:
Do you go all in as soon as you can? Yes.
How long is it going to take? Six to eight weeks, maybe as long as six months, depending on the market and when you start. If you're starting in Iowa in February, for example, it's COLD, and you might not be that active until the spring.
So, again, there are some different factors to consider, including seasonality. I highly recommend that you speak with the company that you're selling for or considering selling for, to ask them what they would expect the ramp-up time to be based on their comp plants.
Do You Get a Part-Time Job While Starting in Roofing Sales?
I've worked with quite a few roofing salespeople who've had jobs, specifically bartending, because that's how they came into it and:
They're good with people.
They can handle conflict because they're used to people being rude.
They can channel those skills in a way in sales to earn really good money.
Still, there's a delay in cash flow as we get started. So, many of these folks:
Decide to keep their bartending job as they get traction.
Teach a point where they're making more on sales, so they go all in
In the long run, very few people will keep that side gig.
Now, there's one big, BIG problem with bartending side jobs. They tend to demand weekend hours or evening hours. Again, it depends on where you're at, but here's my best advice:
If you get a part-time job, find someplace that will allow you to work in the mornings during the week.
This will free up your time in the evenings and on the weekends, which is the single most valuable time to be:
Out knocking doors
Running appointments for your company
Making sales
Why? Because that's when people are home. If you can do that:
You'll have the best availability to start making sales.
You can go ALL IN even quicker and ditch the part-time job.
When to Go ALL IN in Roofing Sales: The Bottom Line
Now, the key takeaway is you need to assess:
Your risk tolerance
Who is depending on you
Your contingency plan
I always hope for the best and plan for the worst, and I was fortunate enough in my 20s to know that:
I could jump back into a massage therapy franchise if I burned through my money and I went two months without making any sales.
My brother lived just around the corner, and I'd probably be able to crash on his couch if I needed to.
I have two loving parents, and I'd have a couch to crash on, hot meals, and some love and support to, as I balled my eyes out feeling like a failure if things didn't work out.
At the end of the day, I want to commend you because the fact is that:
You're looking at a new career or starting a new career.
You're taking a risk and that's admirable. Whether or not it even works out, you deserve a pat on the back. I mean that from the bottom of my heart. Because you're betting on yourself, trying something new, challenging yourself, and putting yourself in an uncomfortable position.
If you play your cards right — and I'm guessing you are because you're here doing your homework and learning about this industry — you will be FULLY capable of:
Applying yourself
Gamifying this personal development
Changing your life and earning six figures or more in your very first year.
So, I'm really honored to have you here and help support your journey.
Congratulations and remember, GO ALL IN.
As soon as you can juggle that risk, get a few months saved up. So, you're in a comfortable position to make that transition.
I hope that you are absolutely wildly successful in roofing sales.
Want More Roofing Sales? Or Training For Your Team?
We've helped thousands of sales reps overcome the same sales challenges you're probably facing. Like not getting enough leads, getting stuck on objections, or not closing sales in the house.
Learn how we can help you:
Get trained up in a lightning-fast 9.5 hours
Self-generate more leads
Become a confident closer
Pick a time for your 1-on-1 demo.
Or use the links below to get instant access, 100% Risk-Free! Backed by our 30-Day 'NO BS' Money Back Guarantee.
Thanks for joining me, and I look forward to sharing more with you in the next blog.