Let's get REAL.
I want to answer a question that I've been getting a lot lately, and it's this:
What should I be doing in order to be a really successful business owner, manager, or sales rep?
When people ask me this, they're usually thinking, What else do I need to add to my plate?
Now, I've had this question more times than you can imagine.
And it doesn't matter where you're at —Pasadena, Philadelphia, Atlanta, Denver, Little Rock, Indianapolis — it does NOT matter. Everyone asks the same question, What should I be doing?
So, I want you to completely shift your mindset because my answer is a little counterintuitive.
It's not about what you should be doing.
It's actually about what you should NOT be doing.
Yes, that's right.
You should NOT be doing certain things — you should be CUTTING some things out.
The three things that I'm going to share with you here are what most people do to distract themselves or SELF-SABOTAGE without even realizing it.
Before we get started, I want to say a quick, welcome or welcome back. My name is Adam Bensman, The Roof Strategist. Everything I do here is designed to help you and your team smash your income goals and give every customer an amazing experience.
And if you haven't done it yet, you can still get FREE access to my brand-new training platform. It includes my Pitch Like a Pro roofing sales training video library, as well as TONS of FREE goodies and an announcement about something new I'm working on (that I've been pouring my heart and soul into).
Just click the link OR text FREE to (303) 222-7133 for immediate access to everything.
Now, let's get to the three things you need to STOP doing because they're distracting you and holding you back from next-level success.
FREE "Pitch" Like a Pro Roofing Sales Training
240+ Video Library for Storm and Retail
For Roofing Sales Reps & Owners With New Hires: All the training you need to be a "million dollar" closer!
Get Instant Access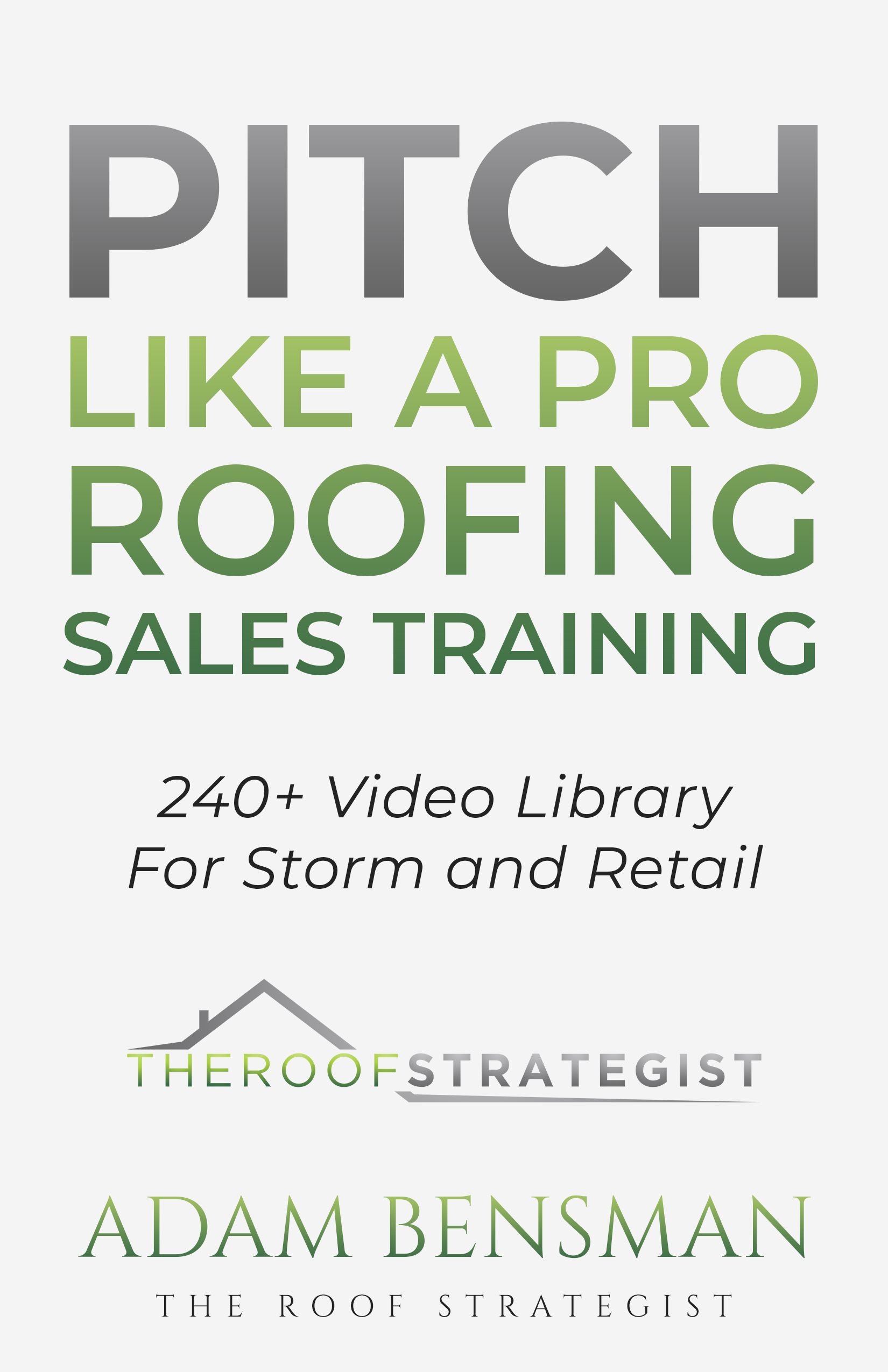 Roofing Sales Distraction #1: Comparing Yourself to Others
Everyone can relate to this — comparing yourself to others.
You may be on Facebook discussion groups, for example (they're all over the place). There are industry boards, and I love that our community comes together on those boards.
Sometimes, though, people can brag a little bit about what they're doing. By the way, I am ALL about celebrating your victories.
But here's the problem with these groups.
If you had a bad day, got your teeth kicked in, and didn't bring in many sales, jumping on Facebook and seeing that someone else just did $2.2 million in their first year is NOT going to be great for you.
In fact, it's probably going to:
Make you feel like garbage.
Give you the idea that you're underperforming everyone else.
Naturally make you compare yourself to others.
If you're an owner or manager, this can happen to you too. You look at other companies and see that:
They have more yard signs out.
They have a stronger online presence.
They're getting more leads.
Then, you start to think, We're losing jobs to them!
Suddenly, you're comparing EVERY little detail — like truck wraps, yard signs, online reviews, and more.
And instead of putting your energy into improving and getting better, you end up focusing on what other people are doing.
Now, what if you were a professional athlete on the field? I've never been one, but we can all imagine it. If you were a pro athlete playing on game day:
Would you CARE about what other people are doing?
Do you care if the audience is booing or cheering?
NO, you don't care. You ONLY care about:
Playing your BEST
Rising to the occasion at every single moment
So, that's what I want you to do, instead of comparing yourself to others. Just compare your performance to your own past performance and ask yourself:
How can I do better than I did yesterday?
After all, there's ALWAYS going to be a company or another rep who's doing better than you are. There will always be someone who's richer, some company that's selling more, or some competitor that's landing the commercial jobs you wanted.
If you're always measuring yourself against the competition, you're going to be MISERABLE. Instead, it's far more productive to compare yourself to your past performance, so you can focus on continually improving.
Roofing Sales Distraction #2: Getting Too Comfortable
When we're too comfortable, we're complacent.
Here's how this works. Let's say you just had your BEST month or week, and you're loaded up with commission checks. Or you're an owner with money coming. That level of comfort can make us complacent.
We just don't have that same drive to get out there and keep going.
For sales reps, that complacency can happen at the end of the month when you're looking back and thinking, That's the most money I've ever made in my life!
When that crosses your mind:
You think you don't need to work as hard.
You ease up on the gas, slowing down that momentum you had going.
It can take even MORE energy to get going again.
Think of it like fuel efficiency in a vehicle. If you just coasted at 60 mph, you're in a much better position than if you SLAMMED on the accelerator, gunning it to 100 mph, then laying off to drop down to 40 mph, and then revving it up all over again.
That is NOT a very efficient way to run a business, nor is it an efficient way to drive our minds, sustain our energy, and make sales.
The opposite of this — being too comfortable — is DISCOMFORT.
When we're uncomfortable or outside of our comfort zone, we're afraid, and we resist leaning into the discomfort. So, we don't go out there, and we don't:
Have a disciplinary conversation with a rep
Knock on any doors even after driving out to some neighborhood for an appointment. In fact, instead of knocking on the neighbors' doors to work your sales system, you just come home.
That's cutting yourself short for fear of discomfort.
So, again, FORGET about chasing comfort or discomfort. Instead, just do what you need to do to get the job done.
Roofing Sales Distraction #3: Solving the WRONG Problems
Sales and business are literally just problem-solving and figuring out how to grow. We're going to have new problems. When we do:
We solve them.
We grow.
We encounter brand-new problems.
We solve those new problems, and we continue doing this dance.
Smart people put blinders on to all of this. They KNOW exactly how to get from point A to point B.
Example: Let's say that I have so many leads that I can't keep up. The problem I need to solve is how to optimize the lead flow. How do I do as much as I can with inside sales and trim the fat, run the right appointments, and get the right people there? What kind of follow-up system do I need in place, so I can maintain great success?
Now, the other side of this is solving the WRONG problem.
That can happen when the sales rep says, "I'm not closing enough deals." Ultimately, though, they're not self-generating enough leads. They're not knocking on doors or using direct mail when the company-provided leads aren't enough.
If that's you, at that point, you may start thinking, I just need to focus on closing MORE. As you do, you can start to see that:
If you have 10 appointments and you increase your close rate by 10%, you're not really going to make a huge difference in a year.
If you have 10 leads and a 30% close rate, you're going to get 3 MORE deals. Bump that up to 40%, and you're getting 4 more deals.
Now, what if you just focused on getting more leads, instead?
You can do that easily and REALLY fast simply by being more efficient when you're out in the neighborhood. Specifically, you can be getting more leads by knocking on doors:
Before and after your appointments
During your build
Before and on build day
After the build is done
If you're knocking on doors at each of these points, you're having DOUBLE the conversations with the same close rate. That means that your sales are going to DOUBLE.
So, instead of trying to solve the wrong problem, we need to focus on addressing the right issues.
How to Focus on the RIGHT Problems in Roofing Sales: Tips for Owners & Sales Reps
Owners, I'm going to highlight a BIG issue that's tempting to focus on but that you should try to avoid getting distracted by. It's this thinking:
My team's not performing. I'll just get more leads.
With that thought, you're probably going to pour more money into marketing, and your team will get even more complacent.
Why? Because they are TOO comfortable and:
They've made TOO much money.
They don't have to work as hard.
You did NOT solve the problem.
You put lipstick on a pig, and instead of having the team learn how to continue self-generating leads and stay accountable, they're now sitting back, saying, "Send me the leads."
So, you're having to pour MORE MONEY into leads.
Owners, maybe you're also thinking, Hey, I want to grow, So, I'm going to open an office in a new market. Again, a new office may NOT be the right answer to the issue of wanting to grow. Instead of the new office, it may be better to solve the problem by:
Hiring more sales reps and growing an inside sales team
Optimizing your systems and marketing
Developing a powerful follow-up system
Getting more reviews online
The point is to really just create a well-oiled machine before:
Starting from scratch
Going into a new market
Adding a new product line to boost revenue
Now, if you're a sales rep, ask yourself:
Is this the easiest, fastest way to make more sales?
I know, it sounds crazy, but laziness IS kind of a blessing when we listen, but sometimes:
We just get distracted.
We chase everything around us.
We're chasing all the WRONG things, instead of just staying focused on the right things.
So, what is the fastest, easiest way to make more sales? And are you really solving the right problem?
When you focus on those questions:
You're going to stay focused on what REALLY matters.
You're going to CRUSH it.
Recap: 3 Costly Distractions to Avoid in Roofing Sales
Now, you know the 3 things that can be self-sabotaging in roofing sales and really cost you.
Those things are:
Comparing yourself to your competition: Do not do that any longer.
Getting too comfortable: If you're too comfortable, you can get complacent and lose your momentum. Don't be afraid to be uncomfortable.
Solving the wrong problems: Put your blinders on and focus on solving the RIGHT problems in the fastest, easiest, and simplest way possible.
Eliminating these 3 self-sabotaging distractions can help you focus on what's most important, so you can MAKE EVEN MORE MONEY this year.
Get More Roofing Sales Strategies, Scripts, Tips & Videos
If you want more on any door-to-door roofing sales topic, you'll find it in my all-in-one sales training, sales strategy, and sales system, the Roofing Sales Success Formula & Complete Sales Strategy.
This exclusive program covers everything from knock to close, with packages for individual roofing sales reps and entire teams. Many roofing sales companies LOVE this program because it's a consistent process to train everybody on a relatable sales system that WORKS and that's a lightning-fast way to get results.
If you have questions, just call or text (303) 222-7133 for more info or a private demo.
You can also, subscribe for the latest roofing sales training videos and/or get a copy of my Pitch Like a Pro roofing sales training video library. It includes every roofing sales video I've ever done, organized by category, along with a bunch of tips, tricks, and more. It's great for new people and seasoned veterans, and it's updated all the time to help you and your team smash your income goals and give every customer an amazing experience.
And don't forget to check out my Marketing Battle Pack for instant access to 70+ pieces of my proven, turnkey roofing sales and marketing materials. It's an entire suite, specially designed for sales teams, managers, and owners, providing:
Scripts
Scheduling
Direct Mail Letters
Door Hangers
Goal Projection Planners
A LOT more!
It's affordably priced and comes with a 100% money-back guarantee. There's also a playlist of instructional videos in there, explaining every single thing. So, you can watch the videos, and you'll know exactly what to do.
Thanks for joining me, and I look forward to sharing more with you in the next blog.