This topic is emotionally charged because I cannot stand this sales practice.
It is one of the most fatal flaws that I see widespread in the roofing industry — it's the fatal flaw of:
Telling white lies and embellishing things
Telling customers what you think they want to hear to make it easier for you to sign deals
Now, this tactic of embellishing or telling white lies comes across in various ways, which I'm going to spell out here, and so many people who are otherwise good folks are using these deceptive practices that I find truly immoral, unethical, and poisoning the reputation of our entire industry.
In fact, when you Google "roofer news," you're going to see articles of deaths, scams, contractors running off with checks, contractors getting arrested, and more. There's NO positive news about roofers. It's all focused on a message to "BEWARE OF ROOFERS."
That's mass media messaging describing us as "scumbags" and putting all of us in the same camp of con artists. Adding insult to injury, homeowners are wise to this (some have even left angry comments on my videos).
So, I want to identify this fatal flaw of embellishment and white lies and explain why:
Roofing sales reps should NOT engage in these deceptive and unethical practices.
You have to squash it immediately if you see anyone on your team doing this.
These embellishments WILL come back to bite you (I promise).
In fact, when the white lies come back to bite you, you are going to have:
Canceled contracts
Angry homeowners BLASTING negativity about you EVERYWHERE on the internet, including in any reviews. You can't delete that.
Posts in the local Facebook community groups, warning other people about you
LOST DEALS, especially if this comes up in the middle of the process.
ALL of those are REAL consequences you can face from telling white lies in door-to-door roofing sales. Still, those shouldn't even be factored in because, at the end of the day, you should not do this because it is immoral and unethical.
Before we dive in deeper, first, I want to say a quick welcome or welcome back. My name's Adam Bensman, The Roof Strategist. I'm going to do things a little differently than normal because I feel inspired to call out what I view as toxic behavior that's poisoning the roofing industry.
So, if you pride yourself on delivering a 5-star customer experience, serving with honor and integrity, and educating homeowners while guiding them to choose you, this is for you — and you can get deeper into this and other roofing sales topics on my YouTube channel, my podcast( on Apple and Spotify), and our training center.
In fact, in the free training center, you get access to:
My Pitch Like a Pro roofing sales training video library
My roof plans crash course
10 closing techniques for every situation
My recommended reading list
A waitlist to get a FREE copy of my brand new book coming soon called, The Roofing Sales Survival Guide
Simply click the link above or text "FREE" to (303) 222-7133 (you can also text any program questions you have to that number).
Now, let's get to it.
FREE "Pitch" Like a Pro Roofing Sales Training
240+ Video Library for Storm and Retail
For Roofing Sales Reps & Owners With New Hires: All the training you need to be a "million dollar" closer!
Get Instant Access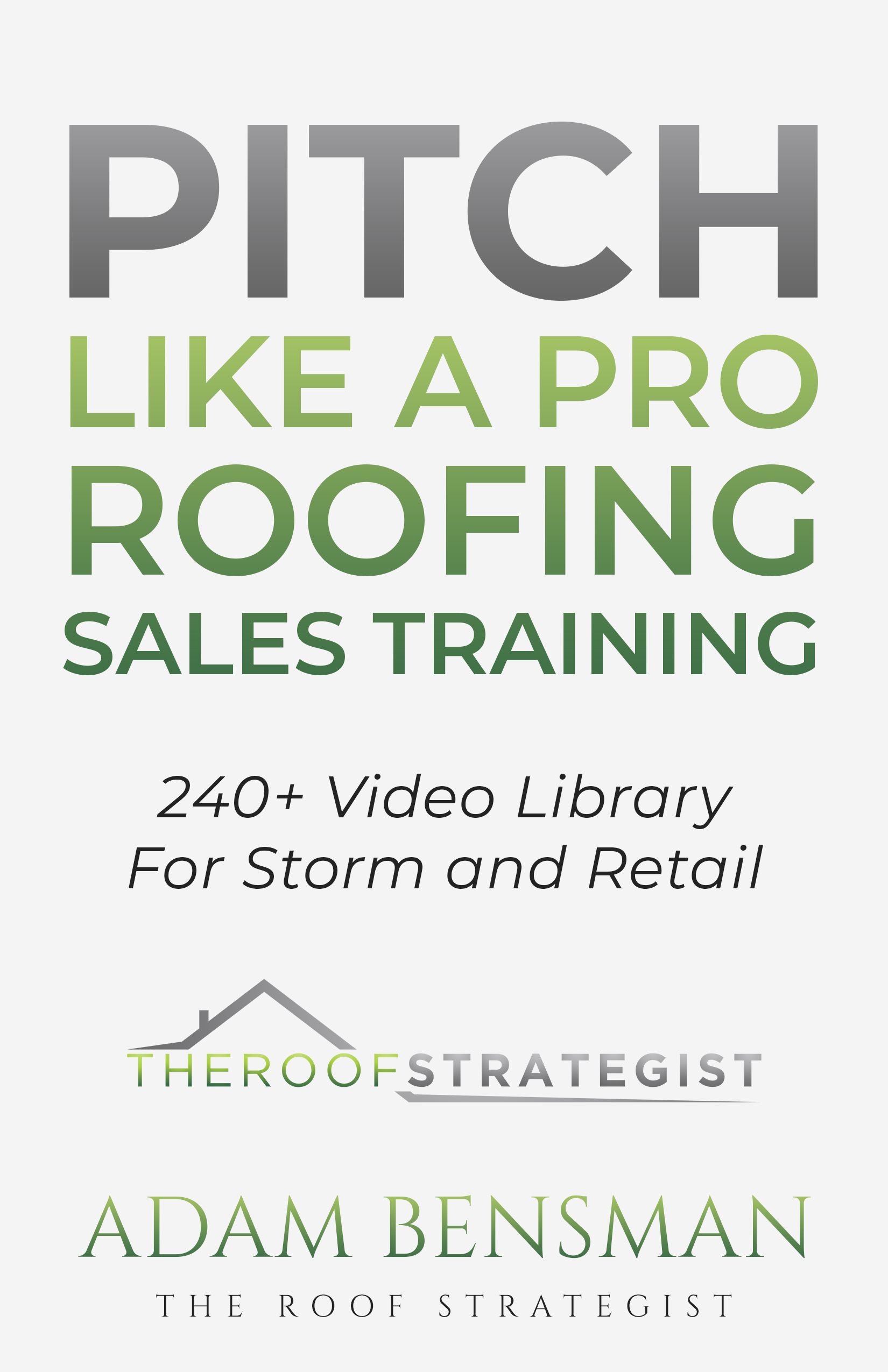 Fatal Flaws & White Lies in Roofing Sales: A Quick Prelude
This fatal flaw of white lies, intentional misdirection, and sharing deceptive information is usually done to make customers feel GOOD.
All these stories I share below are from folks who I've personally talked to via email, phone calls, or conversations after roofing events. What blows my mind is how people FESS UP to doing this with a sense of pride.
So, let's rip the Band-Aid off and identify these fatal flaws, so you can:
Sniff them out
Squash ALL of this stuff
Ethically earn business and sign deals
Roofing Sales Fatal Flaw #1: Making Up Neighbor Names
I see this happening at a widespread level, and I've even seen reps who I teach and coach do this. In fact, one gentleman I interacted with ended up making my skin crawl and my blood boil.
He told me how he was:
Hopping fences to get into gated communities
Breaking and entering into private, no trespassing areas
Showing up at the house, knocking on the door, and saying, "Hey, I'm stopping by because [fake name neighbor] sent me over."
Incredibly proud of how this "worked" for him
Later, he reached out to me, owing up to all this and asking about a better way to do it. And I told him:
Yes, there is NOT lying. How about being honest and truthful?
Going up to a neighbor's house and implying that someone sent you when they don't exist isn't right.
Imagine that happening to you. Imagine that:
You signed a contract for a $25,000 roof with someone that you really liked.
Right after signing the contract, you find out that this neighbor that sent them over does NOT even exist.
Can you imagine the feeling of being conned and the immediate distrust you'd feel toward that person?
Again, it's just NOT right. Instead, we can go about doing this the RIGHT way when:
We use REAL names of customers we serve.
We're brand new in a neighborhood and haven't served anybody yet, and we knock on that door, saying, "Hey, I'm stopping by because I'm talking to folks on [the name of the street]." That IS truthful.
We use REAL names of folks we're actually helping, as we start having these conversations.
SKIP the nonsense of making up garbage.
So, making up names to give you an "in" in the neighborhood is this first fatal flaw in roofing sales.
Roofing Sales Fatal Flaw #2: Embellishing Professional Details
The next fatal flow in roofing sales has to do with embellishing company details.
This came up after a speaking event I attended when a rep who had been in roofing sales for 2 years came up to me. I asked how things were going, and based on the conversation that came up in our training, he says, with a smirk, "I actually tell customers I've been in roofing for 6 years!"
I had to hold my tongue after he shared this. Then, I asked, "Why? Why lie about how long you've been in business?"
"Well, customers don't want to trust me and do business with me because they think it's too young. So, I tell them I've been in the business for 6 years, so they know I'm going to do a good job."
Again, this embellishment feels like an innocent white lie. After all:
I know I'm a good company, and they don't know that.
If I just tell them that I'm in business for six years, then they don't think that I'm going to disappear in a couple of years.
I just wanted to feel comfortable.
NO — it's LYING, so do NOT bring it up.
This type of embellishment and these white lies are just a Band-Aid for folks who:
Don't know how to sell
Have the sole purpose of manipulating other people to work with them by trying to tell them what they want to hear
Roofing Sales Fatal Flaw #3: Embellishing Company Details
Overstating or making up company details is the third embellishment I see a lot in roofing sales. This can come up in several ways and include white lies like (but not limited to):
We've done so, so, SO many houses.
We've been in the roofing business for X years.
Now, when it comes to these embellishments, remember, the internet is a POWERFUL place, and it's not difficult to find out the truth or double-check these white lies.
Again, the fact that I even have to spell out the consequences of doing it and how you could get caught is RIDICULOUS. And I wish I could just say, "Hey friends, just be honest and real." That would make it really simple.
Of course, there are several reasons roofing sales reps start doing this type of stuff, with:
Some reps simply having poor guidance and poor instruction
Others having specific training that tells them to do this
Some feeling a sense of desperation, which is one of the most common reasons that people start using these sleazy tactics
Instead, I encourage and challenge you to:
Spend some time on my YouTube channel.
Check out the playlist inside my free training center, with tons of videos on how to overcome objections and come across as familiar.
Learn ways to present and interact with customers on a real human level, so you can truly be of service.
Unfortunately, some folks are willing to do just about ANYTHING to win the business, and that can include coming across as sleazy and telling white lies.
What ends up happening is that:
The homeowner is the victim.
You smashed your income goal at the homeowner's expense.
That's why "giving every customer an amazing experience" is part of my tagline with "smashing your income goals. Those two factors need to work hand in hand for you to:
Win the business.
Feel good about yourself.
Truly be of service and serve from a place of honor and true integrity.
Deceptive Roofing Sales Practices: The Bottom Line
I truly hope this helps you sell with even more honor and integrity and truthfulness, instead of relying on manipulative lies to coerce people to work with you.
It's a pretty simple concept. Remember, a rising tide lifts all. Together, we truly can unite to bring a sound reputation to the roofing industry and serve people in a way that they go through that experience.
And this is how we do it — one customer at a time, serving them the BEST you possibly can and:
Educating them on their options
Earning their business
Doing an amazing job.
That's how we rebuild this reputation. It's not from one little thing or one person. It's ALL of us doing things right.
Want More Roofing Sales? Or Training For Your Team?
We've helped thousands of sales reps overcome the same sales challenges you're probably facing. Like not getting enough leads, getting stuck on objections, or not closing sales in the house.
Learn how we can help you:
Get trained up in a lightning-fast 9.5 hours
Self-generate more leads
Become a confident closer
Pick a time for your 1-on-1 demo.
Or use the links below to get instant access, 100% Risk-Free! Backed by our 30-Day 'NO BS' Money Back Guarantee.
Thanks for joining me, and I look forward to sharing more with you in the next blog.