Stop winging it.
This is one of the most common mistakes for both seasoned veterans and brand-new roofing sales reps.
Believe me, I've made the mistake of winging it too (and maybe I'm throwing myself under the bus here).
So, I'm going to share why you need to stop winging it, whether you're:
New to roofing sales: This could be the reason why you're not getting consistent success or any success at all.
More experienced: This may explain recent sales slumps or why the strategies that used to work for you aren't really working so well anymore.
Welcome or welcome back, by the way. My name is Adam Bensman, The Roof Strategist.
Everything I do here — and on my YouTube channel, Instagram, and my podcast (on Apple and Spotify) — is designed to give you and your team the resources I wish I had when I started, so I could be successful. I'm here to share those resources, so you can smash your income goals and give every customer an amazing experience.
And that amazing experience starts off with the initial conversation, whether that's:
At the door when you're canvassing
At the kitchen table on an inbound sales appointment
Selling a retail roof
The same message applies, regardless.
Why Not 'Wing It' in Roofing Sales?
Now, I want to take a little step back from sales for a minute. I'm going to be blunt, but hang with me because, sometimes, it takes an outside person to hold up a mirror and show you what's really happening. It can help you look at what you're doing and stop to think:
Oh man, maybe I should be following a different system or a different plan.
I'm just winging it.
I've done it more than I wish to admit because the truth is salespeople like us often have a bit of ADD or ADHD. We have the attention span of a gnat. In fact, usually:
We don't like learning.
We get into roofing sales because we're good with people.
We're good with words, we connect, and we're fast on our feet.
So, we get thrown into sales situations, and then we wing it. And believe me, I've been there. I've had to wing it, and it doesn't go that well. I feel like I'm doing things right. Then I, I reflect.
Side note: After every sales day, do an "After Action" report. I do this myself. The "After Action" report breaks down what you did well and what you could do different next time. That gives you a plan for improvement for next time.
So, looking back at when I was winging it, I kept coming up with the same things, finding that:
I went through this in the wrong order.
I forgot some part.
The customer threw me off.
Those are the three BIG things when I'm winging it.
FREE "Pitch" Like a Pro Roofing Sales Training
240+ Video Library for Storm and Retail
For Roofing Sales Reps & Owners With New Hires: All the training you need to be a "million dollar" closer!
Get Instant Access FREE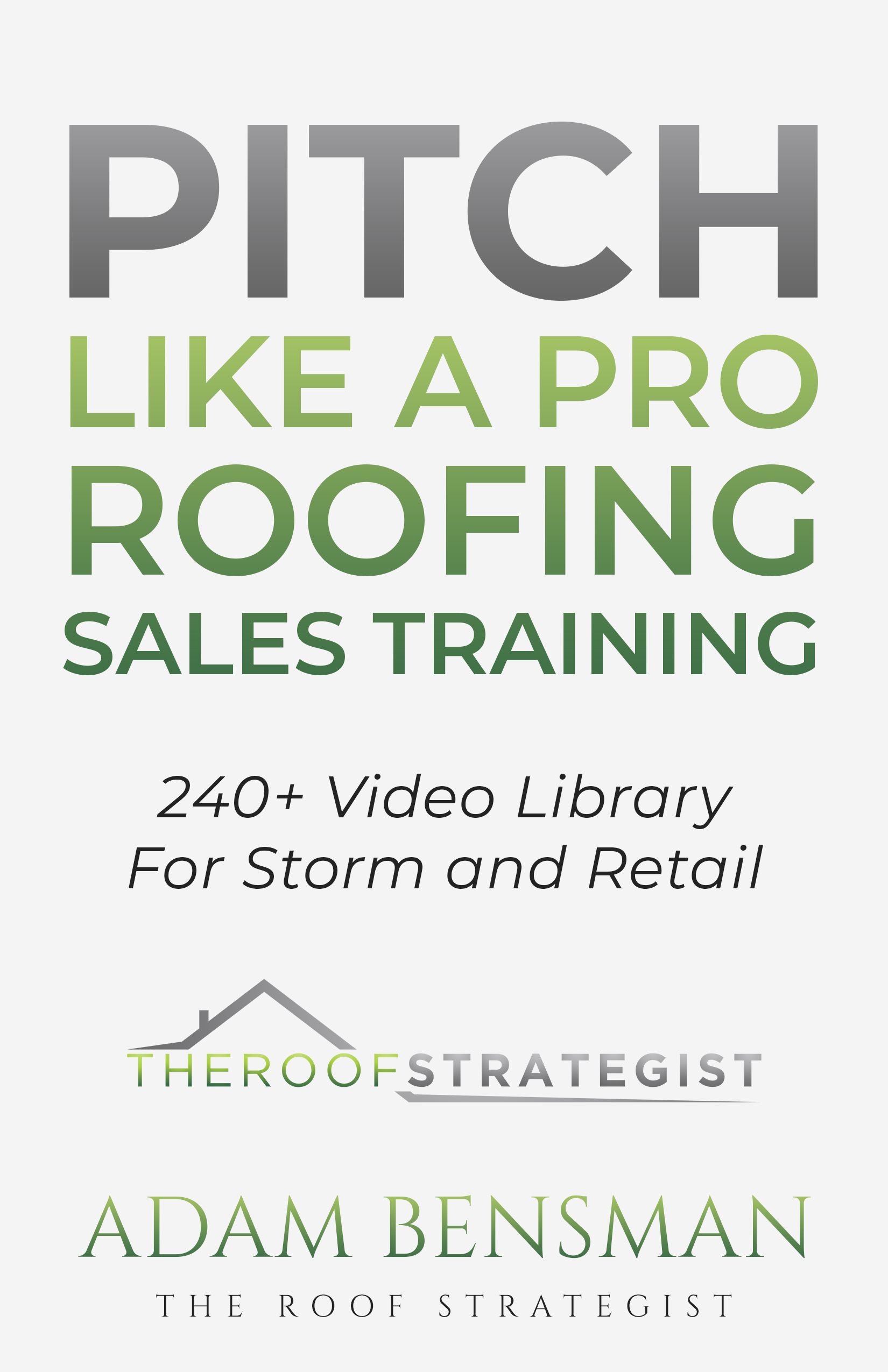 What Roofing Sales Reps Can Learn from the Film Industry
Now that we have that framework, we're going to set roofing sales aside for a moment to turn our attention to the film and television industry.
You know those shows that you cannot peel your eyes away from?
They're the shows that you binge hour after hour — like Breaking Bad, The Sopranos, Walking Dead, and Ozark. These series are written by scriptwriters who have studied the art of communication and who know how to:
Reach out through that screen
Grab you by the jugular
Hold you at the edge of your seat, so you need to know what happens next
Why?
Because human behavior has been studied, along with human attention and how emotions drive what we do.
Sales is the same thing.
In fact, the only thing that's different about sales is the name, "sales."
Ultimately, sales, movies, and entertainment are all designed to do one thing — grab your attention and hold it irresistibly to get you to want more.
Think about that. It's fundamentally powerful.
So, when we can look at the movie industry, we can apply those same tactics to our conversations with our customers, leveraging:
How we observe
How we take in information
How we hold the tension
What leaves us on the edge of our seats, wanting more
If we are winging it, though — which many of us have done — we're trying to make it up as we go.
When we harness the power of what we know from the film industry, combining it with sales and what we know about how we make buying decisions, we can stop winging, and we can start setting ourselves up for more success.
The truth is the right sales process knocks down the right dominoes in the right order. And with that sale:
You won't be able to close if you skip certain steps or wing it because you're not doing it right.
You're literally not giving the homeowner the option to receive the information they need to hear in the right order in order to make the right decision.
So, the key takeaway is to STOP WINGING IT.
Now, I'm going to give you the three paths that work for me when it comes to not winging it. They may not work for you, so we'll talk about each of them.
3 Strategies to Help You Stop Winging It in Roofing Sales
There are three key times in roofing sales when we're pitching (and I'm using "pitching" loosely here, by the way). Those times include when we're:
Canvassing
Objection handling
Closing
Within each of these, we need a framework to follow.
Now, I teach formulas. Why?
I don't teach word-for-word roofing sales scripts for a variety of reasons. And the truth is that:
With storm damage, there are seven mindsets to sell to in four different scenarios. Will a word-for-word script work for all of those? Not a chance.
With retail roofing sales, there are four reasons people replace the roof.
So, if you're selling both, that's A LOT of options. You have to know how to navigate that conversation. And that's why we follow a formula, which is a framework of what to hit.
How to Stop Winging It in Roofing Sales: The Canvassing Formula (SLAP)
For door-to-door roofing sales, I teach the SLAP Formula. SLAP stands for:
Say, 'Hi,' and break the ice.
Let them know why you're there.
Ask an open-ended question.
Present to their answer.
If you want to learn more about that, check out my video on the fundamentals of the SLAP Formula. Then, jump over to my Acing Your Pitch playlist. There are a ton of videos there that share more about the SLAP Formula.
How I Created the SLAP Formula
I want to explain how I developed this SLAP Formula (then, we'll quickly run through the other two formulas). I developed the SLAP Formula because I was winging it. I literally sat down one day and started thinking:
Well, what were the common themes among all of the easiest sales that I ever made?
And I kept envisioning the same theme:
As I was going door to door, I'd caught the old guy out in his yard, either mowing his lawn or washing the car.
I'd started a conversation.
That's when I realized that this is a good starting point — starting a conversation. And that was the start of the SLAP formula.
Then, one day at 4 a.m. (back when my office was in my house), I shot out of bed, ran into my office, grabbed a pen, and I wrote down the word, 'SLAP.' I had figured it out the formula.
When my wife woke up, I told her how excited I was about figuring out this SLAP Formula — and working it out after winging it so many times.
Once I had the SLAP Formula, I could then replicate it and do the same thing over and over again without sounding like a robot.
So, if you want to use my SLAP Formula, you can learn it here. And it's included in my all-in-one sales training, sales strategy, and sales system, the Roofing Sales Success Formula & Complete Sales Strategy. That breaks down how to use the SLAP Formula when you're showing up because you've:
Just arrived in the neighborhood (you're brand new)
Signed a new customer
Scheduled the job
Arrived for install day
Shown up because the job is done
It basically pairs the SLAP Formula with any of the different scenarios or responses that the customer might spit at you, so you can respond.
That's how I created the SLAP Formula, and of course, you can use that or develop your own strategy.
How to Stop Winging It in Roofing Sales: The Objection Handling Formula (ARO)
Next, we have the ARO Formula for objection handling. ARO stands for:
Acknowledge
Reassure
Overcome
Again, this Formula sets you up with a framework to follow, so you're not winging it.
Because when we're unprepared:
We try to answer questions too soon.
It often just doesn't work.
So, you can either use my method or use yours. And, by the way, I touch on the ARO Formula a bit throughout my YouTube videos, with full, all-in-one training available in my comprehensive program, the Roofing Sales Success Formula & Complete Sales Strategy. If you have questions, just call or text our office at (303) 222-7133 for more info or a private demo.
How to Stop Winging It in Roofing Sales: The Closing Formula (Car Park)
The final piece is the closing. So, how do you run that sales appointment? Again, I want to break down how I developed my formula here because:
I was winging it.
I realized that I got really good at presenting and building rapport, but I didn't do so well at closing.
So, I started to figure that part out and:
I taught my team how to go through the paperwork (including the contingency agreement, retail stuff, and more), but they weren't closing.
I started to piece this together after being inside the home with them.
Now, on this side of roofing sales, as The Roof Strategist, I was inside homes across the country during those sales appointments. That's when I was able to:
Identify the nine most common mistakes that I saw in the house
Reverse engineer this CAR PARK Formula to address those nine mistakes and plug in the holes, so to speak.
So, instead of having to teach you what NOT to do, you have a Formula laying out what you should do to avoid all those critical mistakes and go through the right process in the right order.
My CAR PARK Formula guides you through the closing process, with CAR PARK standing for:
Connect
Assess
Report
Present
Ask
Referrals
Kickstart
This is how I broke down those common mistakes, like:
Selling too soon
Not asking the right questions
Telling homeowners the roof is damaged
Not transitioning properly when you are ready to ask for the order
Not going through the presentation or the contingency agreement in the right way
I put those together to create the CAR PARK Formula.
By the way, you can learn the intro to this Formula by checking out my CAR PARK Intro video here. And if you want more, that's included in my all-in-one sales training, sales strategy and sales system, the Roofing Sales Success Formula & Complete Sales Strategy.
Recap: 3 Game-Changing Strategies to Stop Winging It
To sum it all up, I developed these three powerful formulas — SLAP, ARO, and CAR PARK — by winging it and seeing what works.
And remember, the threats of winging it are:
Inconsistency
Not being able to train or teach others what you do
Simply not being as effective as you know you could or should be
The point is that you do NOT have to wing it because there IS a proven way to do it.
Yes, I know that's a big claim, but I can confidently say that these are proven because of how humans process information.
Also, thousands and thousands and thousands of reps are currently on our platform using these strategies today (in addition to the 23,500+ YouTube subscribers at the moment who are following this and commenting on how the SLAP Formula works).
So, again, my message to you is to:
Stop winging it.
Use these three formulas right here — or create your own — so that you have a repeatable process to fast track your success in roofing sales and so that you can stop winging it.
Get More Roofing Sales Strategies, Scripts, Tips & Videos
If you want more on any topic in roofing sales, you'll find it in my all-in-one sales training, sales strategy, and sales system, the Roofing Sales Success Formula & Complete Sales Strategy.
This exclusive program covers everything from knock to close, with packages for individual roofing sales reps and entire teams. Many roofing sales companies LOVE this program because it's a consistent process to train everybody on a relatable sales system that WORKS and that's a lightning-fast way to get results.
If you have questions, just call or text (303) 222-7133 for more info or a private demo.
You can also subscribe for the latest roofing sales training videos and/or get a copy of my Pitch Like a Pro roofing sales training video library. It includes every roofing sales video I've ever done, organized by category, along with a bunch of tips, tricks, and more. It's great for new people and seasoned veterans, and it's updated all the time to help you and your team smash your income goals and give every customer an amazing experience.
And don't forget to check out my Marketing Battle Pack for instant access to 70+ pieces of my proven, turnkey roofing sales and marketing materials. It's an entire suite, specially designed for sales teams, managers, and owners, providing:
Scripts
Scheduling
Direct Mail Letters
Door Hangers
Goal Projection Planners
A LOT more!
It's affordably priced and comes with a 100% money-back guarantee. There's also a playlist of instructional videos in there, explaining every single thing. So, you can watch the videos, and you'll know exactly what to do.
Thanks for joining me, and I look forward to sharing more with you in the next blog.