Insurance or storm damage roof sales versus retail sales.
I'm going to share a detailed breakdown of the psychology behind those sales.
This is a GIANT can of worms.
Now, here's the deal. I get some hate comments on YouTube, with people saying things like:
Hey, you're a storm chaser. Selling storm damaged roofs is easy.
It doesn't take any talent. They're laydown deals. Someone else's paying for it.
I couldn't disagree any stronger.
There are very few times when a storm or hurricane comes through, the roof is lying next to the house, and the homeowner knows they need a new roof. It's a VERY different game than the majority of true-to-life storm sales or insurance restoration sales, whether that's hail, wind, or hurricane damage.
And on the other side of the coin, we've got the retail folks who just maybe are not well-versed in the storm side. They may even be overwhelmed by it. They don't know where to start.
At the end of the day, though, my true belief is that EVERY company should be equipped to handle both.
Why?
It doesn't always storm. And even in a retail market, all it takes is that ONE windstorm or hailstorm that comes every few years, and you need to be well-equipped to take advantage of it.
So, I'm going to break down the true differences of storm versus retail roofing sales using Eugene Schwartz's 5 levels of awareness.
Who's Eugene Schwartz?
If you're unfamiliar with Eugene Schwartz, he is one of the greatest copywriters and marketers of all time. He wrote a world-renowned book, Breakthrough Advertising. I'm pulling some of the concepts from his 5 levels of awareness and showing you what this means to us in roofing sales.
Welcome or welcome back, by the way. My name is Adam Bensman, The Roof Strategist. Everything I do here (and on my YouTube channel, Instagram, and my podcast on Apple and Spotify) is designed to help you and your team at smash your income goals and give every customer an amazing experience.
And I've helped thousands of roofing sales reps do just that with my all-in-one sales training, sales strategy, and sales system, the Roofing Sales Success Formula & Complete Sales Strategy.
If you'd like a great place to start off for FREE, check out my Pitch Like a Pro roofing sales training video library. It gives you access to over 300 videos (I know it says 240 videos, but we're actually up to 300+ now!), with playlists organized by category for retail, pitching, canvassing, objections, closing — you name it, and there's a playlist in there for you.
It's 100% FREE. I highly recommend you pop in there and get your free copy if you haven't already. If you like my videos, you'll LOVE what's inside this roofing sales video library.
Now, let's break down storm versus retail roofing sales.
FREE "Pitch" Like a Pro Roofing Sales Training
240+ Video Library for Storm and Retail
For Roofing Sales Reps & Owners With New Hires: All the training you need to be a "million dollar" closer!
Get Instant Access FREE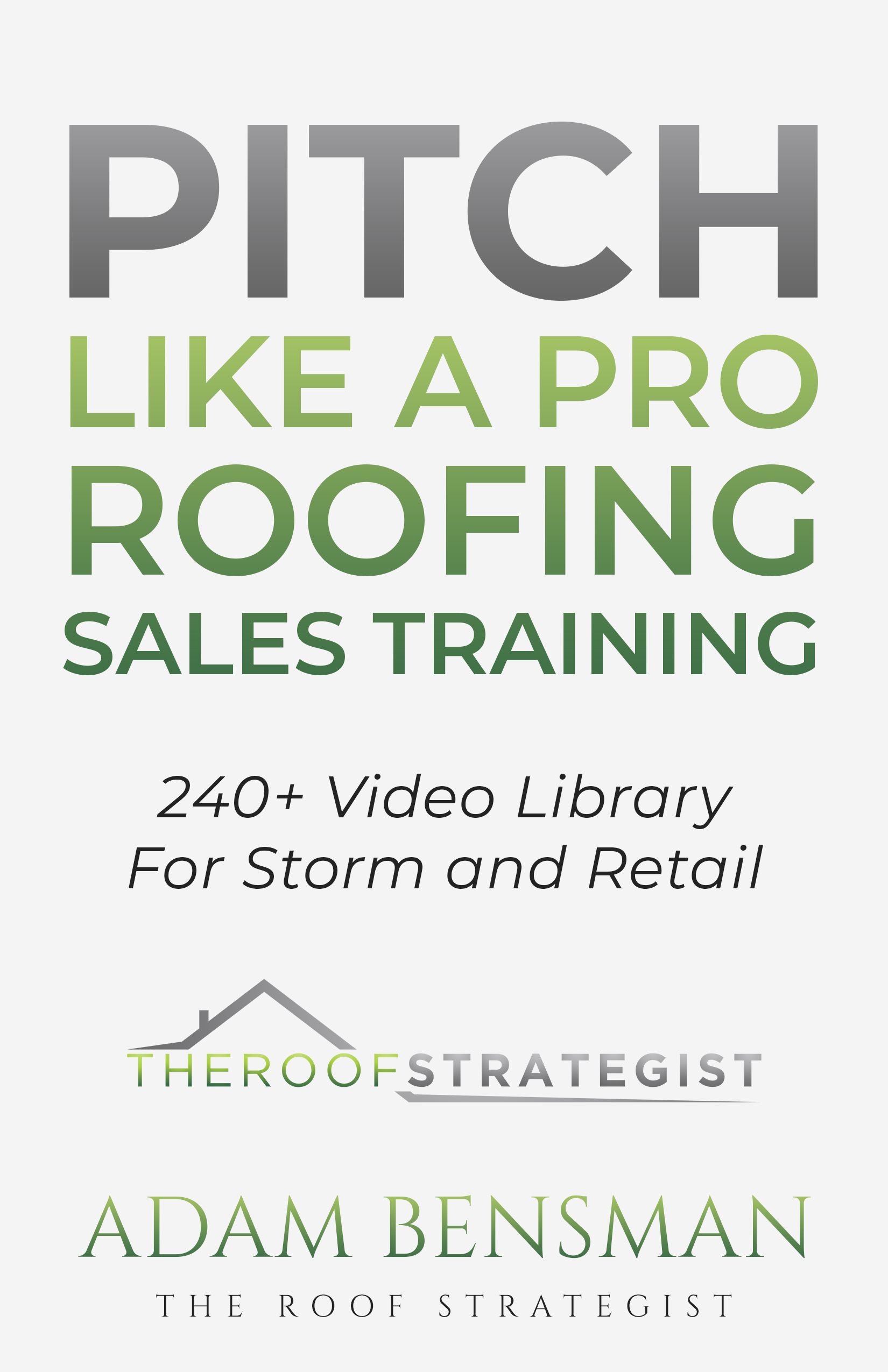 5 Levels of Awareness in Roofing Sales
To really understand how storm and retail roofing sales are different, we need to understand the levels of customer awareness and how that works in roofing sales. Again, full credit here goes to Eugene Schwartz and his 5 levels of awareness.
So, the 5 levels of awareness are:
Unaware
Problem aware
Solution aware
Product aware
Most aware
Now, the real difference in storm versus retail lies in the customer awareness and psychology.
So, let's look at how it works in storm versus retail roofing sales.
Storm Damage Claims: Customer Psychology & Awareness
In storm damage claims (wind or hail), most homeowners tend to be unaware that their roof has even been damaged when we show up. They do NOT know that they could get insurance coverage because they don't have leaks.
Deeper into the eye of the storm, where there has been severe hail and stronger winds, people may visibly see damage from the ground — or their vehicle was destroyed by hail, they see shingles on the ground, or they see shingles flapping up in the wind.
These folks are problem aware. They see their roof has a problem, but they may not understand the solution, meaning they don't know:
How to choose an insurance restoration contractor to support them through the process
How the insurance claims process works
That they need someone to represent them in supplement everything, so there are no additional out-of-pocket expenses.
In fact, with storm claims, you're usually encountering folks who:
Don't really care about the product
Are not really well versed in roofing
Are NOT "most aware," meaning they don't know of you, your company, or the problem
By the way, let me break down what "most aware" means. It means that:
They're aware of the problem, the solution, and your product.
They are READY to go. That means that if they need a roof tomorrow, they know exactly who to call.
For most storm damage claims, the customers we encounter are completely unaware, or they're only aware of the problem.
Retail Roofing Sales: Customer Psychology & Awareness
Now, let's talk retail. Most homeowners who are electing to replace their roof are doing it for a few different reasons:
They have an active leak or an active problem: They are VERY problem aware, and they're VERY solution aware. That means they understand that a roofing company is going to fix this for them. All they need to know is who's trustworthy and who's going to take care of them. So, we have both solution and problem awareness.
Their roof is at the end of its lifespan: In this case, they know they need someone to come out and give them an estimate soon. And they know the roof is the most expensive maintenance item of their home. So, they find you somehow, they call, and they now land into the "most aware" stage. They know that they have a problem and that roofing companies exist. They search for you, and they know your product, which is your brand. Again, applying Eugene Schwartz's model to the roofing world, if they know your brand, they have done 85% of the buying decision before you even show up. They are most aware.
They want specialty products: Folks may want metal roofs, stone-coated steel, or maybe even a solar-roof combo. These folks are very specific about the product they want. They go online, and they find someone who specializes in the product they want. So, these folks are very product aware.
The Real Difference in Storm vs. Retail Roofing Sales: The NEED
Notice there is truly a divide between storm and retail and that divide is shown in the red line below.

That means that most storm damage claims fall into a category in which we face an uphill battle because:
They are unaware or barely know about the problem.
They don't know much else.
On the other hand, with retail:
People know the solution.
They know your product.
They're very aware.
They've hand-selected you.
The skillsets to sell storm versus retail are very different.
3 Dominoes in Roofing Sales & How Need Differs in Storm vs. Retail
Now, I want to tie this in with my 3 Dominoes philosophy. That basically says that we need to knock down 3 dominoes in order to make the sale. Those "dominoes" involve:
Developing trust
Creating the need
Overcoming the money issue
When it comes to the "need," do folks on the retail side have a high or low need?
It's VERY high. They have a high, well-established need. They are very solution and product aware.
Meanwhile, on the storm side, if they're unaware, there isn't even a need to start with. We have to show up and create the need. And we need to create the need to get on the roof and call in the claim.
These folks aren't aware of the problem — or if they are problem aware, they don't know anything else beyond that.

This distinction shows the difference in the skillsets and the sales approach for storm versus retail roofing sales. It also shows the types of people that do very well with each type of sale.
And if you're coming from the retail side with the established need, there can be a real learning curve to figuring out how to create that need.
So, there it is.
Eugene Schwartz's 5 levels of awareness and how there IS truly a divide between selling storm-damaged roofs and retail roofs.
Recap: The Difference Between Storm vs. Retail Roofing Sales
The key takeaway here is to focus on this concept of "need" in the 3 Dominoes:
Trust
Need
Money
The need is the biggest difference between retail and storm damage roofing sales.
When you understand this, you spend more time:
Creating the need for that self-generated lead on a storm damage sale
Focusing on the trust and the money on the retail side
That's why storm damage deals are often harder because you show up completely unannounced and people don't even know they have a problem whereas, in retail, 85% of that decision is made before that lead comes your way.
So, I hope this clears up a lot of the misconceptions that selling storm damage roofs is easy.
Want More Roofing Sales? Or Training For Your Team?
We've helped thousands of sales reps overcome the same sales challenges you're probably facing. Like not getting enough leads, getting stuck on objections, or not closing sales in the house.
Learn how we can help you:
Get trained up in a lightning fast 9.5 hours

Self generate more leads

Become a confident closer
Pick a time for your 1-on-1 demo.
Or use the links below to get instant access, 100% Risk Free! Backed by our 30-Day 'NO BS' Money Back Guarantee.
Thanks for joining me, and I look forward to sharing more with you in the next blog.