Let's talk about the pain cave and roofing sales.
You've been there before is my guess. You know those times  — like when it's 2:00 a.m. or 3:00 a.m. and you wake up, with your mind RACING because you're simply overwhelmed. You're stuck in this loop, thinking:
Hey, I have to get this supplement prepared.
I have to follow up with this customer.
I have to check in on production.
CRAP, I forgot about [fill in the blank]!
That cycle over can just play over and over in your mind. When it does, you wake up in the morning exhausted. You haven't slept.
The reality is that can make us want to throw in the towel and question whether to even stay in roofing sales. At that point, you may think you just want comfort, and you may be wondering:
Is this even right for me?
How am I going to get through all this?
Well, guess what? This happens to ALL OF US.
So, we're going to dig into this. And before we do, I just want to say welcome or welcome back. My name is Adam Bensman, The Roof Strategist. Everything I do here — and on my YouTube channel and in my all-in-one sales training, sales strategy, and sales system, the Roofing Sales Success Formula & Complete Sales Strategy — is designed to help you and your team smash your income goals and give every customer an amazing experience.
Look — I know this industry is NOT easy. That's why I do what I do. I want to give you and your team the tools, resources, and inspiration to SUCCEED.
After all, most roofing salespeople quit or get fired in their first year. I don't want that to happen to you. And, if you're seasoned, you may just need a refresher.
To that end, I have a free offer for you (if you haven't gotten it yet) — access to my BRAND-NEW free training center in my Pitch Like a Pro roofing sales training video library. You can get access by clicking the link or by texting FREE to (303) 222-7133 (when you do, we'll send you a link for instant access).
Now, on to the pain cave in roofing sales.
FREE "Pitch" Like a Pro Roofing Sales Training
240+ Video Library for Storm and Retail
For Roofing Sales Reps & Owners With New Hires: All the training you need to be a "million dollar" closer!
Get Instant Access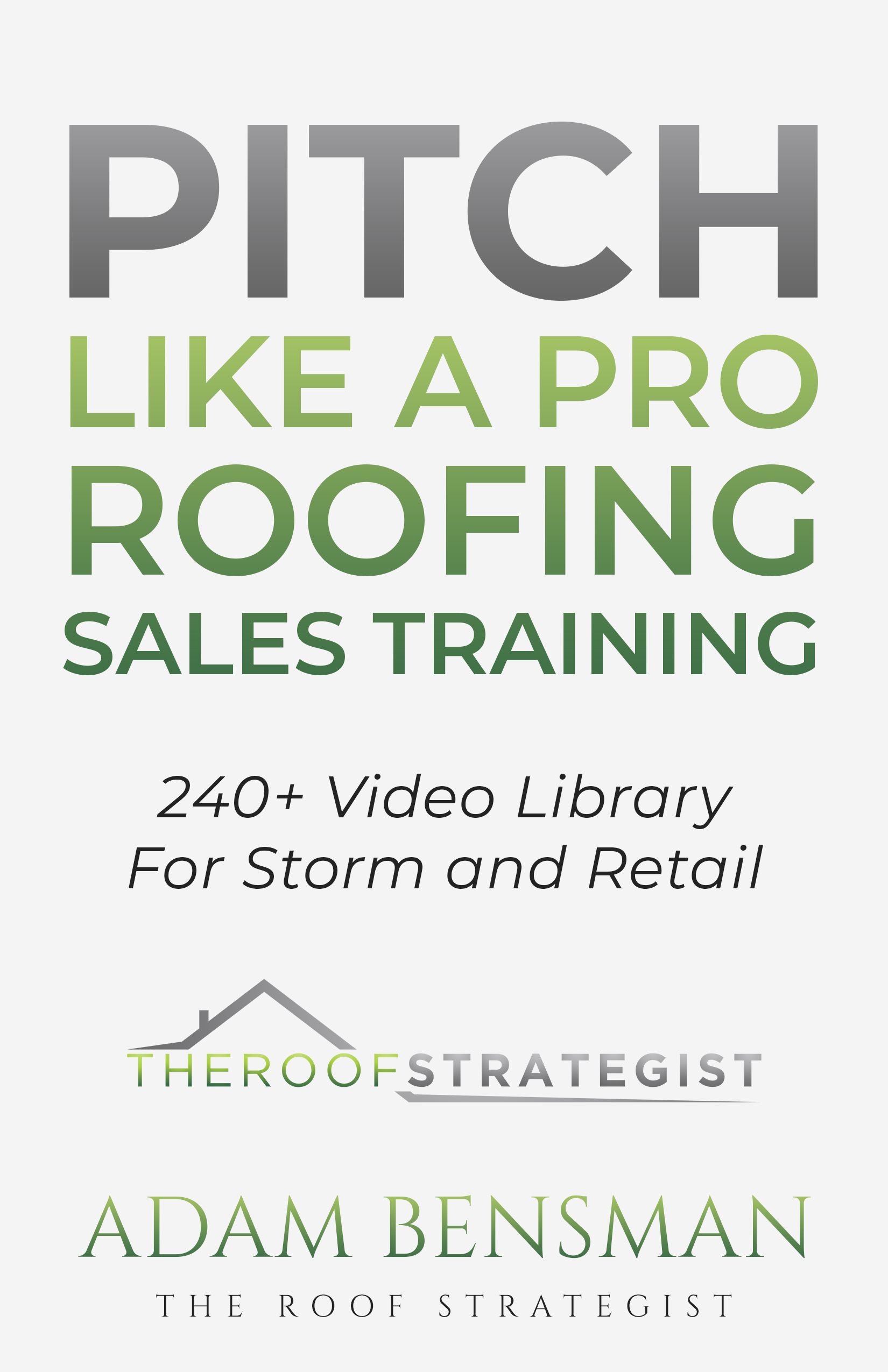 Background: What Is the Pain Cave?
If you've been involved sports at any point in life — including powerlifting, running, football, lacrosse, soccer, baseball, basketball, or whatever — you're familiar with the pain cave.
The pain cave is that when you're pushing your body SO much that your mind screams, STOP! This is too much, and this SUCKS.
That's exactly when you have to settle into the suck because:
You need to push through it.
At that moment the pain cave settles in, what separates the good from the great is the ability to settle into that misery, that discomfort, and that screaming voice telling you that it's TOO MUCH.
That's when you start finding a pace within that pain, that zone of pushing it too far and then dialing back just a little bit. That's how you settle into the pain cave.
An Example of the Pain Cave
My good friend, Hunter, is a HUGE inspiration to me in this respect. He's an endurance athlete.
One day we were out on this 10-hour mountain bike ride. We did like 7,600 feet of climbing (that's A LOT, especially in this wildly technical terrain we have in Colorado).
About 6 hours into our ride, we get to a grueling climb. At this point:
Hunter had already had a pretty gnarly crash (it happened at the very beginning of the ride).
It's blazing hot, and we're exhausted.
We haven't eaten yet.
That climb up the mountain took us about an hour and a half of absolutely grueling pedaling, with the sun just baking us.
That moment was the pain cave.
It was the precise moment when I was thinking, This sucks. I'm doing what I absolutely love, but this moment is MISERABLE!
How We Experience the Pain Cave in Roofing Sales
From my experience, the pain cave often comes up in roofing sales in the middle of the night. And this pain cave is where we can find some of the most beautiful lessons in life.
In fact, I experienced this the other day. I was in bed at around 2:00 a.m., and I was completely overwhelmed by:
My travel schedule
The book I'm writing
The three programs we're launching
The videos I want to refill for a training program
At that moment, I was honestly on the verge of TEARS. I was totally at that EDGE, thinking, This is SO much more than I can handle.
And in that pain cave:
I wanted to just start canceling everything.
I wanted to pull back and get a little bit of comfort.
It wasn't until I breathed through it, grabbed my journal in the morning, and started writing things down that I was able to work through that.
So, again, the most beautiful lessons can be hiding in the deepest of pain.
How to Make the Pain Cave Work for You in Roofing Sales
I want to leave you with this — when you're in that moment, there are two paths that you can take and ONLY two:
You can seek comfort at ALL COSTS: You just want to alleviate the pain. Think of it like the instant pill that you can pop; then, everything goes away. And that's what we all want. We don't want the pain anymore. So, we're going to find that way to quit, hand it off to someone, walk away, or whatever.
You can grin and bear it: This means putting your head down and focusing on how to break down the overwhelming stuff into a plan. This also involves looking for the hidden lessons.
So, when you're in that pain cave, you just need to:
Label and identify it: This can be as simple as saying to yourself, Hey, I'm in the pain cave. I have two paths out.
Figure your way through it: This is how you learn and discover new ways of being. You're going to uncover new ways of managing more than you've EVER managed before. You're going to learn new skill sets and new ways to get organized, plan proactively, and manage your stress better. As you do, you're going to go from a place of being overwhelmed to saying, "Hey, I can handle that!" or "Maybe I can even handle a little more."
Remember, those darkest moments can be our GREATEST GROWTH OPPORTUNITIES.
So, next time you're in the pain cave:
Settle into it and say to yourself, This is going to suck right now, but I'm going to get through it. I can get through it, and the lessons I'm going to learn are going to help me survive, thrive, and then kick some butt in the future.
Think about everything I shared here.
Say to yourself, Hey, I'm in the pain cave. All I have to do is lean in and look for the lessons that I can take away from this miserable moment.
If you can do that, you're going to learn those skills and come out of the pain cave stronger than ever.
Get More Roofing Sales Strategies, Scripts, Tips & Videos
If you want more on any door-to-door roofing sales topic, you'll find it in my all-in-one sales training, sales strategy, and sales system, the Roofing Sales Success Formula & Complete Sales Strategy.
This exclusive program covers everything from knock to close, with packages for individual roofing sales reps and entire teams. Many roofing sales companies LOVE this program because it's a consistent process to train everybody on a relatable sales system that WORKS and that's a lightning-fast way to get results.
If you have questions, just call or text (303) 222-7133 for more info or a private demo.
You can also subscribe for the latest roofing sales training videos and/or get a copy of my Pitch Like a Pro roofing sales training video library. It includes every roofing sales video I've ever done, organized by category, along with a bunch of tips, tricks, and more. It's great for new people and seasoned veterans, and it's updated all the time to help you and your team smash your income goals and give every customer an amazing experience.
And don't forget to check out my Marketing Battle Pack for instant access to 70+ pieces of my proven, turnkey roofing sales and marketing materials. It's an entire suite, specially designed for sales teams, managers, and owners, providing:
Scripts
Scheduling
Direct Mail Letters
Door Hangers
Goal Projection Planners
A LOT more!
It's affordably priced and comes with a 100% money-back guarantee. There's also a playlist of instructional videos in there, explaining every single thing. So, you can watch the videos, and you'll know exactly what to do.
Thanks for joining me, and I look forward to sharing more with you in the next blog.