What is the REAL reason to accept a cup of coffee or water that's offered to you the minute you walk into a customer's home?
Now, whether you're the person that's already doing it, in preaching to your team,
ALWAYS accept the kind offer.
You should ALWAYS SAY YES to this offer whether:
You usually say, "Nope, no thank you. It's too much trouble. I'm okay. I've got some, some water in the truck."
You say, "Yes," occasionally.
Whatever camp you fall into, this story is going to help you understand:
A very powerful psychological principle that's at play here, known as consistency
How the one little gesture of saying, "Yes," to coffee can actually lead homeowners far, FAR closer to saying, "Yes," to choosing YOU as the roofer, meaning you get to leave that house with more deals.
Now, this may sound like a pretty TALL claim. After all, I'm just accepting a cup of coffee.
BUT I'll let you be the judge after you hear the story.
Before we get to it, though, welcome or welcome back. Adam Bensman, The Roof Strategist. Everything we do here — on my YouTube channel, Instagram, my podcast (on Apple and Spotify), and in my all-in-one sales training, sales strategy, and sales system — is designed to help you and your team smash your income goals and give every customer an amazing experience.
So, if you like what you're reading here, you're going to love what's inside. Simply text the word "FREE" to text (303) 222-7133, and you'll get access to:
My Pitch Like a Pro roofing sales training video library.
My roof claims crash course
My recommended reading list
10 closing techniques for every situation
A waitlist to get my book that's coming out very soon called, The Roofing Sales Survival Guide
A whole bunch more
Now, let's dive into why we accept coffee or water offered to us, even if it's troublesome for the homeowner to make a fresh pot or go through some legwork to get it for you.
FREE "Pitch" Like a Pro Roofing Sales Training
240+ Video Library for Storm and Retail
For Roofing Sales Reps & Owners With New Hires: All the training you need to be a "million dollar" closer!
Get Instant Access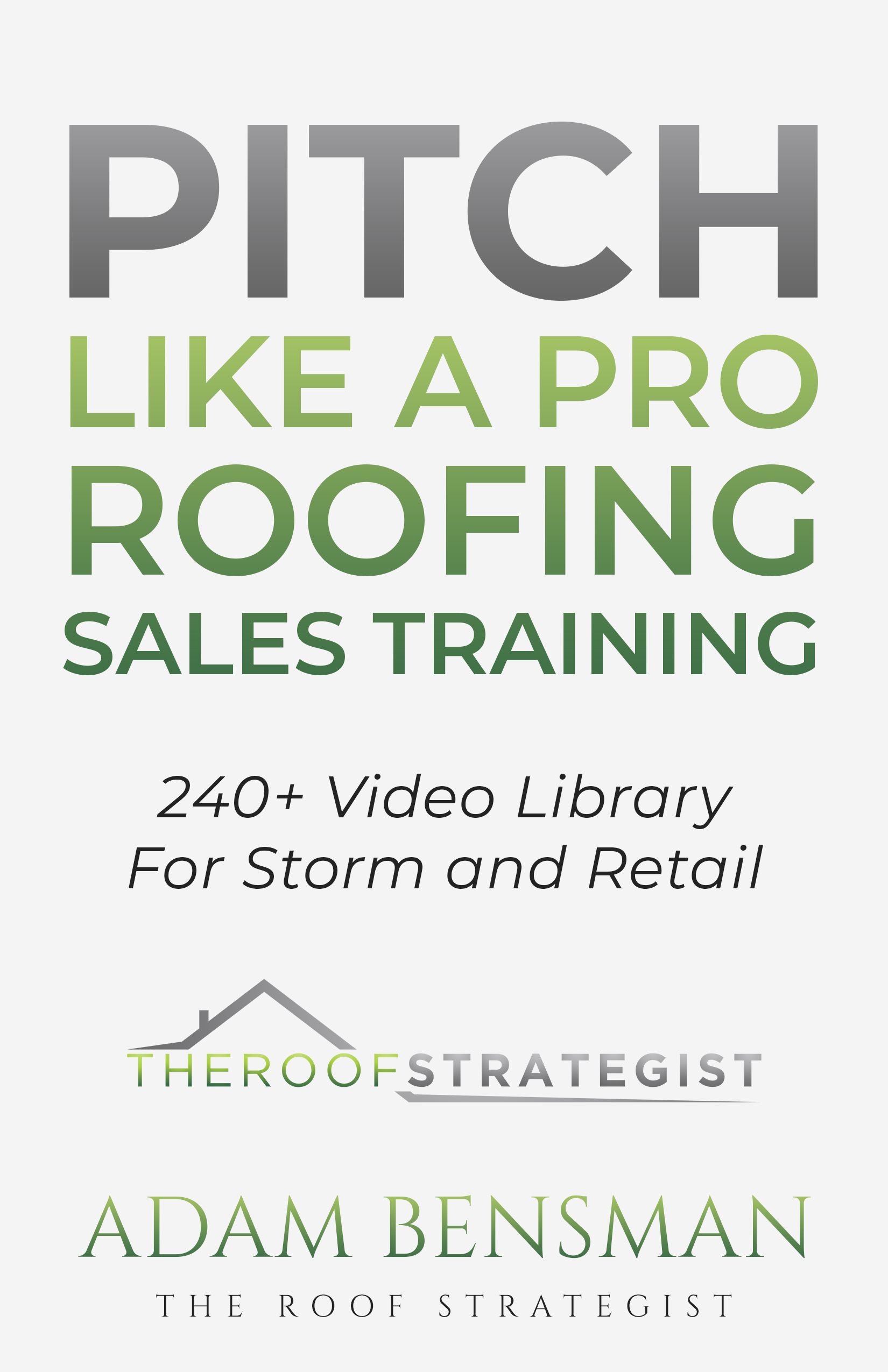 How the Principle of Consistency Works: A Story
A few months ago, I was staying at this hotel for an Owens Corning contractor sales training event. I'm an early riser, so I woke up early and went down to the hotel restaurant for breakfast.
Like most hotel breakfasts, this one was wildly overpriced. It's a continental spread for about $20 or $25.
So, I walk in, and I'm the first of my group to arrive. I was planning to prep for the day with Matt from my team, along with a couple of folks from the Owens Corning team who were also there for the event.
As I get up to the podium with the "Wait to Be Seated" sign:
I look around, and no one is there.
I waited there for a moment, looking around.
About 25 to 30 feet away, I see another podium, with a woman standing behind it and looking at me stone-faced.
The woman at the other podium doesn't acknowledge me, so I keep waiting, getting frustrated at this point. I'm the only customer in the restaurant, and the woman at the podium sees me and hasn't even acknowledged me yet.
So, slightly frustrated, I walk up. She gives me a look that seems to suggest she hates her life, she hates her job, and she doesn't want to be there.
When I get to her, she asks how many people for breakfast, and I didn't give her lip. I just said, "Just me." That's it. Then, she sat me down (by the way, her name was Michelle; I looked at her name tag).
So, just to be crystal clear, this is ALL going on in my head. I am grumpy, and I can tell Michelle is too.
After I sit down and eat, I say to Michelle, "Hey, I'm going to be meeting some folks here in about 30 minutes. Is it possible for me just to come back and grab this table?"
"I can't let you leave here and come back in, or I have to charge you again," she says. Again, that was $25 for some garbage continental buffet.
Are you joking?!?! I just ate. You want to charge me AGAIN? I'm thinking. So, I said to her:
OK, I understand it's not your policy. You're just doing what the hotel is making you do.
How about this?
Can I just leave my bag here and run to the restroom quickly and then come back?
"Absolutely, that's fine," she said.
So, I leave my stuff and go to the bathroom, walking through the hotel lobby because the bathroom was on the opposite side of the lobby.
How Things Shift & How Consistency Comes Into Play: The End of the Story
As I'm coming back, Michelle ran up to me, totally pale like she'd seen a ghost and putting both hands on my shoulders, grabbing me.
Now, I am caught off guard, thinking, WHAT is going on?
Then, she takes her hands off my shoulders, leaning in and whispering in my ear, "Turn around," while physically grabbing my shoulders and turning me around.
And I see it — a long piece of toilet paper stuck to the bottom of my shoe, like a cartoon.
I was marching through the hotel lobby, dragging this 6-foot-long piece of toilet paper through the lobby and into the hotel restaurant.
My face turned bright RED, and Michelle started chuckling. And she probably felt really good about helping me. After all, she was just being a good person:
She saw someone in need.
She stood up to help.
At this point, my whole view of Michelle changed, and I thanked her.
How embarrassing, right? That is the first time in my life that I've actually had toilet paper stuck to my shoe, especially a GIRANT 6-foot piece.
So, I didn't think anything of it beyond this, and I didn't tell anybody about it because I was embarrassed.
Then, Matt and the Owen's Corning guys show up, and five of us eat breakfast. Again, it's about $20 to $25 bucks a head for breakfast — so, we're talking about $100+ for breakfast, and breakfast that's not that great by the way.
When we're done, instead of bringing a check, Michelle walks up to me and whispers, "Breakfast is on me today for you and the team."
I looked around at this point. Now, I've stayed at this hotel A LOT in the past, and I've NEVER been comped to breakfast.
And not only did she comp my breakfast, but she also comped the 5 people with me in one simple gesture. This woman didn't even seem to LIKE me, care about me, or give me any semblance of professional attention at first.
But when she saw me in need:
She helped me out.
In that one moment when she helped me, she saw how good it made me feel.
That inspired her to continue doing nice things, including comping our entire breakfast.
Now, this is the perfect example of the psychological principle known as consistency.
How to Use the Principle of Consistency in Roofing Sales
People behave in a consistent manner. So, when they offer you a cup of coffee and you accept that cup of coffee:
There's a sense of bonding there because people bond through community feeling.
They are far more likely to continue doing nice things for you.
That's the psychological principle of consistency at play.
So, the next time someone offers you a cup of coffee or even water and they say, Hey, uh, let me get a pot started.
What are you going to say again?
Say YES. 
Want More Roofing Sales? Or Training For Your Team?
We've helped thousands of sales reps overcome the same sales challenges you're probably facing. Like not getting enough leads, getting stuck on objections, or not closing sales in the house.
Learn how we can help you:
Get trained up in a lightning-fast 9.5 hours
Self-generate more leads
Become a confident closer
Pick a time for your 1-on-1 demo.
Or use the links below to get instant access, 100% Risk-Free! Backed by our 30-Day 'NO BS' Money Back Guarantee.
Thanks for joining me, and I look forward to sharing more with you in the next blog.