So, they liked you A LOT.
Then, they tell you, "we liked you, but we decided to go in a different direction."
You're losing deals, and you're thinking:
But I know people buy from people they like, the people they know, and the people they trust.
If they LIKE me, why didn't they CHOOSE me?
I've been hearing this question more and more, especially from the good guys in roofing sales — the people who are really trying to do right by their customers.
When that happens, you can begin thinking to yourself:
What am I doing wrong?
Do I need to be a hard seller?
Do I have to compromise my ethics?
Well, the answer is absolutely not. In fact, the answer is actually kind of simple.
So, I'm going to explain why this happens and why people who like you decide to go in a different direction so that you can get ahead of it.
And, hopefully, it never happens to you again.
Before we get started, I just want to say a quick welcome or welcome back. My name is Adam Bensman, The Roof Strategist. Everything I do here — and on my YouTube channel, in my podcast (on Apple and Spotify), and in my all-in-one roofing sales training, sales strategy, and sales system (that's currently used by thousands of people for both storm and retail) — is designed to help you and your team smash your income goals and give every customer an amazing experience.
To do that, we have to win the business.
And when we're hearing people reject us, even though they like us, it causes us to question what we do.
So, let's get to it.
FREE "Pitch" Like a Pro Roofing Sales Training
240+ Video Library for Storm and Retail
For Roofing Sales Reps & Owners With New Hires: All the training you need to be a "million dollar" closer!
Get Instant Access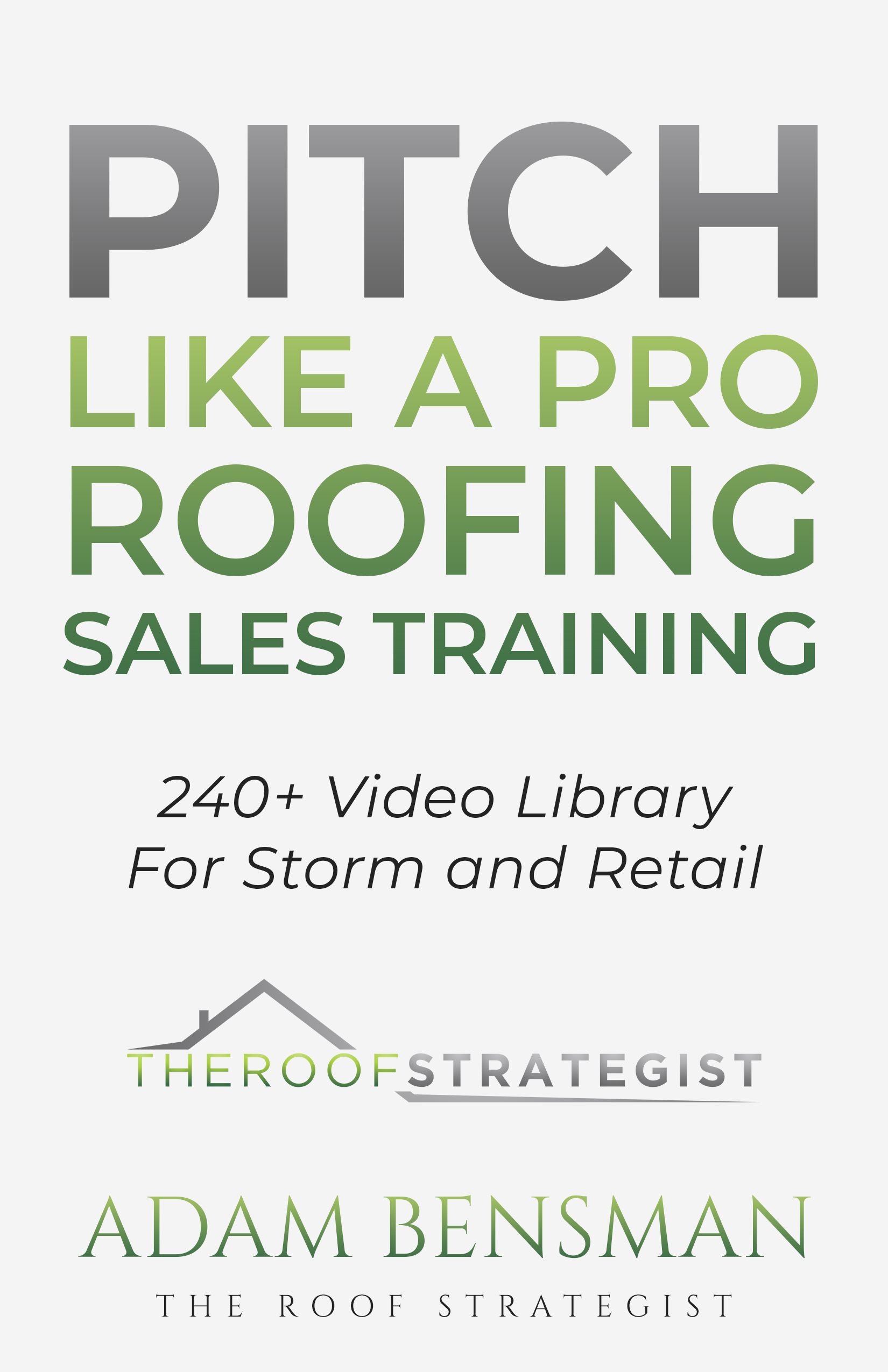 What's Behind the Like-But-No-Buy Rejection in Roofing Sales
Why is it that people who like us choose not to buy from us in roofing sales?
Before we get to the answer, let's start with a story or simple exercise.
Imagine you blow your knee out over the weekend, and you're told at the hospital that you need surgery. So, you go to see two doctors:
The first doctor confirms that you need knee surgery, so you seek a second opinion.
The second doctor also says you need knee surgery.
Reflecting on both appointments, you consider the facts that:
Doctor number one is brand new. He's performed this surgery about 10 times. He was super nice, and you have a lot in common with him (you both love to cook, you both have 2 kids, etc.). You really, really
Doctor number two wasn't necessarily someone you liked. In fact, you had different political views and shared zero common interests. What sets this doctor apart is that he spent time explaining exactly what was going to happen. He let you know that you were in really good hands because he's done this surgery literally thousands of times over decades.
So, which surgeon do you choose?
Are you going to go with the one you like who doesn't have much experience or the one that you didn't like personally but who was a professional and an expert?
Even if you didn't like the second doctor on a personal level:
He was credible.
He guided you through the process.
He had a lot more experience .
Clearly, you'd choose the doctor who's the expert.
Often, we put too much emphasis on liking people. There's no doubt that it WILL help the expert if he was likable. Those are done deals.
So, we need to remember that, although it's important for us to be liked, it's more important for us to bring value.
How to Bring Value in Roofing Sales
The word "value" is thrown out a lot, and it's overused.
So, what exactly is "value" in roofing sales? How do we define "value"?
Here's how I define and deliver value in roofing sales. I:
Identify a clear problem: Oftentimes in roofing, this means problems that the homeowners didn't know they had. It's like when you show up, the homeowner thinks the roof is fine, saying, "We can get three to five more years out of it." So, we have to identify the problem. And it's not that difficult to identify.
Get the homeowner to take ownership of that problem: This means getting them to describe this situation, and it can be challenging. The point is that it's not for us to say, "Mr. Homeowner, you have all of this roof damage" (check out my video, Stop Saying, "Your Roof Is Damaged" – Do This Instead, for more on this topic; it's really going to help). That would be like me telling someone they're an alcoholic when they have to realize that for themself. After all, they won't just change because I say something. They have to take ownership of it before they make a change. The same goes for losing weight (by the way, I apologize for being forward here. I'm only sharing this because I quit drinking once I recognized I had an unhealthy relationship with alcohol — once I took ownership of that problem). And sales IS change. When someone buys something, they intend to make a change or change something about themselves or their situation. People will NOT embark on this journey of change unless they take ownership of the problem.
Showcase credibility and expertise with a solution: The solution you bring to the table can highlight your credibility, your authority, and your expertise.
By the way, if you're using my CAR PARK Closing Formula in my all-in-one sales training, sales strategy, and sales system, the Roofing Sales Success Formula, I guide you through these steps, covering how to:
Connect and build likability
Identify the problem with the homeowner
Create a really compelling case
Get the homeowner to describe the damage to you
Overcome the price or deductible objection
Our sales presentation comes WAY later. Too many people are trying to sell themselves or buddy up. Instead, we need:
Explain how it all works.
Showcase our expertise.
Showcase our social proof and credibility.
When we follow those steps, we start closing more deals. And that's what it's ALL about.
So, that's the REAL reason why people say they like you, but they choose to go with someone else. It's simply because you didn't bring enough value.
Recap: How to Avoid the Like-But-Won't-Buy Rejection
In summary, your mission is now to bring value and:
Identify the problem.
Get the homeowner to take ownership of that problem.
Provide an absolutely amazing solution by showcasing your credibility, your authority, and your expertise.
Remember, it's just like that example with the doctors.
Get More Roofing Sales Strategies, Scripts, Tips & Videos
If you want more on any topic in roofing sales, you'll find it in my all-in-one sales training, sales strategy, and sales system, the Roofing Sales Success Formula & Complete Sales Strategy.
This exclusive program covers everything from knock to close, with packages for individual roofing sales reps and entire teams. Many roofing sales companies LOVE this program because it's a consistent process to train everybody on a relatable sales system that WORKS and that's a lightning-fast way to get results.
If you have questions, just call or text (303) 222-7133 for more info or a private demo.
You can also subscribe for the latest roofing sales training videos and/or get a copy of my Pitch Like a Pro roofing sales training video library. It includes every roofing sales video I've ever done, organized by category, along with a bunch of tips, tricks, and more. It's great for new people and seasoned veterans, and it's updated all the time to help you and your team smash your income goals and give every customer an amazing experience.
And don't forget to check out my Marketing Battle Pack for instant access to 70+ pieces of my proven, turnkey roofing sales and marketing materials. It's an entire suite, specially designed for sales teams, managers, and owners, providing:
Scripts
Scheduling
Direct Mail Letters
Door Hangers
Goal Projection Planners
A LOT more!
It's affordably priced and comes with a 100% money-back guarantee. There's also a playlist of instructional videos in there, explaining every single thing. So, you can watch the videos, and you'll know exactly what to do.
Thanks for joining me, and I look forward to sharing more with you in the next blog.