So, you're thinking about quitting roofing sales.
Whether you're brand new to the roofing business or you're a seasoned veteran, you could be here because this is your FINAL straw, your last attempt to figure out if:
You should really continue in this business.
You've reached an indicator that this is simply NOT the right business for you. You're OUT, and you have to go find something new.
Now, if you're in this position, it's probably due to a combination of circumstances, and:
You feel totally beat down.
You were really excited about the earning potential in roofing sales — and you were sold on it by the company and the excited, successful salespeople at the organization — BUT you find yourself STRUGGLING.
You're putting in this time and the money, you're doing the training, and you're just NOT seeing any results.
You're likely having whispers in your ear (maybe a significant other at home, your friends, or your family), saying, "Hey, WHAT are you doing over there? Are you sure you want to put all this time, money, and energy into the roofing industry? You have NO roofing experience and NO sales experience."
Any of that could get you thinking about quitting roofing sales. Similarly, for seasoned roofing sales reps, quitting can come up with:
A series of beatdowns
Personal lives being overtaken by work lives
Various setbacks, like customer cancellations
Again, all of this can have you questioning whether or not you should be in this business.
And the truth is that:
Roofing sales is NOT for everyone.
I want to help you figure out whether this industry is right or wrong for you.
About 66% of first-year sales reps quit or get fired, and the number one reason for that is their mindset. They weren't prepared to succeed from a tactical and sales standpoint.
So, hopefully, we can help with both here.
Before we go any further, I just want to say a quick welcome or welcome back. Adam Bensman,  here, The Roof Strategist. Everything I do here is designed to help you and your team smash your income goals and give every customer an amazing experience.
If you are new here and you're looking for more inspiration, motivation, roofing sales strategies, or mindset insights, jump inside my FREE training center. There's no catch whatsoever.
Now, let's rock and roll.
FREE "Pitch" Like a Pro Roofing Sales Training
240+ Video Library for Storm and Retail
For Roofing Sales Reps & Owners With New Hires: All the training you need to be a "million dollar" closer!
Get Instant Access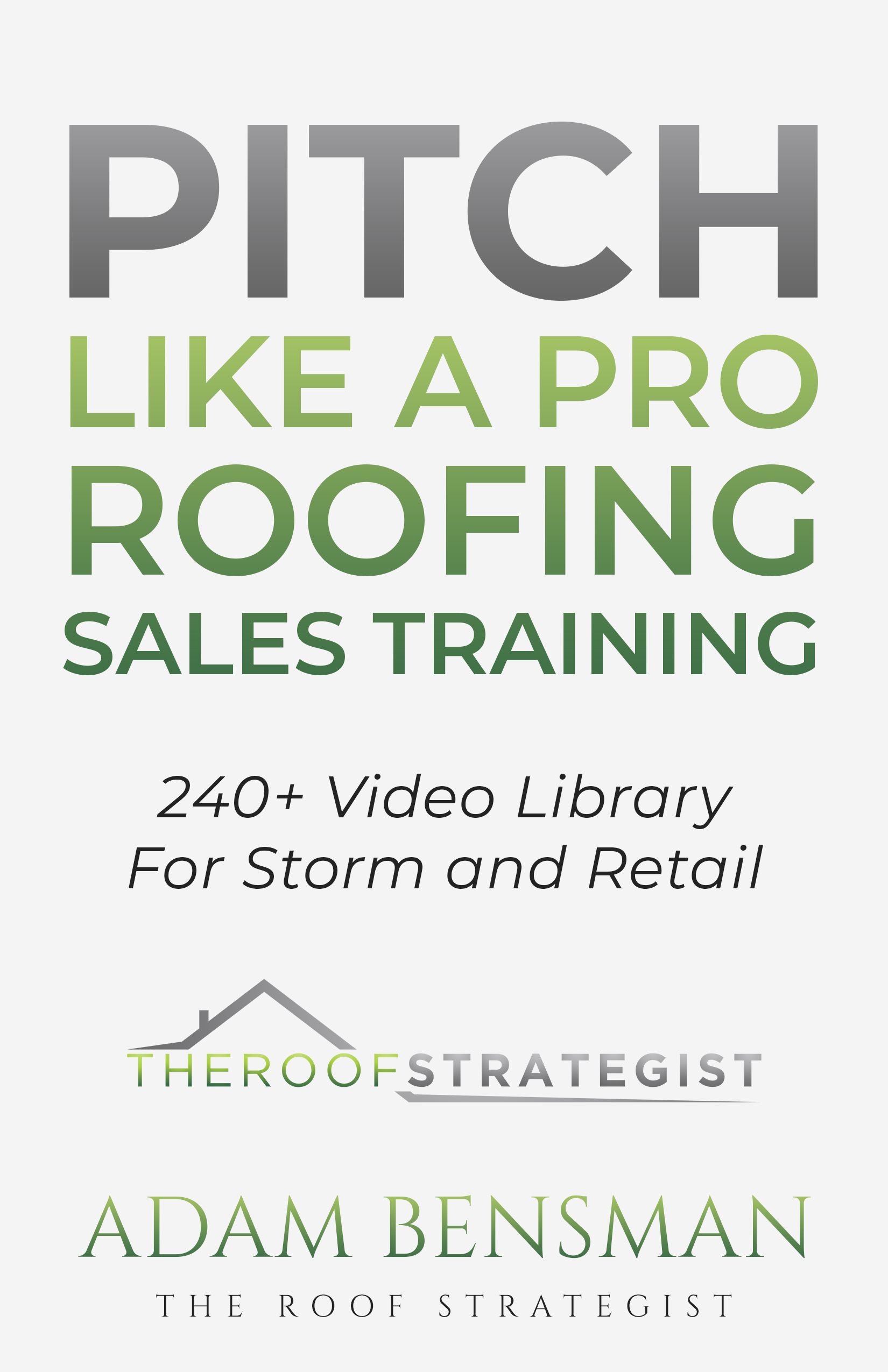 Background: Why Wanting to Quit Roofing Sales Is Common
You are NOT alone if you want to quit roofing sales. In fact, I've wanted to quit this business three times — and one time I did. And there are two reasons why I'm covering this topic:
The first time I left this business, I had no intention of coming back. That's because I was burned out. That's common, and it happens quite a bit in roofing sales. So, I want to address that head-on here.
I was going through YouTube comments recently, and I saw several folks comment about how they were struggling and questioning themselves. I've been there, and I know how normal that is. Still, we just don't see it talked about that openly in Facebook groups. No one wants to blast out to the world that they're struggling emotionally, feeling depression, or dealing with anxiety. It is VERY RAW stuff.
Luckily, a brave soul in the Pitch Pro Movement, a community and mastermind that I run, posted just the other day about needing help with motivation. In fact, he shared that it was really deeper than that and that:
It wasn't really about motivation at all.
It was about whether or not he wanted to quit.
Now, this gentleman not only left that call feeling great, which is the most important thing, but he also signed two deals that afternoon, putting up a "Thank You" post on social media the very next day.
That's because he went from wanting to quit to:
Feeling good and CONFIDENT
Signing additional deals
Being optimistic and excited about the future.
I want to help you do the same thing, even if that means you discover that roofing sales isn't right for you and that you'd be better off in a different career. That's OK. I want what's best for you.
Now, let's dive in and look at three facts about roofing sales. These facts are going to help you figure out if roofing sales is right for you and whether to stick with it.
Roofing Sales Fact #1: Roofing sales is not for everybody.
About 2/3 or 66% of roofing sales reps quit or get fired in their first year. I said that at the top, but it's critical to note this again.
Why?
Because the folks who are quitting in their first year lack mindset and sales strategy. They are not equipped to succeed.
Roofing Sales Fact #2: Roofing sales is one of the most challenging career paths.
Roofing sales has NOTHING to do with roofs or knocking on doors. And it has nothing to do with selling roofs. The REAL challenge in this business is the fact that:
We have to face our inner demons every day.
There's almost no other career path that will force us to do that.
Example: As a kid, I was a peacekeeper. I was afraid of conflict, and I didn't want to ruffle feathers. It was a BAD thing for me as a kid. So, when I got into roofing sales, I was freaked out knocking on doors. My conflict-avoidant peacekeeper was freaked out. I was scared, and I'd get thrown off pretty easily, rattled by rejection, screaming, and name-calling because I've avoided those things my WHOLE life.
So, having to face that every day for my career made me miserable and uncomfortable. Still, I looked at this as an opportunity and a chance for a type of daily "therapy." Eventually, I drew this link between my childhood experiences and my conflict avoidance tendencies. That is how I was able to break free of those character traits that I had developed as a survival mechanism. They didn't serve me anymore, so I focused on working through them.
That's why I say roofing sales is personal development in disguise.
So, all these roadblocks and challenges that came up to me in my work environment were really just my inner demons. By facing them:
I grew personally.
I ended up becoming better at sales.
I made more money.
That's why I say roofing sales is personal development in disguise. I look at it like this joyous game. In fact:
I don't really care about roofs or roofing.
I love this industry because it gives us an opportunity to basically improve ourselves, face our inner demons, gamify our personal development, and heal past traumas in an environment.
When we get better and serve our customers better, we GET PAID.
That's EXCITING. It's not the same as fun, but it IS exciting. After all, roofing sales is not always fun.
Still, roofing sales is personal development in disguise. Knowing that we're going to be facing those challenges can be really empowering and exciting.
Roofing Sales Fact #3: Personal baggage can come to work with us in roofing sales.
The other reason that roofing sales is so hard is that we bring ALL of our personal baggage with us to work. Now, that can include things like that:
Fight with our spouse
A family member who has a serious illness
A death in the family
Problems with children
We carry this stuff to work with us. When we do, it poisons our energy, our motivation, our joy, and our sales abilities.
Then, we bring all of the stuff from our workday back into our personal lives. That meddling can make things super challenging.
We can leave the baggage behind and change all of that when:
We have the right mindset about how we work.
We think about our career path as an opportunity to basically be in a therapeutic environment, where we get to learn how to be the BEST version of ourselves every day.
The byproduct of that is:
Personal development
Doing better in sales
Getting paid MORE MONEY
Our mindset and perspective can ALL change when we have a powerful "why."
That's the ultimate motivation, and here's more on How to Find Your Ultimate Motivation. That really means tapping into the reason why you're in roofing sales because money is not enough. Money won't carry you through once you've earned enough to pay your bills.
Again, that mindset shift means that we focus on:
Why we're doing what we're doing
Understanding your deeper motivation and your deeper "why"
vCommitting to daily actions, regardless of the results, and putting one step in front of the other
We need to recognize that sales is NOT a linear journey, and:
We're going to go up.
We'll have a rollercoaster of emotions going down.
We're going to want to quit, jump off it, and vomit — and then it's going to get FUN and exciting again.
That's just the nature of the journey, and we have to buckle up and be ready for the ride.
So, I hope this helps you decide if roofing sales is the right path for you. After all, you're probably thinking, This is awesome and exciting, or I want nothing to do with that.
And I hope that this reshapes your mindset and gets you to rethink your approach to your career, whether that path is in roofing sales or elsewhere.
Want More Roofing Sales? Or Training For Your Team?
We've helped thousands of sales reps overcome the same sales challenges you're probably facing. Like not getting enough leads, getting stuck on objections, or not closing sales in the house.
Learn how we can help you:
Get trained up in a lightning-fast 9.5 hours
Self-generate more leads
Become a confident closer
Pick a time for your 1-on-1 demo.
Or use the links below to get instant access, 100% Risk Free! Backed by our 30-Day 'NO BS' Money Back Guarantee.
Thanks for joining me, and I look forward to sharing more with you in the next blog.