I'm going to teach you the TOP 5 SALES SKILLS that I've seen in TOP EARNERS in roofing sales.
Welcome or welcome back, by the way.  My name is Adam Bensman, The Roof Strategist. Everything I do here — and on my YouTube channel — is designed to help you and your team smash your income goals and give every customer an amazing experience.
And I've had the unique privilege of supporting many thousands of roofing sales reps, in both storm and retail, in every single state across the U.S.
In fact, I'm now traveling the country with Owens Corning, training in all of the different markets from coast to coast (I've recently been to Philadelphia and Pasadena — and I'm headed out to Florida, Texas, Arkansas, Minnesota, and beyond soon).
So, no matter where you are, these 5 sales skills are the same ones that I see driving success for retail roofing sales reps, storm salespeople, and companies doing both.
And since I have so many videos on the actual training and the strategies, I provide a full system, with strategies that aren't really taught by others because these are things that people "naturally develop."
So, I want to help you:
Bypass that natural learning curve
Really fine-tune and electrify those key sales skills
Now, without further ado, let's jump into the critical sales skill that can carry you no matter what you're selling.
FREE "Pitch" Like a Pro Roofing Sales Training
240+ Video Library for Storm and Retail
For Roofing Sales Reps & Owners With New Hires: All the training you need to be a "million dollar" closer!
Get Instant Access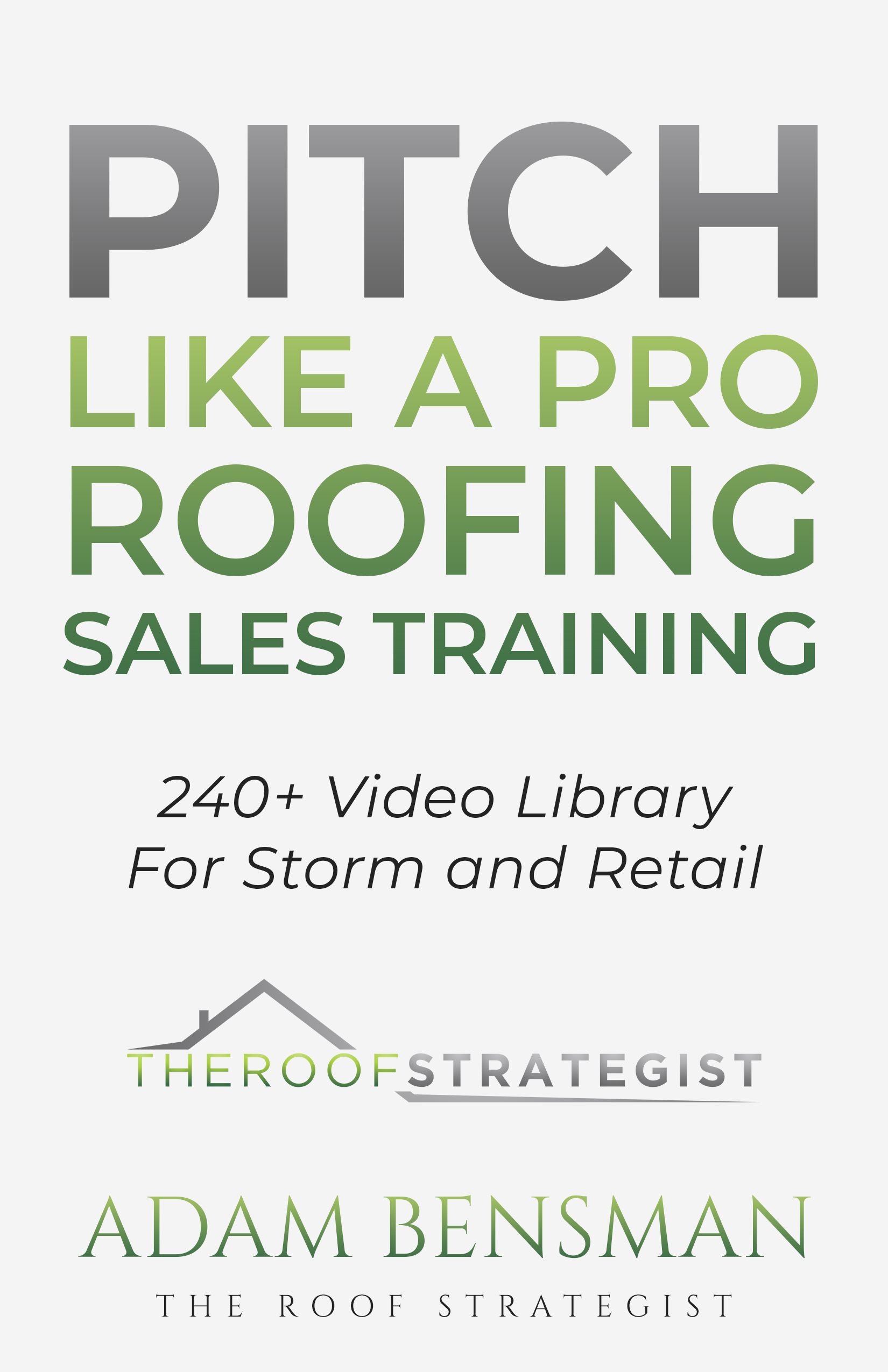 Top Earner Roofing Sales Skill #1: Seeing It from the Customer POV
The first skill is being able to step into your customer's shoes and see things from their point of view (POV) or perspective.
So, let's try it right now. I want you to:
Imagine that you're at home on a Tuesday night.
You're home early from work, and you've just had dinner with the family.
As you sit down to enjoy your evening together, you hear a knock on the door.
That's when you turn to your wife, your girlfriend, your boyfriend, your husband, the kids, or anyone else at home and ask, "Who's that? Is anyone expecting somebody to stop by?"
You walk to the door, wondering who's there and what they want.
Now, that we know what the customers are experiencing, we can now approach the door, one step ahead of the game because we know what they're thinking.
THAT — being able to see things from your customer's perspective — is the BEST sales skill you can develop.
So, step OUT of your shoes, and don't think about what you want to say every time you're going to communicate or pitch to a customer. Instead, think about what you would want to hear from your customer's perspective.
And this can be really simple. In fact, it can be as simple as saying something like:
Hey, I'm really sorry to bug you. I hope the kids weren't sleeping.
I hope I didn't catch you in the middle of dinner
Simply being polite and understanding can get things off on the right foot, setting the stage for taking this communication deeper.
Top Earner Roofing Sales Skill #2: Telling the Customer What They're Thinking
With the homeowner's perspective in mind, we KNOW what they're thinking when they hear us knock at the door, and we can address it right away.
Here's one example of how we can do that the second that front door opens:
Hey, I understand that you're probably wondering who the heck I am and why I'm stopping by, and I'll get right to it.
I'm Adam, and I'm stopping because I just left Peggy's house. She chose us to do her roof because her roof is 25 years old, and it needs to be replaced.
This little windstorm that came through ripped some shingles off her roof, so we're actually helping her file a claim and get the roof approved by insurance, so she doesn't have to come out of pocket more than her deductible.
And while I was on her roof, I noticed you had some missing shingles too.
So, just by telling the homeowner EXACTLY what they're thinking, we can break down those walls and move things forward.
And this tactic works for both storm and retail. In fact, if you're working the storm side and the deductible objection comes up, you say something like:
Hey, Mr. Homeowner, I know what you're probably thinking.
You had an insurance claim. You want to keep the insurance on one side and the contractors on the other. You want to see what the insurance company says and what they're willing to give you.
Then, you want to go out to a bunch of roofers and get estimates to try to find a way to get this done without paying your deductible or, better yet, pocketing some of the cash.
After all, isn't that EXACTLY what they're thinking? So, use that thought process to:
Tell them exactly what they're thinking.
Give yourself an opportunity to overcome their objection.
Now, if you're doing retail, you're probably going to be talking about price and/or size. In retail, you can say something like:
Mr. Homeowner, listen, I understand that you're shopping for estimates.
And I get that you're probably getting 1, 2, or 3 estimates at a minimum because you want to see which contractor you like, who's reputable, who shows up on time, and who gives you a good feeling.
But, most importantly, you want to make sure you get GOOD value.
You definitely don't want to overpay or feel like you're being taken advantage of.
And chances are, you're getting estimates and looking at the dollar amount of the estimate to figure out whether or not it fits your budget or feels right to you.
Now, many people want to go with the lowest estimates because they think every roof's the same.
Unfortunately, though, many people don't realize that every roof isn't the same, and they can get tricked by those low estimates.
Then, we shake all of that out, explaining the pitfalls of low estimates. I teach you exactly how to do just that in my Roofing Sales Success Formula & Complete Sales Strategy.
So, again, top earners in roofing sales:
Understand what the homeowner is thinking
Have enough experience and practice in thinking like customers to be able to stay at least a couple of steps ahead
Clearly explain exactly what the customer's thinking in a way that makes the customer feel heard and understood — and in a way that helps them start to build trust with that customer.
Top Earner Roofing Sales Skill #3: Controlling the Conversation with Questions
The top salespeople have RESTRAINT, and they know how to control a conversation by asking questions.
Now, there are two paths to take here, especially with objections.
Specifically, let's say you run into the price objection. You hear, "Hey, you're too expensive. You're more expensive than the next person." Now, when that happens:
MOST salespeople want to immediately shift into explanation mode. They want to say something like, "Well, we have a better product, better service, and a better warranty. We're not going to be the cheapest. We're not willing to compromise on quality." They explain, explain, and keep explaining.
The TOP earners do NOT try to explain the pricing difference away. Instead, they PAUSE.
In fact, the top earners pause and:
Take a step back.
Control the conversation by asking a "how" or a "what" question.
Now, those questions can be things like (and not limited to):
What about the other estimate seems more valuable to you than our estimate?
What about the other contractor do you like more than us?
How do you know that the other roofer is going to do all the things that I've listed when their estimate just says, "Remove and replace the roof," next to a dollar amount?
These types of "how" and "what" questions:
Keep the conversation going.
Allow the homeowner to close the gap between the two (or more) options they're considering.
Get the homeowner to literally sell him or herself.
As you do this, keep in mind that you do NOT want to ask "why" questions. Why not?
Because "why" questions feel judge-y and make someone feel dumb. And we don't want homeowners to feel like that, so just ask those "how" or "what" questions.
Top Earner Roofing Sales Skill #4: Knowing Why People Buy
Top earners in roofing sales understand psychology and WHY people buy. Now, this takes time, practice, and experience to understand.
By the way, I recommend that you read a book called, Influence by Robert Cialdini. This is a MUST-read if you haven't checked it out already.
And you can actually text the word FREE to (303) 222-7133 to get my entire recommended reading list that includes the top 82 books I've read and recommend for anyone in roofing sales. I've broken this up into various categories, including sales, communication, personal development goals, motivation, money management, and so much more.
Just pop into the Pitch Like a Pro roofing sales training video library for access to all that, as well as our BRAND-NEW training center. Simply click on that link or text FREE to (303) 222-7133.
So, again, understanding sales psychology and why people buy takes time and experience.
And that psychology is why I developed a Sales System for closing that's known as the CAR PARK Formula. This can help you knock down all of the right dominoes in the right order to close MORE.
I teach this lightning fast, so you or your team can get trained up in just ~9.5 hours. And in my Sales System, I take the mystery out of it, so you don't have to figure it all out by yourself. Just follow this framework because:
I know how and why people buy.
I'm going to tell you exactly what to say — and the order in which to say it — so you can run that presentation seamlessly and CLOSE those deals.
And this REALLY works. In fact, I have to give a shoutout to Roman, a roofing sales rep who's closing at 76%, mostly in retail, at 21 years old. He has NO experience in the industry, and he's achieving incredible success with my Sales System.
The point is that:
The top sales reps truly understand that buying psychology.
Instead of winging it or talking their way through it, top earners really know kind of what levers to pull in order to make the sale.
By the way, if you want to learn how all of that works within my Sales System, click that link or text the word DEMO to (303) 222-7133.
Top Earner Roofing Sales Skill #5: Knowing How to Keep the Conversation Going
The final sales skill that top earners have is being incredibly adept at fearlessly keeping the conversation going. Now, I want to talk about this because roleplay is the best way to practice this.
In fact, I was just doing some roleplay during one of my roofing sales trainings in Philadelphia, and this young guy who was newer in the business volunteered to participate.
I have NEVER seen such smooth transitions in my entire life doing roleplay with training teams. This rep:
Had rehearsed and practiced SO much
Fearlessly kept that conversation going, tying this all together SO smoothly
To do that via roleplay, this rep:
Saw things from the homeowner's perspective
Told me (as the homeowner) what I was thinking
Communicated to me, throughout the process, why I was giving him certain objections — "You think it's too expensive because you're shopping for a fair price, right?"
It was PHENOMENAL because:
He controlled the conversation by asking how or what questions to keep it going, instead of explaining it away.
He understood the psychology of why people buy.
He knew exactly when to mention social proof and testimonials, using some urgency.
So, fearlessly keeping that conversation going specifically applies to the end of a sales appointment when you hear things like:
Thanks for coming out. We loved everything you shared. We'll give you a call in a few days if we're interested.
Thanks for coming out. My wife and I have to chat about it. We'll call you in a few days.
Fearlessly leaning into that can help you overcome that objection and ask the RIGHT questions to keep that conversation going.
In fact, even if you're not that great at closing, keeping the conversation going can help you:
Get to the bottom of the truth.
Understand what that person really
Find out how to communicate your message better, so you can WIN the business.
Get More Roofing Sales Strategies, Scripts, Tips & Videos
If you want more on any topic in roofing sales, you'll find it in my all-in-one sales training, sales strategy, and sales system, the Roofing Sales Success Formula & Complete Sales Strategy.
This exclusive program covers everything from knock to close, with packages for individual roofing sales reps and entire teams. Many roofing sales companies LOVE this program because it's a consistent process to train everybody on a relatable sales system that WORKS and that's a lightning-fast way to get results.
If you have questions, just call or text (303) 222-7133 for more info or a private demo.
You can also subscribe for the latest roofing sales training videos and/or get a copy of my Pitch Like a Pro roofing sales training video library. It includes every roofing sales video I've ever done, organized by category, along with a bunch of tips, tricks, and more. It's great for new people and seasoned veterans, and it's updated all the time to help you and your team smash your income goals and give every customer an amazing experience.
And don't forget to check out my Marketing Battle Pack for instant access to 70+ pieces of my proven, turnkey roofing sales and marketing materials. It's an entire suite, specially designed for sales teams, managers, and owners, providing:
Scripts
Scheduling
Direct Mail Letters
Door Hangers
Goal Projection Planners
A LOT more!
It's affordably priced and comes with a 100% money-back guarantee. There's also a playlist of instructional videos in there, explaining every single thing. So, you can watch the videos, and you'll know exactly what to do.
Thanks for joining me, and I look forward to sharing more with you in the next blog.