Tie-downs in sales are one of the most common tactics used to get "Yes" agreements from customers.
Now, I have an unpopular opinion about these, with a quick disclaimer coming up shortly. Many people will NOT agree with my viewpoints here.
That's OK. And at the end of the day, you have to do what works for you.
So, I'm going to break down tie-downs, going over:
Weak versus strong tie-downs
When to use tie-downs
How to use them effectively in roofing sales
Before we get started, though, I want to go over what a "tie-down" is for anyone who's newer to roofing sales or the roofing industry.
Tie-Downs in Roofing Sales: What Are They & How They Go Wrong
A tie-down is a micro commitment that gets you a "yes" or an agreement throughout the sales process and indicates to you that:
The customer is following along.
They are literally buying into and agreeing with everything you have to say, essentially mirroring it back to you.
When tie-downs work, suddenly, the homeowner is saying "yes," nodding and agreeing with you. In theory, if you do this enough and the right way:
People can't HELP but say "YES" when you get to that final ask.
They'll be asking you, "Where do I sign?!?"
That's kind of the philosophy behind using tie-downs in roofing sales (and sales generally). Now, in my experience as a customer going through the sales process, I find that I can FEEL when I'm being sold. You can pinpoint this too.
It's when a salesperson is trying to manipulate you in a way that doesn't feel natural and organic. And it doesn't feel good.
In fact, Sheena (my wife) and I have sat through sales appointments, and she'll literally nudge me under the table when this happens to sort of say, Here we go again with this "yes" track of nonsense! These are the types of appointments when we're hearing the salespersons say:
So, you guys would really like this, wouldn't you?
Don't you think this would REALLY make your lives better?
You think that your home value would go up, don't you agree?
This happens with ALL types of sales — cheesy solar proposals, furniture sales, car sales — you name it. So, I really want to break down the core concept and answer some key questions, including:
What is a tie-down?
How can we use tie-downs effectively?
Where do people go wrong with tie-downs, so they become cheesy and people feel like they're being sold?
After all, in today's modern age, buyers are smarter than EVER before, and they've been exposed to more sales tactics than ever before. So, we have to:
Be more authentic.
Have a deeper understanding of the psychology.
Integrate tie-downs in a more subtle — and an even more powerful — way.
By the way, thanks for joining me today. My name is Adam Bensman, The Roof Strategist. Everything I do here — and on my YouTube channel, on my podcast (on Apple and Spotify), and in my Roofing Sales Success Formula & Complete Sales Strategy (used by thousands and thousands and thousands of people in every U.S. state) — is designed to help you and your team smash your income goals and give every customer an amazing experience.
To help you out on that journey, get your copy of my Pitch Like a Pro roofing sales training video library, sent right to your inbox (if you haven't done so already). It includes every video I've ever done, organized by category for easy binging, training, and skills sharpening.
Now, let's dive into weak versus strong tie-downs.
FREE "Pitch" Like a Pro Roofing Sales Training
240+ Video Library for Storm and Retail
For Roofing Sales Reps & Owners With New Hires: All the training you need to be a "million dollar" closer!
Get Instant Access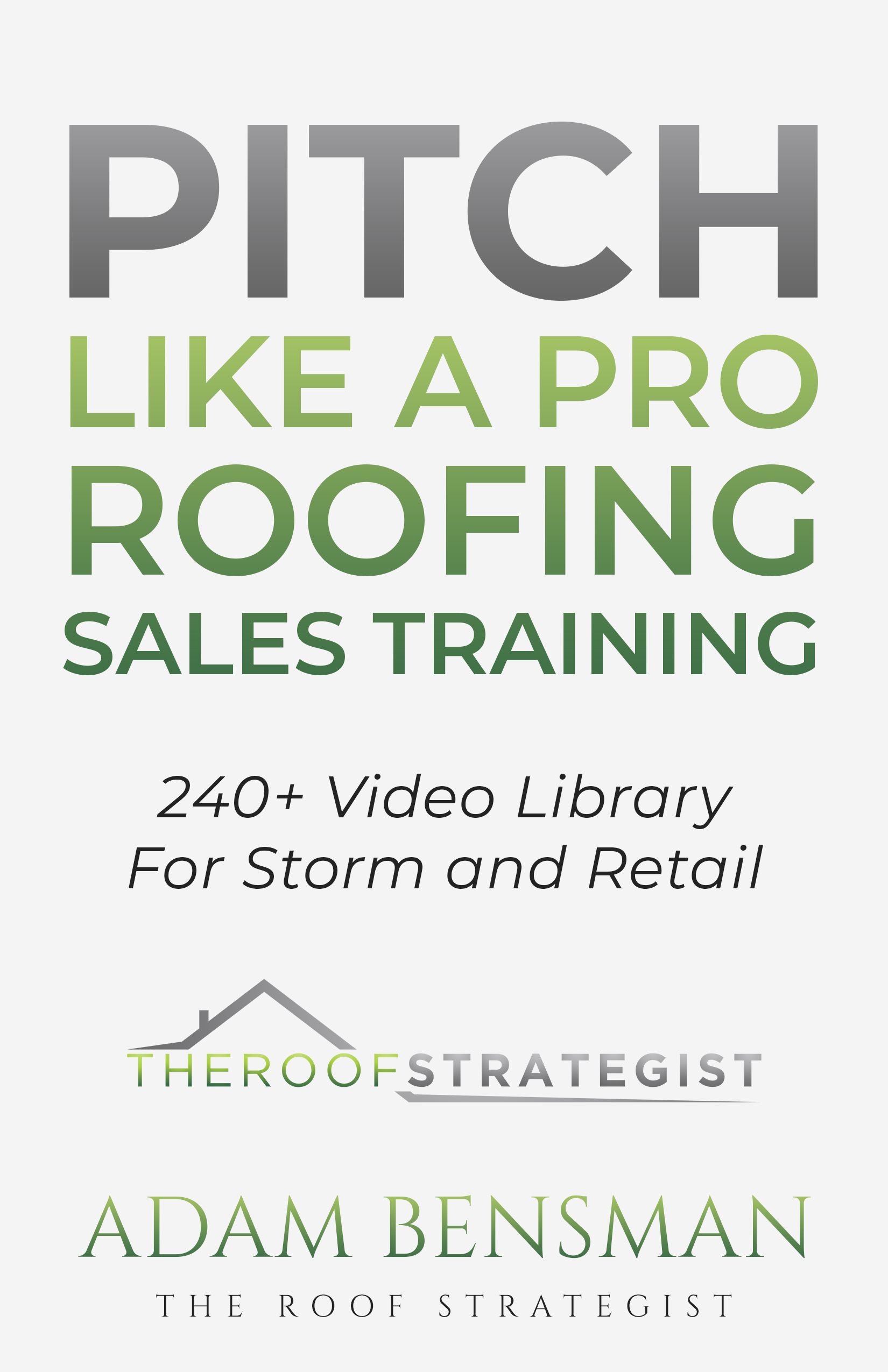 What Are Weak Tie-Downs in Roofing Sales?
The weak tie-downs are the obligatory "yes" questions. Often, salespeople will use questions like this in presentations.
Example: Let's say we're doing a presentation about a water filtration system. Some of those obligatory 'yes' questions would be things like:
So, you'd agree that drinking clean water is safer for your health, right? (Of course it is).
You'd rather drink reverse osmosis water than chlorinated chemical water, right? (Yeah, of course, I would.)
And you'd agree that there's really NO price tag on your family's health and wellness, right? (Again, yes, of course.)
So, you see this idiotic track of putting words in someone's mouth. They're obligatory "yeses" because NO ONE could say "no" to those types of statements.
Those types of tie-down attempts in the sales process are incredibly WEAK. They insult people's intelligence, and homeowners feel it. They think, Why the hell are you asking me if I agree with that? The answer is obvious.
Honestly, if I were being asked those questions, I'd say, "Nope! I prefer brown stagnant water with fly larva floating on the surface!" Obviously, no one's going to say that.
So, the obligatory "yeses" in these weak tie-downs are really just more harmful than helpful.
Weak Tie-Down Statements in Roofing Sales
Weak tie-down statements are usually used at the end of a sales process, like this:
So, you see the value in how we can help you do this. Right? Yes.
So, you see how important it is for us to be on your side, through this process. Right? Yes.
These types of tie-down statements are forceful. We are forcing our opinion onto the customer. Essentially, these statements bring up something the customer said before and ask them to agree to it again.
That's what comes across to the customer. They're being reminded of a viewpoint or statement they shared, and often that's done with leading statements, like:
Before, we were talking about how you want to own your electricity and not rent it.
That's a classic solar tie-down. And, by the way, repeating the customer's words back to them, especially in a leading statement, is another common tactic here. That's part of these tie-downs people use.
Again, these rely on:
Using the obligatory "yes"
Putting words in people's mouths
Making more forceful tie-down statements
That's why I believe that tie-downs are more detrimental than helpful.
So, what are the best tie-downs?
Let's find out after this brief disclaimer.
The BEST Tie-Downs in Roofing Sales: A Quick Disclaimer
When I talk about the "best" tie-downs here, this is based on my opinion and my experience.
This does NOT mean that I'm preaching the gospel, and it does NOT mean that what works for me is going to be the exact same thing you need. So, when I say the "best," I'm talking about what has worked for me and the many thousands of people I've trained.
Do I have all the answers? No. Do I learn every day? ABSOLUTELY.
So, remember, everything you learn in roofing sales is an experiment. That's the beauty of it, and it gives you the opportunities to prove it right or wrong for yourself.
Finally, here's the last piece of this disclaimer — if it ain't broke, don't fix it. If what you're doing is leading you to success, I'd be an absolute moron to tell you otherwise.
What Are the Best Tie-Downs in Roofing Sales?
The BEST tie-downs are going to be the ones that get the homeowner to continue selling themselves.
So, with the weak tie-downs, all we're looking for really is a "yes" agreement. That's really it. I just want to get them saying "yes."
With the best tie-downs, however, we get the customer to sell themselves. I'll explain this with an example (and I'll bring this back to roofing sales in a minute).
Example: Let's say you ask me if I like clean drinking water throughout the sales presentation. And I reply, "I really would love that filtered water, man. The taste that comes out of my tap, Ugh! I would just absolutely love to not have to use my refrigerator each time."
Now, instead of using the weak tie-down (So, you'd like clean water, right? Yes.), I'm going to repeat back what the customer told me in their words, adding a question mark or an inflection at the end — like this:
So, you'd really love to drink out of the sink and not go to the fridge?
What happens when you repeat their words back to them, adding an inflection and a question mark?
The person hears that as an invitation to elaborate on what they were saying without even thinking twice. So, that prospect (me in this case) would say something like:
Yeah, my fridge tap runs so bloody slow, trickling out, so I have to sit there for about two minutes to fill a water bottle. I absolutely can't stand it!
What did I just do? I sold myself.
I continued to focus on my pain and frustration of dealing with the water and the refrigerator.
Now, what's a better tie-down in this experience?
The automatic "yes" question (So, you'd really like to have more convenient water?); OR
The strategy that gets the customer to break down everything down in more detail.
How to Use Strong Tie-Downs in Roofing Sales
Next, let's break this down some more. With strong tie-downs in roofing sales, we want to repeat back what the customer tells us, rephrasing it as a question.
Here's how this would work if I were talking to a homeowner about a storm claim. I'd say:
Hey, you know what? Your roof is about 18 years old. And I recognize that we're kind of on this fringe, in terms of damage. It's marginal, and there's a chance it could get approved. And there's a chance it doesn't.
Best case scenario, though? You get a brand-new roof, which you're going to need anyway. And it saves you from coming out of pocket to pay for the whole thing yourself.
So, we could use this as an opportunity, an unfortunate opportunity, to turn a bad situation into a favorable outcome.
And if you get a brand-new roof, you get a brand-new warranty too. We can pick new colors, you can upgrade the look of your home, and refresh its curb appeal. Think about the next time you drive home and see your new roof — you're going look up and think, "I love it!"
Then, the homeowner replies:
Oh my gosh, I would love to get a blue roof! I think that pop of color would be absolutely beautiful in the neighborhood and with the new paint we put on. The shutters would shine!
Now, instead of using the weak tie-down and saying, "So, you'd like to get a new roof?" I'm going to say this:
So, you'd like to go blue?
Oh, blue. I love blue because no one else in the neighborhood has blue! And with your new orange shutters, it's going to feel tropical and look so cool, fun, and vibrant.
At this point, simply by repeating back what the customer said as a question — You'd like to go with the blue roof? — means they're going to continue selling themselves.
Recap: Weak vs. Strong Tie-Downs in Roofing Sales
Wrapping this up, we need to listen VERY closely to our customers and figure out what they get excited about and what's going to ignite that little emotional spark in them.
We want to get them thinking things like:
Wait, you can handle the whole insurance process?
Wait, we get a brand-new warranty?
Wait, we can pick a new color?
Whatever it is, we need to:
Figure out what gets them excited.
LEAN IN to that exciting part.
Rephrase their language as a question, with an inflection.
Watch as that customer continues to sell themselves, give you more information, and help you really dial your presentation into exactly what they want.
That's how to ditch those weak tie-downs and, instead, use a far more effective strategy to close more sales.
Get More Roofing Sales Strategies, Scripts, Tips & Videos
If you want more on any topic in roofing sales, you'll find it in my all-in-one sales training, sales strategy, and sales system, the Roofing Sales Success Formula & Complete Sales Strategy.
This exclusive program covers everything from knock to close, with packages for individual roofing sales reps and entire teams. Many roofing sales companies LOVE this program because it's a consistent process to train everybody on a relatable sales system that WORKS and that's a lightning-fast way to get results.
If you have questions, just call or text (303) 222-7133 for more info or a private demo.
You can also subscribe for the latest roofing sales training videos and/or get a copy of my Pitch Like a Pro roofing sales training video library. It includes every roofing sales video I've ever done, organized by category, along with a bunch of tips, tricks, and more. It's great for new people and seasoned veterans, and it's updated all the time to help you and your team smash your income goals and give every customer an amazing experience.
And don't forget to check out my Marketing Battle Pack for instant access to 70+ pieces of my proven, turnkey roofing sales and marketing materials. It's an entire suite, specially designed for sales teams, managers, and owners, providing:
Scripts
Scheduling
Direct Mail Letters
Door Hangers
Goal Projection Planners
A LOT more!
It's affordably priced and comes with a 100% money-back guarantee. There's also a playlist of instructional videos in there, explaining every single thing. So, you can watch the videos, and you'll know exactly what to do.
Thanks for joining me, and I look forward to sharing more with you in the next blog.