What is a contingency agreement?
I'm going to answer that question here.
So, whether you are a roofing salesperson, a homeowner, or a property owner who stumbled upon this, I'm going to
Demystify the contingency agreement.
Point out some of the fallacies behind the idea of the contingency agreement.
Help you understand why it's actually in your best interest to both use contingency agreements and to use them with the "contractor of choice."
Before we go any further, I just want to introduce myself quickly. I'm Adam Bensman, The Roof Strategist, and my mission is to help roofing sales reps like you smash your income goal and give every customer an amazing experience.
Now, if you are a homeowner reading this, I just want you to know that:
Everything I teach is designed to create an amazing experience in the home.
My mission is to bring joy back to the process of working with a contractor.
After all, roofers have a horrible reputation. There are deceptive practices, scams, and scary news stories about roofers. That's why I wish to create a platform for homeowners and contractors to:
Connect and do business with good people.
Add some happiness to the roof replacement process, which is NOT typically a happy time.
For sales folks, this is going to help you understand:
What the contingency is
How to explain it to homeowners
Now, let's get to it.
FREE "Pitch" Like a Pro Roofing Sales Training
240+ Video Library for Storm and Retail
For Roofing Sales Reps & Owners With New Hires: All the training you need to be a "million dollar" closer!
Get Instant Access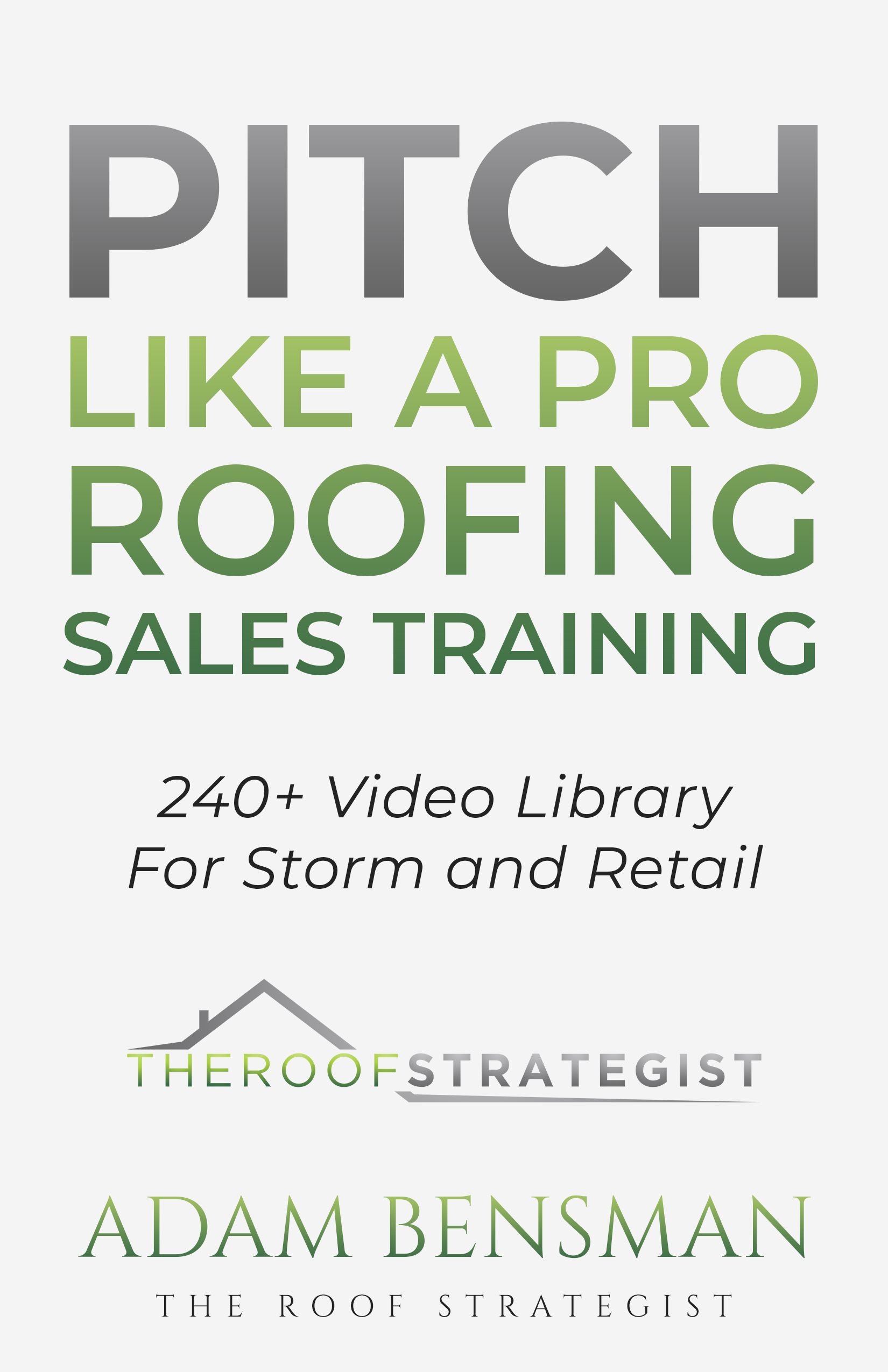 Understanding Roofing Sales Contingency Agreements
A contingency agreement is truly an authorization to work together. With these agreements, many folks have questions, like:
Is the contingency agreement binding?
Is it legally enforceable?
How do I cancel it?
First, let's cover the core concept of what a contingency agreement is because some roofing companies:
Use them the wrong way.
Make it all about them. Like
Get very pushy and aggressive.
That can cause homeowners to get buyers' remorse and leave them wondering:
What did I sign?
Do I have to buy a roof?
What if we don't need a roof?
Do I need to give them money?
And that can lead to PANIC (and rightly so).
That's why it's SO important for both sides, the roofing salesperson and the homeowner, to communicate and understand the contingency agreement.
Roofing Sales Contingency Agreements Defined
The contingency agreement is essentially an authorization to work together. Generally, that work involves:
A roofing company working with a homeowner through a storm damage process
An insurance company deciding to cover the damage to the roof due to a severe weather event, like hail, wind, or hurricanes
A roofer, who is also a storm damage expert who has replaced storm-damaged roofs in the past, investing a TREMENDOUS amount of time, energy, and expertise into serving a homeowner through that process.
Now, if I were to buy my roof electively, which in our world is a retail roof replacement, I'd jump on Google, do a search, call a company up, and get an estimate. With that:
The roofing company shows up to provide an estimate.
There's A LOT more work that storm damage experts do to help homeowners, and we do not bill for that.
Most importantly, we provide VALUE.
And we deliver that value by:
Meeting with the insurance adjuster on site: There's a whole separate visit to the home, and the roofing company rep will be there to meet with the insurance adjuster, acting as another set of eyes and as an assistant to help identify everything. Since insurance adjusters are not contractors, this can help address any discrepancies about damage.
Helping homeowners throughout the entire process: When the insurance company is out in the very beginning, they can sometimes leave out or not include items essential to the repair process. Often, that's not "shady"; it's simply that they didn't totally understand the entire process. In fact, in about 98% of the projects we work on, we come back with a greater scope of repairs because we know what needs to be done to repair or replace a roof. So, as storm damage experts, we serve homeowners by establishing and verifying the scope of repairs — and submitting the documentation for those scopes to the insurance company.
Demystifying the point of multiple estimates: If homeowners are searching for more estimates, thinking they need three, we can explain why their insurance company tells them to do this.
That is how we offer tremendous value to homeowners.
How to Provide Value with the Contingency Agreement: An Example
A gentleman called me out for his roof, and I gave him an estimate. I didn't know it was storm damage at the time. So, I start doing the roof, and:
There were surprises beneath the surface that no one saw, including the insurance company.
I didn't know that it was insurance damage.
I thought the guy just needed a roof, and the roof price literally doubled.
We had to tear it all off the entire roof to get to the deck with new plywood.
I had to call and explain that it was going to cost an extra $8,000.
Now, this was back when the price of roofing was half what it is today. When I spoke to my customer, he said, "Adam, wait — this is storm damage. Does that change anything?"
"Yes, it does," I replied.
So, I ended up going out and getting this contingency agreement that allowed me to communicate with the insurance company about the scope of the repair process and:
I submitted all the photographic evidence.
The homeowner ended up only paying his deductible, like $1,500.
This additional service I provided saved the homeowner nearly $8,000. Again, I didn't bill for that extra service.
If we just look at this objectively, I could tell the homeowner, "Well, tough luck! I get paid no matter what!" But I didn't. Instead:
I was an expert who understood the value.
I served the homeowner while making sure there were no financial surprises.
Contingency Agreements & the "Price Lock Guarantee"
Another way that contingency agreements offer value to homeowners is with the "price lock guarantee."
That's the language that I use, and it means that your obligation is your deductible, no more, no less without.
Now, there is some fine print, just to be clear.
The fine print could pertain to code items that your insurance company does not cover; if there's no code endorsement of the policy, we have to follow the building code.
That can be a rare exception (like with an ice and water shield as a leak barrier). So:
Communicate those exceptions in your working relationship.
Explain that the price lock does not include elective upgrades, like premium shingles.
Highlight other items, like rotted decking. Again, there are some situations when an insurance company may not cover that, so we want to be sure that's crystal clear. The billing rates for these items are usually detailed in the agreement.
Remember, the price lock guarantee just ensures that:
It's our job to document everything.
There are no financial surprises.
Contingency Agreements: What If the Roof Is NOT Approved?
Does the homeowner still owe you if the roof doesn't get approved by the insurance company?
NO.
That's why it's called a "contingency agreement" — it means that if the insurance company comes out and determines that they're not going to cover any damage or repairs:
That agreement's dust in the wind.
The homeowner does not owe the contractor anything at all.
There is ZERO requirement to buy a roof.
There is truly everything to gain and literally nothing to lose.
Ultimately, the most important part of the contingency agreement is that:
Everyone is on the same page.
Once a homeowner signs this contingency agreement, their storm damage expert will serve them throughout the process.
their storm damage expert will NOT bill for the time, energy, and expertise to meet with the adjuster and document any additional items that might have been missed.
The only way that the contractor gets compensated is by actually being the contractor of choice to do the work, whether that's repairs or replacements.
So, the contingency agreement is an authorization that basically says:
Hey, I like you. Let's work together.
I'm going to autograph this and authorize this working relationship to let you, Mr. Contractor, meet with my insurance adjuster and navigate this process.
If any items might have been missed, you as the contract are going to help that homeowner avoid those financial surprises.
The contractor will not bill a homeowner at all for any of this. They only get compensated by actually doing the work.
Recap: What a Contingency Agreement Is & How to Use It in Roofing Sales
In summary, the contingency agreement says three things:
It allows the contractor to discuss the details of the roof repairs with the insurance company.
It states that the homeowner's contribution is their price lock guarantee. There are no surprises. They are NOT locked into anything, and the agreement is completely contingent upon the insurance company's approval. And "locked in" means using a contractor if they get everything set up the way it needs to be. There are NO surprises regarding the homeowner's contributions or deductible.
You'll become the contractor of choice to actually do the work should it get approved by the insurance company.
Again, the homeowner has everything to gain and nothing to lose with this.
For homeowners, my best advice is to make sure you're comfortable with the contractor and know that they can have a very valuable working relationship with you, instead of trapping you or "locking" you into something.
So, there you have it. That's what the contingency agreement is. Once that roof gets approved and you begin the replacement process, all details will be in the contract, so that you have documentation of that work, the financial transactions, and more.
I hope this helps you understand what a contingency agreement is and how to use it in roofing sales.
Want More Roofing Sales? Or Training For Your Team?
We've helped thousands of sales reps overcome the same sales challenges you're probably facing. Like not getting enough leads, getting stuck on objections, or not closing sales in the house.
Learn how we can help you:
Get trained up in a lightning-fast 9.5 hours
Self-generate more leads
Become a confident closer
Pick a time for your 1-on-1 demo.
Or use the links below to get instant access, 100% Risk Free! Backed by our 30-Day 'NO BS' Money Back Guarantee.
Thanks for joining me, and I look forward to sharing more with you in the next blog.