What do you wear in roofing sales? What shouldn't you wear?
How do you present yourself appropriately and in a way that actually feels like you?
And how do you do so in a way that communicates the RIGHT message to homeowners, showing you're professional and that they can take you seriously without feeling inauthentic?
I get these questions a lot, so I'm going to dive right into what not to wear first and go from top to bottom, covering:
Hats
What you wear up top
Your pants or maybe shorts
Your footwear
Funny enough, even on stage at a roofing conference, the panel of folks I was on stage with had different viewpoints about what to wear. And I've run trainings all across the U.S. — from the Portland and Seattle metro areas to Columbus, Ohio, Springfield, Illinois, and beyond — and things can be REALLY different in different areas
So, wherever you are, dress to what your environment is like.
Example: In Colorado, I can absolutely get away wearing a flannel when I'm selling, as long as I'm put together, with my shirt tucked in and I'm looking sharp. That could look weird in another market, though. So, you just need to match your market.
Welcome or welcome back, by the way. I'm Adam Bensman, The Roof Strategist. Thanks for spending your time with me. If you're not familiar with me yet, everything I do here is designed to help you and your team smash your income goals and give every customer an amazing experience.
And if you haven't done it, I invite you to join me inside our new FREE training center available here. You can also get access (a link via text) by texting "FREE" to (303) 222-7133.
Now, let's dive into what NOT to wear.
FREE "Pitch" Like a Pro Roofing Sales Training
240+ Video Library for Storm and Retail
For Roofing Sales Reps & Owners With New Hires: All the training you need to be a "million dollar" closer!
Get Instant Access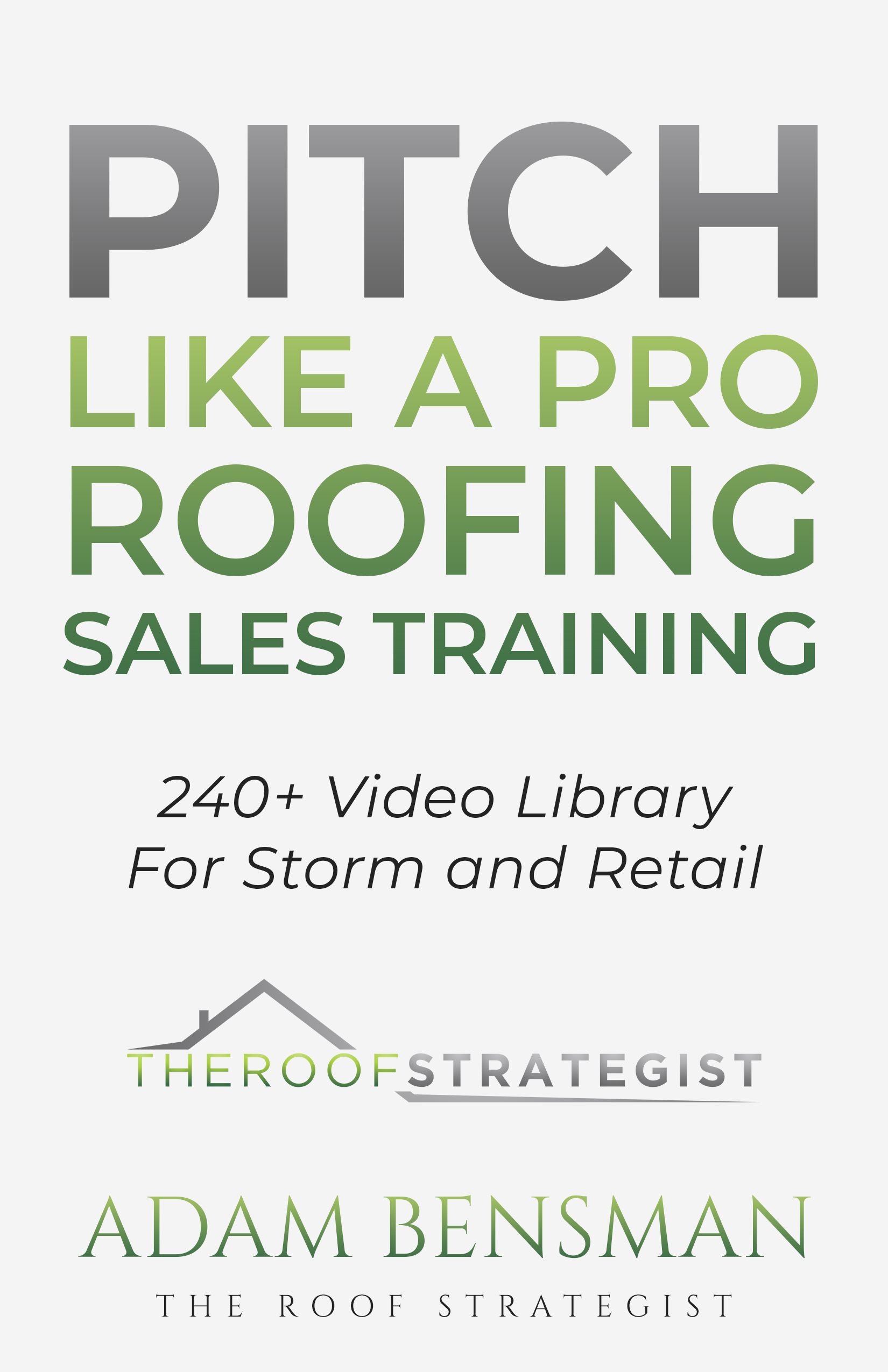 Background: Why Our Clothing & Appearance Matters in D2D Roofing Sales
Part of giving homeowners an amazing experience is connecting with them, and that can come from how you carry and present yourself. It affects how they receive you.
Now, I'd categorize my style as "upscale work wear."
You're never going to see me overly dressed up in a button-up shirt. I like jeans, slacks, and casual shoes. It kind of works for everything.
Of course, I've had some people come up to me at trainings when I'm wearing a branded sweatshirt with The Roof Strategist on it, telling me that I'm not dressed up enough. "What do I need to be in a three-piece suit?" is usually how I respond.
Other folks like how I dress, though. They'll say, "Hey, I really appreciate that you're dressed in just a sweatshirt. It shows that you're confident, and it makes you really approachable."
The point is that you can't please everyone.
Sometimes, you're too dressed up, and others, you're too casual. There's just no way around it.
So, at the end of the day:
You get to decide what feeling you want to send to your homeowners, based on how you dress.
There are better ways to dress, and there are some no-nos if you want to come across as professional.
Try to keep your apparel and your appearance upscale in your work life, no matter how you dress or what you like looking (or smelling) like in your personal life.
Now, let's get to what not to wear.
What NOT to Wear in Roofing Sales #1: Branded Apparel
This means branded apparel from ANY brand name of your choice, with the brand name spread across the chest. Do NOT wear this type of branded clothing.
In fact, if there is any logo on your clothes, it needs to be your company logo.
Of course, a little Nike or Under Armour logo is a different story. That's not what I'm talking about. I'm talking about those giant logos that broadcast that logo to the world — like having "Hollister" or "Abercrombie & Fitch" or whatever brand hugely featured on your chest.
That casual apparel does not fit in the workplace, even though our workplace is our customers' homes.
So, ditch the branded apparel when it's time to sell.
What NOT to Wear in Roofing Sales #2: Ripped or Tattered Clothing
I know rips and tatters can be a style for clothing, BUT those clothes don't show you off as a professional. And they don't help you look "put together."
And as much as I'm about personal expression, I strongly recommend that you do NOT wear ripped, torn, or tattered clothing to work.
At best, it's a distraction that a homeowner can notice and maybe look past.
At worst, torn clothes can be taken as a sign that you're disorganized, unprofessional, or a poor fit for the job.
What NOT to Wear in Roofing Sales #3: Stained Clothing
Stains look BAD, so don't wear any clothing that has stains on it (hats included).
Example: When I was selling in Wisconsin, I had a branded sweatshirt with a hoodie under my jacket. I loved that sweatshirt, and one day, I was helping out the crew, carrying some bundles and doing some cleanup, and my sweatshirt got pretty gross (we're in construction, so it happens). But I didn't realize it and just put it on, looking like I worked in a mechanic shop (no fault to mechanics, by the way; it's just not how we want to look in roofing sales).
That's NOT how we want to present ourselves in roofing sales.
So, if your clothes are stained and discolored, do NOT wear them while you're on the clock selling roofs.
What to Wear in Roofing Sales: A Top-to-Bottom Rundown
Now that we know what to avoid wearing in door-to-door roofing sales, let's go top to bottom, running through the better options for each item of clothing.
Hats
These days, I'm a "no" when it comes to wearing hats in roofing sales, and I have changed my mind about that.
Why? Because I used to wear a hat ALL the time when I was selling — until I started to become a bit more aware of my giant hat sweats.
In fact, my wife, Sheena, was like, "You HAVE to stop filming videos with that hat that has sweats stains. It's gross." So, I tried washing it, and it still was stained.
Now, a few days later, I put it on for a sales call. The cameras weren't working, and I'm shooting the breeze with their top salesperson who was running around in this gross, dingy hat.
Meanwhile, I'm literally wearing mine, thinking, WOW, people DO notice. It really clicked for me at that moment. The truth is that:
People DO
They DO take notice.
So, don't wear old, dirty, stained hats. If you have a clean hat with a company logo on it — and if it's acceptable in your market — then by all means for it. Otherwise, skip the hat.
Shirts
In Colorado, the shirts can be casual, and a flannel is fine. By the way, when I was in Wisconsin, I did wear nice flannels tucked in.
So, is that my first choice? NO.
My first choice is company-branded apparel. You've seen me in my Roof Strategist shirts in all my videos, and this is the exact style of shirt that I was wearing when I was in roofing sales, with:
A pocket up top to keep my pen in
My shirt tucked in
These are great apparel pieces for roofing sales in general.
In higher-end communities — and with higher ticket sales, multi-family sales, and commercial sales, like for churches with multiple decision makers — more often than not, you'll be dealing with folks who are dressed up in collared, button-up shirts.
Finally, with sweatshirts, I typically recommend going a bit more formal, but sweatshirts will work as long as they're clean and good-looking.
Bottoms
For your bottom half, almost anything will work, including (but not limited to):
Pretty much anything works EXCEPT for shorts. Still, there's one exception to my rule against shorts, and it's the heat. If it truly is a scorcher, like 110° and you're out pounding on doors in Texas in the middle of summer, I think you get a pass, and shorts are going to be acceptable.
More often than not, though, I will do everything I can to avoid shorts because I don't think it sends a super professional image. Call me old-fashioned if you like, but I think showing up with your socks and your hairy legs just doesn't lend itself to professionalism.
That's why my preference is jeans, khakis, or chinos. Whatever pants option you go with, just make sure:
They look clean and presentable.
They aren't ripped or torn.
They aren't bedazzled up (I know that bedazzled stuff is popular these days, but leave that for casual time, not work).
Now, some folks will say that we need to be in khakis or chinos all the time. I disagree. We're in the trades, and we're allowed to look like it.
After all, if you show up wearing a three-piece suit to sell a roof, I'm going to wonder how you're going to climb the ladder.
So, there's your bottom half. Avoid shorts unless you have that absolutely brutal heat (and I know some folks out there just like wearing shorts, and that's okay).
Footwear
With your footwear, you can pretty much wear any shoe with a decent soul, including (but not limited to):
Trail runners or running shoes
Sneakers or tennis shoes
Any shoe that'll have enough bite on a shingle
For roof-specific shoes, I always recommend Cougar Paws for safety and confidence.
If you're into the boot look, consider getting a big leather boot, with a wedge soul for a good bite and steel shanks to help with climbing ladders (for a firm press, so they don't collapse while you're climbing that ladder).
In fact, any of those wedge soul boots look really sharp, you can dress them up as elevated work wear, and they do well on roofs.
Recap: What to Wear in Roofing Sales
So, there you have it from top to bottom. We have:
No hats: Try to ditch the hat whenever you can. If you do need a hat to block the sun, keep it branded, and keep it clean.
A company-branded shirt or a button-up shirt on top: Tuck in your shirt. Whatever you do, do not wear the shirt you brought back from Cancun
Clean, untorn pants on bottom: Wear a belt with your jeans, khakis, or chino pants. And avoid wearing shorts.
Functional footwear: You can go with work boots, sneakers, or a mock-toe boot. Use your Cougar Paws for the steep stuff.
If you have other company's branded apparel — or anything stained, stinky, or fatigued — don't wear it when you're on the clock selling roofs.
Lastly, remember, it's 100% your CHOICE:
How you show up
What you look like
How you wish to broadcast yourself and whether you want to be more upscale and dressed up or more approachable and casual
Whatever you do, you can't go wrong if you're clean and put together.
Finally, don't forget that:
You can't please everyone.
Not everyone's going to agree with what you do.
You get the ultimate choice here.
For my attire, I am in upscale work wear. That's my comfort zone because:
It matches who I am.
It broadcasts the right message of approachability, being grounded, and being down to earth.
It doesn't leverage a "status" play with a fancy three-piece suit, nice wingtip shoes, or whatever.
Again, all of this is just my personal opinion, so I'd love to hear from you. Tell me what you think in the comments on YouTube.
Want More Roofing Sales? Or Training For Your Team?
We've helped thousands of sales reps overcome the same sales challenges you're probably facing. Like not getting enough leads, getting stuck on objections, or not closing sales in the house.
Learn how we can help you:
Get trained up in a lightning-fast 9.5 hours
Self-generate more leads
Become a confident closer
Pick a time for your 1-on-1 demo.
Or use the links below to get instant access, 100% Risk-Free! Backed by our 30-Day 'NO BS' Money Back Guarantee.
Thanks for joining me, and I look forward to sharing more with you in the next blog.