What the truck? This topic has been floating around for the longest time, and it always pops up where roofing sales conversations happen. People are asking:
What are you driving?
What do you drive when you're showing up for the job?
Here's my answer — it doesn't matter. There are really only two things that matter.
How you make people feel
How you appear
Welcome or welcome back, by the way. My name is Adam Bensman, The Roof Strategist. Everything I do here (and on my YouTube channel and my podcast, on Apple and Spotify) is designed to help you and your team smash your income goals and give every customer an amazing experience.
So, let's dive in.
I'm going to share some tips with you about vehicles, how to show up at properties, and what matters more than what you drive in roofing sales.
Roofing Sales Tip #1: Keep Your Vehicle Neutral
Don't show up with anything controversial on your vehicle, like an "I love Obama" or an "I love Trump" bumper sticker. I don't care what your political beliefs are. Keep that off your work vehicle.
When you're showing up to homes, you need to be professional.
So, keep it neutral.
Don't put up your NRA sticker or your "piss on Chevy" or "piss on Ford" stickers on the back of your truck. That does not broadcast professionalism. Save those stickers for your dirt bike, your toy car, or whatever else if you're driving outside of work.
FREE "Pitch" Like a Pro Roofing Sales Training
240+ Video Library for Storm and Retail
For Roofing Sales Reps & Owners With New Hires: All the training you need to be a "million dollar" closer!
Get Instant Access FREE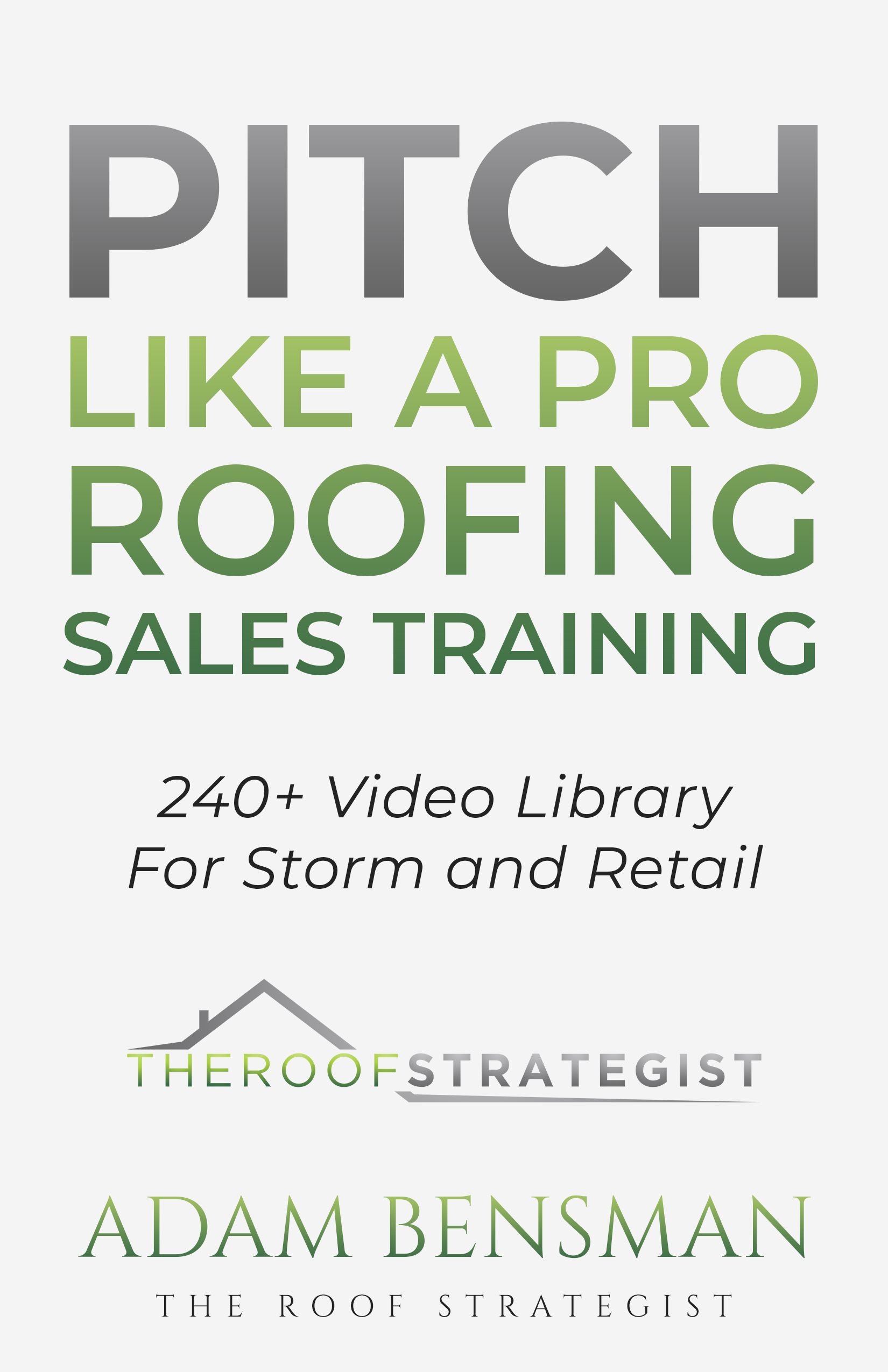 Roofing Sales Tip #2: Approachability Matters More Than Your Vehicle
I'm going to share a couple of quick stories for this one. A salesman at my company was driving a late 80's Chevy truck that was rusted out. You could barely see any paint on it. And he brought in a $500,000 contract, showing up at someone's house in this rust bucket. It was the first thing the homeowner saw.
But his vehicle did NOT matter because he was approachable. He was friendly, he made people feel good, and they trusted him.
When I started out in roofing sales, I was driving an older Toyota Tacoma. I had no money because I had just started. I had an old man truck, and my extension ladder from Craigslist stuck out of the back of the short bed, exceeding the 4- foot rule. And I had a red string or flag I got for free at Home Depot to hang out the back.
Did it keep me from making sales? No.
I had no experience. I was eight months into a season late on a stormy day with $1.4 million in sales. Later as I felt more comfortable and confident — and as I started making some money — I got an older used Tundra because I wanted to feel comfortable.
Roofing Sales Tip #3: Confidence Is Also More Important Than Your Vehicle
Yes, it does make a difference when you're confident showing up to knock on doors. But Zig Ziglar's philosophy that you should buy the Cadillac before you start selling is — excuse my French, here —bullshit. It's total crap, guys.
What matters is who you are inside.
If you can cultivate confidence in who you are and your abilities, what you drive doesn't matter.
You don't have to be confident that you're some sales stud who's a closer. You need to be confident in the fact that you can face confrontation, talk to people, and understand their needs. And you need to be confident enough to genuinely say:
Hey, I am here at your home, your palace and your sanctuary. You have pets and children, and all you want is for your home to be safe.
You don't want your roof to leak.
And you don't want to have to second guess your contractor.
If you can just be a good person inside, your truck does not matter.
Later, after my Tundra, I got a new F-150. At that point, I was the CEO of a multi-state roofing sales company. We were traveling around, working a storm in Montana. Then, suddenly, Wisconsin got hit with another storm. So, I was flying back and forth, and I had to buy a second truck. I didn't want to buy a second truck for a season, and I spent a bunch of money.
So, I bought a 1990 Ford F-150 from a friend's uncle who was a mechanic. It was black, with a long bed and a little bit of rust here and there. And my vehicle did NOT change a thing when I was showing up to a $2.2 million job site.
I was the CEO of that company in a work truck. No one cared, and we didn't lose the job.
In fact, we had a great reputation and generated a whole bunch of referrals because of who we were.
What You Drive in Roofing Sales: Some Final Advice
I'm going to leave you with two last pieces of advice on what to drive in roofing sales:
No one's going to remember your truck: Your $70,000 lifted diesel truck isn't going to make people feel warm and fuzzy. What makes people feel warm, fuzzy, and comfortable is who you are. It's not your truck. I don't know why this industry is obsessed with jacked-up trucks with lift kits, big tires, and loud exhaust systems. I know they capture attention, but that's not my style.
Again, no one's going to remember the truck, what you said, or what you were wearing. The one thing they WILL remember is how you made them feel when you were at their door talking to them or when you've been invited into their home, sitting down at their kitchen table.
How do you make them feel during the roofing sales process and after? Do they like you? Do they trust you? All people want is to be taken care of. And if you're a good human being and you put their needs first, that's all that they're going to remember. Your truck doesn't matter — and I'm sure I ruffled some feathers by saying that. And that's by design to help you start to see the bigger picture.
Don't waste all your money on a vehicle: Don't buy a diesel truck when you're not dragging a trailer around. Don't take on a $600-a-month vehicle payment. Why? Because, in this industry, you can earn a lot of money, and earning a lot of money can set you free.
When I was managing five sales guys, they would be making $100,000 to $200,000 a year. And they'd come to the table and ask me for a draw to start the season. And I'd say, "Dude, you made $170,000 last year, and you're coming to the table needing a draw?" Meanwhile, the new hire, which was me at one point with only $1,000 to my name, is NOT coming to the table asking for a draw.
So, plan wisely. Prioritize what's really important. And I'm betting it's not the flashy stuff on the outside.
So, the answer to what the truck?
It doesn't matter. All people care about is how you make them feel.
Want More Roofing Sales Strategies, Tips & Videos?
Subscribe for the latest roofing sales training videos and get a copy of my Pitch Like a Pro roofing sales training video library. It includes a ton of videos on door-to-door roofing sales, as well as every video I've ever done, organized by category, along with a bunch of tips, tricks, and more. It's great for new people and seasoned veterans, and it's updated all the time to help you and your team smash your income goals and give every customer an amazing experience.
Also, check out my Marketing Battle Pack for instant access to 70+ pieces of my proven, turnkey roofing sales and marketing materials. It's an entire suite, specially designed for sales teams, managers, and owners, providing:
Scripts
Scheduling
Direct Mail Letters
Door Hangers
Goal Projection Planners
A LOT more!
It's affordably priced and comes with a 100% money-back guarantee. There's also a playlist of instructional videos in there, explaining every single thing. So, you can watch the videos, and you'll know exactly what to do.
Thanks for joining me, and I look forward to sharing more with you in the next blog.