Selling upgrades.
When and why should you be doing this? When should you ask and offer upgrades?
I'm going to tell you the secrets I've learned about selling upgrades.
Because at the end of the day, your commission is either off the top-line revenue of that contract or the profit of the contract. That means if you provide a path for people to say "yes" and you sell more things — and if you did that on even just on 10% of your jobs — it's essentially free money.
Upgrades are profit maximizers.
And at the end of the year, you have a limited number of people you can serve. So, if you look at how many people you have the ability to serve, and even just a fraction of them goes for the upgrade:
You increase the average ticket value or the average contract price.
Your commissions go up.
For the owners and managers, I believe that everyone in the company should be doing this. And, reps, you have the opportunity to earn even MORE per customer while giving people more of what they want.
Welcome or welcome back, by the way. My name is Adam Bensman, The Roof Strategist. And everything I do here (and on my YouTube channel, Instagram, and my podcast on Apple and Spotify) is designed to help you and your team at smash your income goals and give every customer an amazing experience.
And before we get to it, I have a freebie for you — my Pitch Like a Pro roofing sales training video library. It's 100% FREE, with all of my videos organized by category. So, it's easy to binge on the topics you're interested in.
Now, let's move into selling upgrades, when to do it, and why. First, let's talk when.
FREE "Pitch" Like a Pro Roofing Sales Training
240+ Video Library for Storm and Retail
For Roofing Sales Reps & Owners With New Hires: All the training you need to be a "million dollar" closer!
Get Instant Access FREE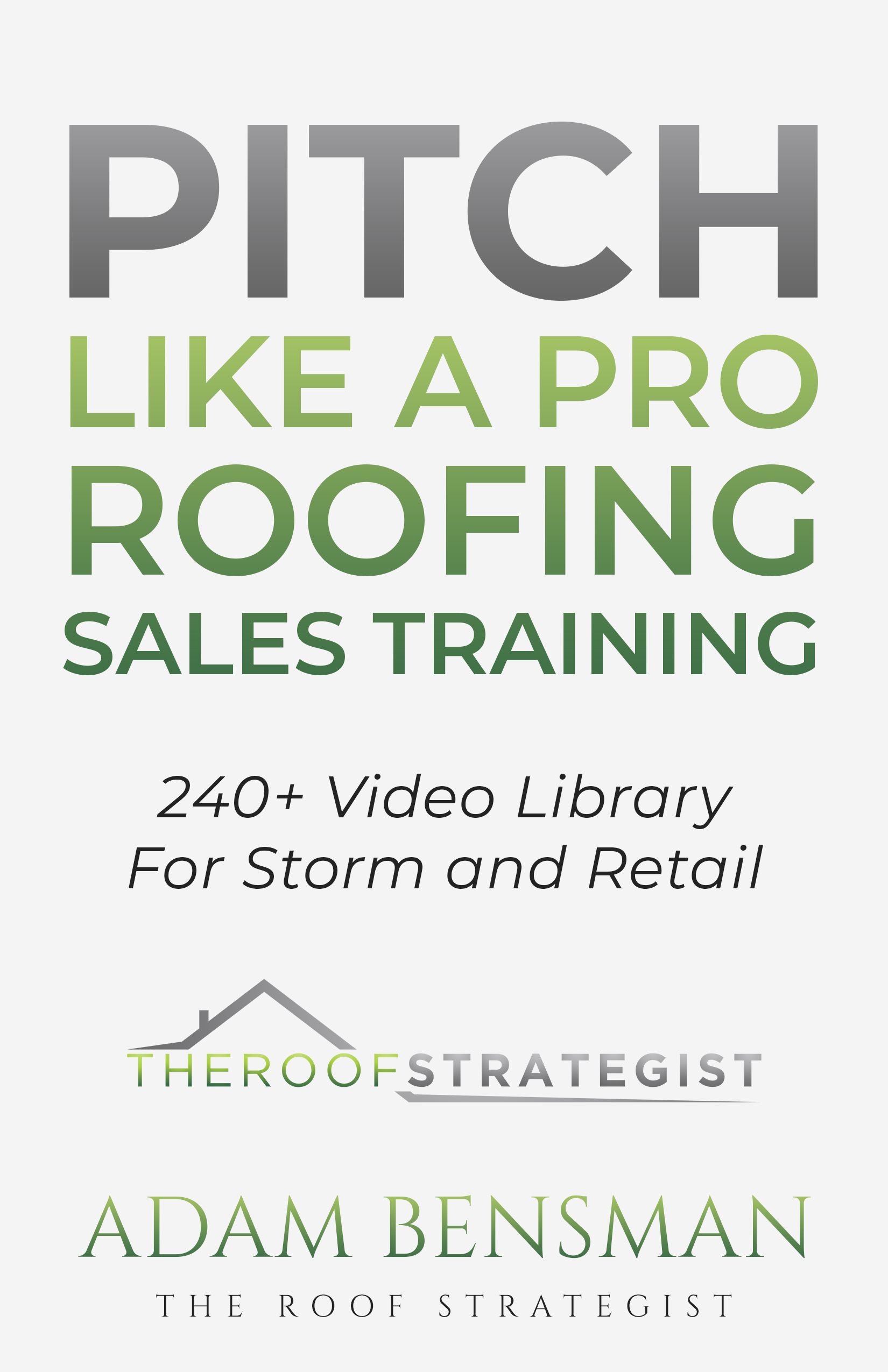 When to Sell Upgrades in Roofing Sales
One mistake a lot of people make, especially newer salespeople, is bundling everything altogether on the front end. Don't make that mistake. We always want to look at upgrades as add-ons.
Why?
Because it's much easier for people to say 'yes' to a lower price threshold, even if that's just the deductible on a storm-damaged or retail roof.
You do NOT want to increase that price difference too early.
Now, there are two reasons why we want to these upgrades as "add-ons":
Consistency: If you've read Robert Cialdini's book Influence, you know that consistency is one of the 6 influential factors. That means people who say 'yes' once are more likely to say 'yes' even more. In other words, if someone does something for you or someone agrees to something, they're more likely to maintain consistency in their behavior. That's why we were trained in sales to get people saying, 'yes.'
A lower price threshold: I'm going to give you an example here. Let's say the homeowner gives us the 'yes' to do their roof for $15,000. We don't want to go right into bundling that upgrade upfront because then, then, they'll see a higher price. So, after they've said 'yes' to the $15,000, we can isolate the add-ons. And after you get that first 'yes,' you can say something like, "Hey, I'm really excited to do your roof. You know, there's one more thing that we can add for you if you wish."
Then, we can go through the add-ons. And we can present three different offers as structured add-on options for every single customer. That can be a menu with structured add-ons and fixed prices that with:
Offer 1
Offer 2
Offer 3
By the way, I realize that some people offer free upgrades, like free shingle upgrades. If that's what you do and it's working for you, by all means, don't fix it if it isn't broken.
In my opinion, though, it's better to offer homeowners more value. After all, just because you wouldn't say 'yes' to an add-on doesn't mean they wouldn't. You can't sell out of your own pocket. Everyone has different values.
Roofing Sales Upgrade & Add-On Examples
Here are a few examples of upgrades you can offer:
Shingle upgrades: This could be premium colors, class four shingles, or premium products, like a metal, tile, steel, or whatever.
Ventilation upgrades: This could be standard-cut ventilation or ridge vents.
Warranty upgrades: This could include extended warranties through your manufacturer.
Those are just three simple things that you can add on. Whatever it is that you do offer, you'd be silly to not just put the offer out there.
The worst they can say is, 'No,' which means you're no worse off. And if they say, 'yes,' they get something they want, and they feel appreciated. They have the value and the opportunity.
And you can't go back in time and change it. The LAST thing you'd want is for someone to say:
Hey, my neighbor's roof looks great. Why didn't my roofing salesperson offer that upgraded color or the cool shingle?
You do NOT want that to happen.
Why Sell Upgrades in Roofing Sales?
We offer add-ons for a couple of reasons:
We're providing service.
We're increasing the value for that customer.
So, we outline 3 different plans or offers of structured add-ons:
Offer 1
Offer 2
Offer 3
The price structure for those can be organized by you or the company, depending on the flexibility you have. But if I were the owner, after someone says yes, I'd have my reps ready with an upsell sheet.
It's like when you buy a car, and the finance person comes in when you're doing the paperwork and they ask you if you want to protect your investment. I've bought extended warranties from dealerships — and I probably wouldn't have if I saw the price upfront.
BUT it's easier to say 'yes' to the lower value in an added-on amount. And with that package, just like they do in car sales, you have a menu to choose from.
So, again, you have nothing to lose and everything to gain by doing this.
If they say 'no,' great — at least you offered the chance. They have the right to say, 'no,' and they're happy.
And if they say 'yes,' the homeowner's happy, and they feel value. Plus, you earn more commission, or your company is increasing its profit margin.
Recap: When & Why Offer Add-Ons in Roofing Sales
The key takeaways here are to:
Offer add-ons after you get that first 'yes'
Provide 3 menu options for structured add-ons
You have literally nothing to lose and everything to gain by doing this.
Get More Roofing Sales Strategies, Tips & Videos
If you want more, check out my all-in-one sales training, sales strategy, and sales system, the Roofing Sales Success Formula & Complete Sales Strategy. This exclusive program covers everything from presenting to closing. If you have questions, just call or text (303) 222-7133 for more info.
You can also subscribe for the latest roofing sales training videos and/or get a copy of my Pitch Like a Pro roofing sales training video library. It includes every roofing sales video I've ever done, organized by category, along with a bunch of tips, tricks, and more. It's great for new people and seasoned veterans, and it's updated all the time to help you and your team smash your income goals and give every customer an amazing experience.
And don't forget to check out my Marketing Battle Pack for instant access to 70+ pieces of my proven, turnkey roofing sales and marketing materials. It's an entire suite, specially designed for sales teams, managers, and owners, providing:
Scripts
Scheduling
Direct Mail Letters
Door Hangers
Goal Projection Planners
A LOT more!
It's affordably priced and comes with a 100% money-back guarantee. There's also a playlist of instructional videos in there, explaining every single thing. So, you can watch the videos, and you'll know exactly what to do.
Thanks for joining me, and I look forward to sharing more with you in the next blog.