Never ever, for any reason EVER, tell a homeowner that their roof is damaged?
What?!? I do that ALL the time, is what you're probably thinking. I used to do it all the time too, by the way.
But I'm going to teach you how to get the homeowner to TELL YOU that the roof is damaged.
Why Not Tell a Homeowner Their Roof Is Damaged?
Let's be real. In door-to-door roofing sales — whether we're dealing with damage from storms, hail, wind, or hurricanes, we're showing up, and other people have NO idea who we are.
They don't know our company name, and then we show up and offer our free inspection. We come down for the roof and say something like:
By the way, your roof's in a lot of trouble.
You got all this damage. You need to replace it.
And they think, DUH. You're in door-to-door roofing sales. You're showing up, offering a free inspection, and saying my roof is damaged because you make money selling roofs.
Do they trust you?
No, they don't.
So, we need to take a step back in roofing sales and realize this fundamental principle:
People don't buy things they don't need, and people need to take ownership of their problems.
Two Examples: When Explaining the Problem Doesn't Work
I want to give you a couple of examples to make this a little more clear.
Let's say you know someone who drinks too much. You tell them all the time, "you drink too much, you drink too much."
Well, does that mean they're going to stop drinking? No.
When do they stop? It's when they realize and say to themselves, I drink too much, and I have a problem. It's ONLY at that point when they've taken ownership of their problem, that they can then seek a solution and change their behavior.
Another example is when you go to get an oil change and the technician at the oil change shop tells you:
I got bad news. You need a cabin filter for sure. If you don't get that cabin filter changed, you are going to have toxic air.
Also, you need a regular air filter. And your struts are well beyond shot. We're going to want to replace those, which means you're also going to need an alignment.
And by the way, you probably should get a coolant flush and a transmission flush while you're here because you are reaching critical mileage on your vehicle.
After you hear all that, you're sitting there thinking:
My vehicle doesn't smell. I don't need a cabin filter. It's running JUST fine. It has 50,000 miles.
And you tell me everything's going to explode?
No, but if you experienced problems with your steering or handling, you're going to go in for service. I use that analogy because most people don't trust the mechanic at all, not for any reason.
Why? Because they always are trying to make more money from us just  like people think we do in door-to-door roofing sales.
So, I'm going to teach you how to get the homeowner to tell you that their roof is damaged because you NEVER want to tell them it's damaged.
Before we get into that, though, welcome or welcome back. My name is Adam Bensman, The Roof Strategist. Everything I do here (and on my YouTube channel, Instagram, and my podcast on Apple and Spotify) is designed to help you and your team smash your income goals and give every customer an amazing experience.
FREE "Pitch" Like a Pro Roofing Sales Training
240+ Video Library for Storm and Retail
For Roofing Sales Reps & Owners With New Hires: All the training you need to be a "million dollar" closer!
Get Instant Access FREE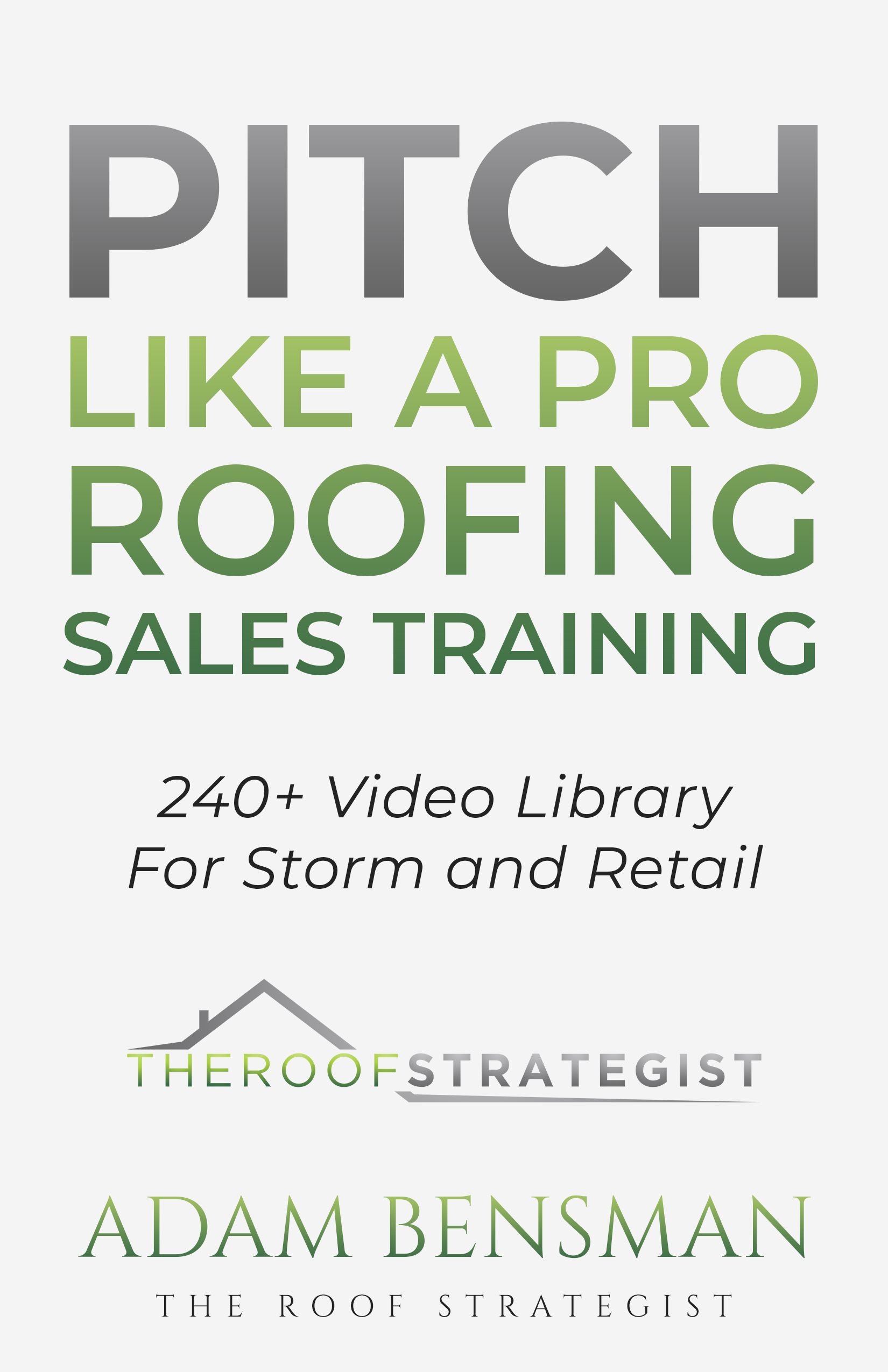 Door-to-Door Roofing Sales: How to Improve Your Pitch & Say the RIGHT Thing
When it comes to the roofing industry, my real passion comes from the fact that anyone — regardless of age, background, education, AND how much money they've made in the past — can earn more money simply by changing what they say.
It's an equal opportunity.
In fact, the sky's the limit when you're:
Engaging in the right sales activities, like sending direct mail letters, cold calling, asking for referrals, etc.
Saying the right thing when you're pitching at the door, overcoming objections, and closing
That's the basis of my all-in-one sales training, sales strategy and sales system, the Roofing Sales Success Formula. If you're interested in that for you or your team, just call or text (303) 222-7133 for more info.
So, the beautiful thing about communicating clearly in roofing sales is that when we change what we say and we communicate well, we can earn anywhere from $5k to $20k/mo. bonuses or more.
One of the ways we close more deals is by getting the homeowner to tell us that their roof is damaged.
D2D Roofing Sales: How to Get the Homeowner to Take Ownership
My roof is fine. When was the last time you heard a homeowner say that?
I remember vividly the first roof I was ever on. I made the mistake of pointing at a tiny black spot on a shingle to show the homeowner the damage.
And the homeowner was like, Are you serious? That's the damage you're pointing out? I don't understand.
That's just it — they do NOT get it.
So, if I get off the roof and tell them, "Your roof is just totaled, or there's a lifted shingle or crease," they do NOT realize:
The significance of that damage
The long-term effects of that damage
That the lifespan their roof has been compromised due to that damage.
So, we need to do these three things instead. We need to explain to the homeowner:
What storm damage is
Why the insurance company covers it
Why homeowners just like them do something about it
This needs to happen BEFORE we show them the photos.
Then, after explaining those three points, here's what I say and do (and how many homeowners respond):
Me: Hey, would you like to see what your roof looks like?
Homeowner: Yes.
Now, I have a great image queued up that tells the story.
Me: Hey, do you see what I'm saying?
Homeowner: Yes.
Me: So, what is it that you see?
That's when they start:
Describing the damage to me

Telling me about the problems on their roof

Taking full ownership and acknowledging that they have a problem
After all, do YOU like being told what to do?
No. No one likes to be told what to do. That's why we give the homeowner the information to come to the conclusion on their own.
And that's exactly what I do in my all-in-one sales training, sales strategy, and sales system, the Roofing Sales Success Formula & Complete Sales Strategy.
This strategy is just ONE tiny little snippet of how to guide homeowners to acknowledge the problem, take ownership of it, and most importantly, see your photos in the right light.
True Story: Why Framing Works
I want to close with a personal story to give you some perspective on this strategy and the tactic of "framing" in roofing sales.
Back in college, I bought a bottle of 10-high whiskey. That's basically grain alcohol. It's really NOT safe for human consumption. It's that bad. We've all probably drank it at one time or another.
So, my friend and I decide to pull a prank with it. We pour the whiskey into a Mason jar and bring it to the party. And we had this whole story.
We start telling people that my uncle owns a small-batch distillery in Kentucky. We say that he made just a couple of cases of this bourbon and it's amazing.
Then, we say that this stuff is selling for like $250 a bottle. "You've GOT to try it," we start telling people.
And what did they do? They grabbed the jar, took a swig, and would have a look of pure disgust on their face. Then, they'd say, "That's delicious."
WOW.
That all happened simply because we used framing. We told a story to manipulate how they would interpret the experience.
Do you know who else is amazing at doing that? Magicians.
If you want some inspiration, watch The Carbonaro Effect. I love watching that show because this magician, Michael Carbonaro, can control the environment and build up to the big reveal so perfectly. He builds and builds to create such a wow factor. He draws you in, controls your attention, and creates the frame in which you're going to experience the big reveal of the magic trick.
The same thing happened with that whiskey in college. I told them how to experience it and what it was all about.
Those are some really fun ways to think about:
The power of framing
How to tell people what they're about to see — This is what storm damage is, why the insurance covers it, and why homeowners just like you do something about it.
So, educate, educate, educate. Ask them what they see, and get them to take ownership of it.
That's going to help you close more deals left and right.
Get More Roofing Sales Strategies, Tips & Videos
If you want to walk through all of this in greater detail — or if you want more on any topic in door-to-door roofing sales — check out my all-in-one sales training, sales strategy, and sales system, the Roofing Sales Success Formula & Complete Sales Strategy.
This exclusive program covers everything from knock to close, with packages for individual roofing sales reps and entire teams. Many roofing sales companies LOVE this program because it's a consistent process to train everybody on a relatable sales system that WORKS and that's a lightning-fast way to get results.
If you have questions, just call or text (303) 222-7133 for more info or a private demo.
You can also subscribe for the latest roofing sales training videos and/or get a copy of my Pitch Like a Pro roofing sales training video library. It includes every roofing sales video I've ever done, organized by category, along with a bunch of tips, tricks, and more. It's great for new people and seasoned veterans, and it's updated all the time to help you and your team smash your income goals and give every customer an amazing experience.
And don't forget to check out my Marketing Battle Pack for instant access to 70+ pieces of my proven, turnkey roofing sales and marketing materials. It's an entire suite, specially designed for sales teams, managers, and owners, providing:
Scripts
Scheduling
Direct Mail Letters
Door Hangers
Goal Projection Planners
A LOT more!
It's affordably priced and comes with a 100% money-back guarantee. There's also a playlist of instructional videos in there, explaining every single thing. So, you can watch the videos, and you'll know exactly what to do.
Thanks for joining me, and I look forward to sharing more with you in the next blog.