Winter door knocking. Roofs may be covered in snow.
If you're in the Northern markets, you're going from having no snow to getting buried in it and spending too many hours playing video games all day, wondering how to keep your pipeline full.
And here's the bigger question — Can you knock on doors in the winter?
I'm going to answer that question for you here.
Welcome or welcome back, by the way. My name is Adam Bensman, The Roof Strategist. I'm here (and on my YouTube channel and my podcast, on Apple and Spotify) to help you and your team smash your income goals and give every customer an amazing experience.
Before We Dive in: Roofing Sales Training Program Updates
I have couple of updates to share with you. We're rolling out some brand-new additions to the Roofing Sales Success Formula, our all-in-one roofing sales training strategy and system that's in use today by thousands of reps across the U S.
We're adding new programs and new letters, we're making additions to the Battle Pack, and we're updating the overall appearance of our training dashboard because we have three missions here at The Roof Strategist. Our mission is to:
Create amazing experiences.
Always be improving (Hence, the program additions and keeping things current, so you can perform at your peak and gain a competitive edge against everyone else).
Be human.
The reality is we are all working with the same time each and every day, and I value of yours. I also want to share a quick offer with you — get my Pitch Like a Pro roofing sales training video library that has all my videos organized by category.
Now, let's dive into winter door knocking.
FREE "Pitch" Like a Pro Roofing Sales Training
240+ Video Library for Storm and Retail
For Roofing Sales Reps & Owners With New Hires: All the training you need to be a "million dollar" closer!
Get Instant Access FREE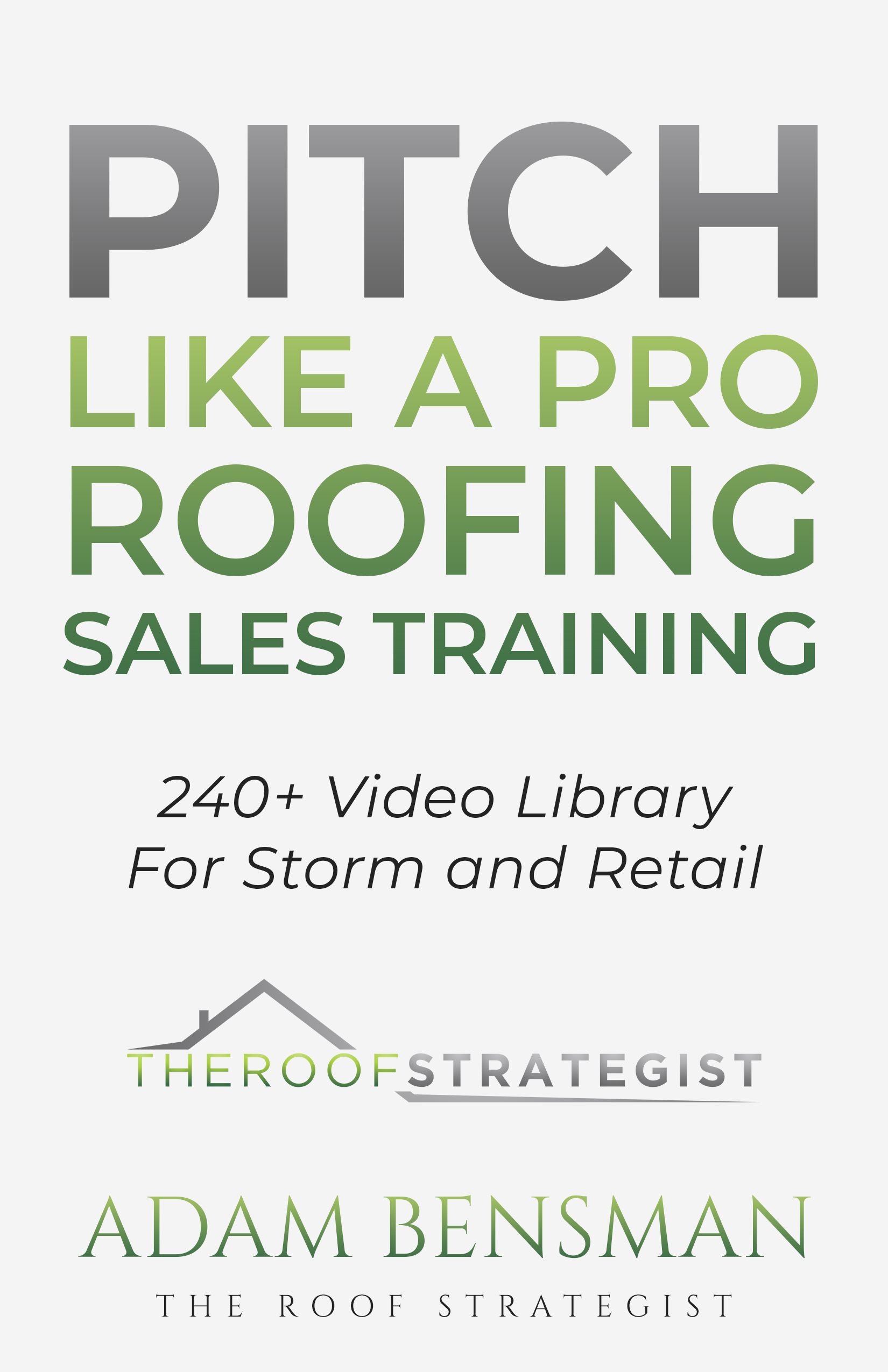 Roofing Sales Door Knocking Myth: You Can't Knock on Doors in the Winter
What do we do in the winter? How are we supposed to generate business during those cold or even freezing winter months?
If it's January in Colorado, for instance, it doesn't feel like a friendly time to be canvassing neighborhoods.
BUT winter should not prohibit you from engaging in roofing sales activities.
So, can you knock on doors in the winter?
YES, you can knock on doors and generate business during the winter. There are some limitations, of course, but right now, we're going to jump into a few key things you can be doing in the winter.
And when I say "door knocking" in the winter, I don't necessarily mean that you're going to be able to immediately get on the roof. But if you can safely access a portion of the roof without snow, then go ahead and do that.
So, don't buy into the myth, no matter how cold it is.
You CAN be out knocking on doors and getting those claims filed no matter how cold it is.
Winter Roofing Sales Tip #1: Set Up Appointments
In the winter, we all know it gets dark early. If you're out knocking on doors in the winter, it can start to get dark at around 4:30 p.m. to 5:00 p.m. That's usually primetime to be out knocking on doors in roofing sales.
What should you do if it's getting dark earlier?
Set an appointment to come back later.
So, you can set that appointment for a future date and time. It doesn't matter how far it is. Keep that pipeline full.
So, YES, knock on doors during the winter and set up appointments. Do what you can to start generating leads and keep your hopper full.
Winter Roofing Sales Tip #2: Seek Out Referrals
Winter is a great time for referral relationship building (check out my video on Rich Referral Building for 10X the Customers, as well as my entire Playlist on Referrals).
You want to sew those seeds. By the way, on one of my favorite podcasts, The Jordan Harbinger Show, I love what Jordan Harbinger says, which is that:
You have to dig the well before you're thirsty.
And this referral relationship building is how you plant those seeds.
Now, we can start getting those referrals from our current customers by doing very simple things like, saying:
Hey, by the way, while you're here, do you own any other properties?
Do you know your neighbors' names?
Those are very simple questions to ask. So, put them out there and ask for those referrals from your current customers.
Winter Roofing Sales Tip #3: Leverage Direct Mail
Direct mail can help you get the phone ringing, so you're continually locking in those appointments. That's important when you have an end-of-season storm date and you can only work up until a certain point.
In retail roofing sales, we have a very real sense of urgency too, especially when it comes to material shortages, labor shortages, and time delays to get things done. And we need to keep the hopper full because people tend to drag their feet until the last minute — and, then, suddenly, everyone's doing the same kind of cycles.
They wait through winter until summer when kids are on break and they're on vacation. So, there's this constant procrastination that we want to move up.
By doing your outreach and building those relationships now, you can keep your hopper full while also exercising your sales muscles.
And direct mail is a very, very powerful way to drive sales (I have an entire playlist on direct mail in my Pitch Like a Pro roofing sales training video library if you'd like more on this topic).
Winter Roofing Sales Tip #4: Dig into Your Existing Pipeline
A while back, I did a video on the Pile of Cash that's Hiding in Your Pipeline Right Now and the different ways to start sorting through those old leads.
As we get busy, it can be hard to keep up with referrals.
In fact, when the phone's ringing non-stop, you could end up with unexpected new problems, like:
How do I keep up?
I can't keep up. I have new business that I literally can't sign.
When we get this busy, we need to be focused on not getting lazy in the winter.
You have some breathing room in the winter, so you can now turn your attention back to the pipeline and your CRM, going through that CRM and pulling out any of those opportunities that are hiding in there.
Winter Canvassing & Door Knocking in Roofing Sales: The Bottom Line
So, can you knock on doors in the wintertime?
ABSOLUTELY.
If it's safe and you have access, sometimes, all you need is access to the southern slopes of the roof. And if you're working storm damage claims, we know that if one slope is damaged, the others are too.
The point is that you need to ask yourself "How?" You need to think, How can I overcome this challenge?
Because it's way too easy to think to yourself:
Oh, I can't knock on doors today because it's cold outside. I can't knock on doors because no one's going to want me up on the roof because there's a little snow. I can't knock on doors today.
I assure you that you will come up with many reasons why you cannot do something.
The good news is you can also set your heart on how to overcome those obstacles. You can get focused and put your mind to accomplishing it, the same way you would if someone tells you couldn't do something.
Empower yourself by focusing on creative ways to generate business.
And these roofing sales strategies are a great place to start because you can use to be making sales all winter long. So, do not let the weather or anything hold you back. Your mission is to figure out what you can control and use that to your advantage.
Here's to you making sales all winter.
Get More Roofing Sales Strategies, Tips & Videos
Subscribe for the latest roofing sales training videos and/or get a copy of my Pitch Like a Pro roofing sales training video library. It includes a ton of videos on referrals, direct mail, and roofing sales strategies for earning more, as well as every video I've ever done, organized by category, along with a bunch of tips, tricks, and more. It's great for new people and seasoned veterans, and it's updated all the time to help you and your team smash your income goals and give every customer an amazing experience.
Also, check out my Marketing Battle Pack for instant access to 70+ pieces of my proven, turnkey roofing sales and marketing materials. It's an entire suite, specially designed for sales teams, managers, and owners, providing:
Scripts
Scheduling
Direct Mail Letters
Door Hangers
Goal Projection Planners
A LOT more!
It's affordably priced and comes with a 100% money-back guarantee. There's also a playlist of instructional videos in there, explaining every single thing. So, you can watch the videos, and you'll know exactly what to do.
Thanks for joining me, and I look forward to sharing more with you in the next blog.