Here is the WORST advice that's widespread in roofing sales:
Sales is just a numbers game.
THAT IS GARBAGE.
I hear it ALL the time, and for some reason, we're telling our new hires and seasoned veterans this. Sales is just a numbers game, is treated like an age-old "truth."
It assumes that you could just like to pluck anybody off the street, even a little kid, dropping them into roofing sales and saying:
Ok, kiddo — go hit some doors!
It's just a numbers game. You hit a hundred, and you'll make a deal!
No. That's not the reality of it, and this does lead to:
False expectations
Continual failure
Possibly second-guessing yourself
In fact, if you've been given this advice, you could start second-guessing yourself if nothing's happened for you yet even after you've hit all these doors. It can leave you wondering what you're doing wrong and why things aren't working for you. It can leave you thinking:
If sales is just a numbers game and I'm doing more, why don't I have those results?
That can turn into stagnation with no improvement. After all, if we're focused on the numbers alone, we're focused on the wrong thing.
So, that advice is total garbage. That's why I want to reshape our relationship to this widespread, horrendous advice that "sales is just a numbers game."
In fact, the truth is that:
Sales is partially a numbers game.
The numbers part depends on two elements.
I'm going to teach you those two elements here, so you can:
Rewire your focus on these two things.s
Sell even more, even faster, and even easier without having to get in front of as many people, whether you're self-generating leads in storm damage or leads are coming into your office on the retail side.
Before we dive in, I first want to say a quick welcome or welcome back. My name is Adam Bensman, The Roof Strategist. Everything I do is designed to help you and your team smash your income goals and give every customer an amazing experience.
And I do what I do because I estimate that:
About 66% of roofing salespeople quit or get fired in their first year.
There's MASSIVELY high turnover in the roofing sales industry.
I believe that all stems from:
Not equipping people to succeed: This includes mentally preparing people by setting realistic expectations — and NOT giving them the garbage advice that "sales is just a numbers" game.
Not preparing folks for rejection: This means being prepared for the difficulties and challenges of overcoming their own inner demons.
Not being tactically prepared: This means not knowing what to really do or not having the right tactics.
I can help with that, and I'm glad you're here. If you like this and want more, you're going to love what's inside my FREE training center. Just click that link or text the "FREE" to (303) 222-7133.
Now, let's rock and roll.
FREE "Pitch" Like a Pro Roofing Sales Training
240+ Video Library for Storm and Retail
For Roofing Sales Reps & Owners With New Hires: All the training you need to be a "million dollar" closer!
Get Instant Access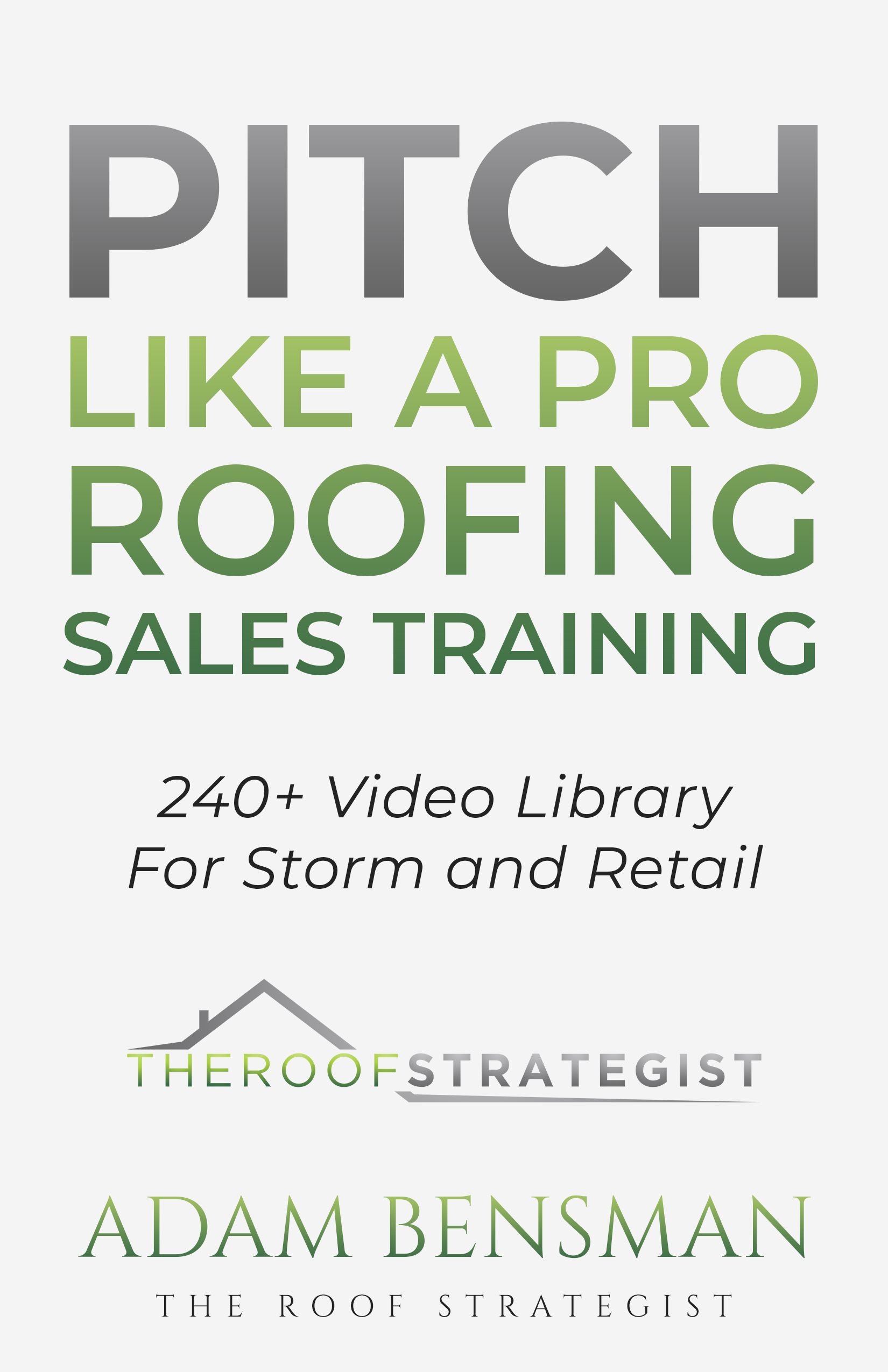 Roofing Sales: Why It's NOT Just a Numbers Game
Sales is NOT just a numbers game; it's partially a numbers game. Most importantly, though, it's based on two elements that I'm going to teach you about here.
I'm going to get into some stories — just a couple from the hundreds and hundreds and hundreds of stories on our website — to showcase that I'm NOT making this stuff up.
In fact, you can check out more of these stories and learn more about our system by clicking here. Just scroll down a bit to see literally hundreds of unsolicited results, reviews, and success stories.
Here's what you'll see when you do.
These people were so moved that they messaged me. So, we posted some of their results and messages — and we've received SO many that we haven't even had time to upload them all yet.
Setting the Record Straight: What Really Matters in Roofing Sales
Sales is NOT just a numbers game — that's garbage. Instead, sales is two BIG things. It's:
Your list
Your pitch
Let's take a closer look at each.
Your List in Roofing Sales
Imagine you work in a call center. Your list would be the names and phone numbers you have to call. Outside of call centers, your list is whoever you're trying to sell to — your list of homeowners, addresses, and/or neighborhoods.
Now, if sales were just a numbers game, all I would have to do is just hit all names, numbers, addresses, or doors — hit everyone on my list — and I should get the results.
But if 8 out of 10 names on my list do not need what I'm selling, I ONLY really have the opportunity to sell to 2 people on my list today. Now, with the other 8, I can use other strategies, like:
Direct mail
Sending letters
Taping a letter on their door
With those roofing sales strategies:
Homeowners typically see your letters and read them (especially if you're following my training program).
You get the chance to make a first impression before you actually meet face to face.
When you do show up, you can say, Hey, I'm Adam. The reason I'm stopping by today is that I actually left you a letter at the door. In fact, I took the time to send you a letter in the mail, and I wanted to stop by and ask what questions he had for me about the letter I sent you.
Now, I'm spending all of this time in this neighborhood. Hopefully, those systems work.
By the way, that's A LOT of effort for just 10 people, but those WILL lead to sales. So, let's say I have 10 people on my list, and I get two deals. Wonderful, but:
That's A LOT of work.
It means the majority of my efforts were spent on a list.
So, with a list of 80 people and me only working 10, is that an efficient use of time? NO, it's not.
Now, would you say that sales is just a numbers game then? Probably not.
The truth is sales capabilities in the roofing industry are limited by one thing — TIME.
That is why I do NOT want to:
Waste my time on opportunities that are not there.
Waste sending letters to the other 50 homes that were already roofed or the 20 that are under contract with other roofers.
Instead, I need to focus on the right list next.
The prospects you target are FAR more important than the numbers because you don't want to waste your time with people you can't help.
Your Pitch in Roofing Sales
Your pitch is the next critical piece of the puzzle in roofing sales.
Now, there are people like Matthew who are on our Results page (we call it our Wall of Proof), sharing their stories. Here's what Matthew has in our Wall of Proof:
My sales team who couldn't close a deal to save their life is closing five to seven deals a week using your system.
That's each person, by the way, which means each sales rep is doing between 20 and 28 roofs per month from none.
Why? Because THEY HAVE THE RIGHT PITCH.
Would you agree that if you had a stronger pitch and you pitched to just the same number of people, you'd have more sales?
The math and logic line up here.
Would you also agree that if I could get the right list, target the right people with a great pitch, I'm going to make a boatload of money?
YES, that is going to happen. In fact, that's exactly what happened in these two stories.
The Power of the Right List in D2D Roofing Sales: Story 1
A gentleman emailed me, writing:
Over the last two weeks, I stumbled across your videos.
I watched a bunch of them, and I ended up learning the SECRET to door knocking and referrals just in time.
And the next time I went out, I got 11 leads in a total of 4 hours. That was between two days and two streets in one small town.
Then, today, I had 5 referrals during my 9 appointments. WILD.
So, the right list in the right neighborhood focused on the right homes — meaning the homes of prospective buyers — WORKS.
How the Right Pitch Can Drive Success in Roofing Sales: Story 2
The next story is about a gentleman named Ty. He emailed me, writing:
Hey Adam. I want to thank you again for taking the time to respond to these messages.
It really means a lot to me that you honor your word and deliver great customer service.
Lately, I've been using your referral program cheat sheet with my homeowners, the way you teach in your videos and the results have been PHENOMENAL.
Now, I'm going to pause here for a moment. The referral cheat sheet and the strategy I teach are parts of My Sales System. This system is being used in every state in the U.S. by many, many thousands for storm and retail, from individual sales reps and roofing companies just getting started to quite a few of the largest roofing companies in America.
The referral cheat sheet Ty mentioned is a printout that goes in the packet that you give to a customer right when you sign the deal. Yes, by the way — you CAN start asking for referrals right then and there.
I do things differently because most people in roofing sales have referral programs that:
Require the homeowner to sign a friend up for a sales appointment
Pay out a referral fee, like $200 to $500, only after about 8 weeks, once the referred customer has signed, the roof is done, and the roofer has been fully paid
This system can plant all these seeds in their mind, like:
Do I really want to throw my friend in a sales appointment?
Am I actually going to get paid this referral fee?
How long is going to take to get paid the referral fee?
How much money are you making off me?
Why don't you just give me a bigger discount then?
Instead of that, I have a really simple system in a YouTube playlist called Referral Madness. Check that out to learn the philosophy, strategy, and more.
Back to Ty's email, next, he wrote:
I went from barely getting one referral last season to now getting at least 2 to 3 referrals per homeowner.
How did that happen?
Ty is spending his time:
Closing the RIGHT LIST
Getting in front of the right people
Using the RIGHT PITCH to convert those appointments into done deals
Using the RIGHT PITCH for the referral strategy to bring more deals in
That is why I believe that the WORST advice in roofing sales is that "sales is just a numbers game" —  because it is NOT.
In fact, the best salespeople out there are in front of fewer, more qualified people because they're very smart about:
Their time
Their list
Their pitch
When they put these together, they can sell even more roofs, even faster, even easier. That's why the newbies look up to them. The best salespeople:
Have the right list and the right pitch
Can sell and get more referrals without hitting as many doors.
Want More Roofing Sales? Or Training For Your Team?
We've helped thousands of sales reps overcome the same sales challenges you're probably facing. Like not getting enough leads, getting stuck on objections, or not closing sales in the house.
Learn how we can help you:
Get trained up in a lightning-fast 9.5 hours
Self-generate more leads
Become a confident closer
Pick a time for your 1-on-1 demo.
Or use the links below to get instant access, 100% Risk Free! Backed by our 30-Day 'NO BS' Money Back Guarantee.
Thanks for joining me, and I look forward to sharing more with you in the next blog.