I'm going to teach you how to crack open a new neighborhood by outlining the five absolute worst ways to do it. Truthfully, these are some of the most common mistakes that people make when trying to make their first sale in a new neighborhood.
Alongside of those worst ways, I'll also share the five BEST ways to crack open that new neighborhood.
Whether you're brand new to roofing sales or you're a seasoned veteran, this is going to apply to you because, often, we're all up against it when it's time to make our very first sale in a new neighborhood.
We have an uphill battle, and all it takes is that first sale in a neighborhood to build that momentum that carries you forward.
So, I'm going to teach you the five worst and the five best practices to crack open a new neighborhood.
Welcome or welcome back, by the way. My name is Adam Bensman, The Roof Strategist. Everything I do here — and on my YouTube channel, my podcast (on Apple and Spotify), and inside the Pitch Pro Movement — is designed to help you and your team smash your income goals and give every customer an amazing experience.
Now, let's dive in.
After each worst way or mistake I share, I'll also explain the best practice to use instead.
FREE "Pitch" Like a Pro Roofing Sales Training
240+ Video Library for Storm and Retail
For Roofing Sales Reps & Owners With New Hires: All the training you need to be a "million dollar" closer!
Get Instant Access FREE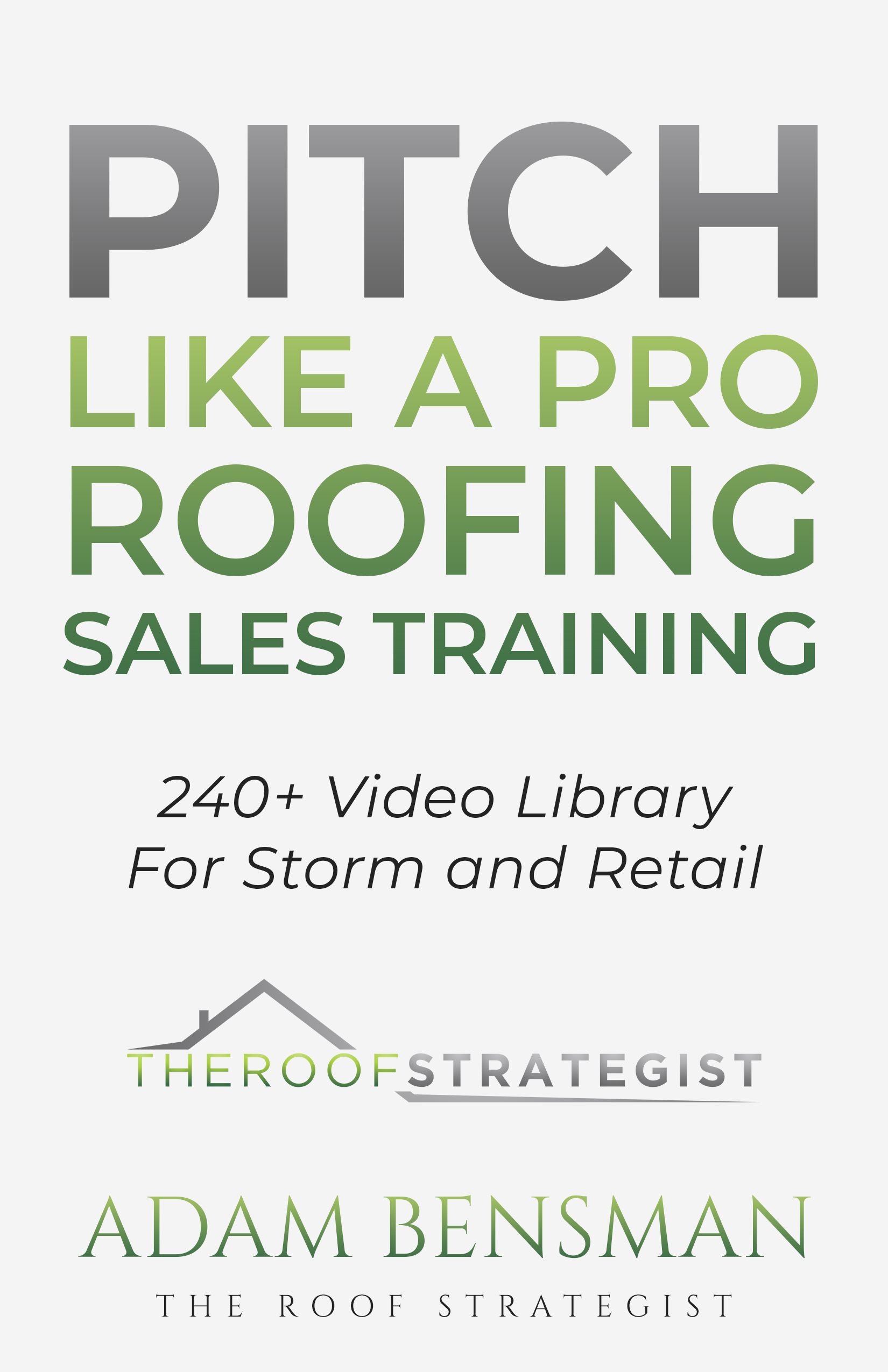 Roofing Sales Mistake #1: Taking Your Time
I often see a lack of urgency, with reps taking their time. So many people will be out in the field, lollygagging around.
This is a mistake because time is money in the roofing sales industry.
We have to think as if ALL of the homes need a new roof, like they're fruit on a tree. When it's time to harvest — like when there's a severe weather event, it's storm season, or a neighborhood of homes need roofs — we know that all other roofers want to pick the fruit before it's inedible, it rots on the tree, or it's harvested by other roofers.
Remember, time is money. Taking your time is one of the worst things you can do.
You don't want to be able to be casual. Time is money.
Think of yourself like an emergency dispatcher. You have to get to the scene as fast as possible to help. So, taking your time is the worst thing you can do.
Roofing Sales Best Practice #1: Speed
It's important to be speedy. Time is money.
And it doesn't matter if you're late on a storm (my very first selling season started eight weeks late).
There are still opportunities out there for you. You just need to find them.
Roofing Sales Mistake #2: Using the Drive-Around Method
This is when you burn money and you hemorrhage time, driving around the field and aimlessly looking for the "best" opportunity. You're putting miles on your car or truck, and you're wasting gas.
The reality is that you're probably just trying to avoid getting out of your car or truck and knocking on doors.
Roofing Sales Best Practice #2: Have a Plan
Instead of just driving around and figuring it out as you go, you need to have a plan. Now, there are a lot of different ways to have this plan.
I've done a few videos on this, including one on Digital Scouting. This is a way for you to use hail maps, severe weather maps, or public data to sort homes based on build date if you're in the retail world.
Whatever you use, you need to:
Do your scouting
Plan out which area or neighborhood you're going to first
Have a plan to get to your destination quickly, so you not burning time driving around aimlessly
Roofing Sales Mistake #3: Showing Up at the Wrong Time
Many people in roofing sales get excited to go out and start knocking doors, and they go out during the middle of the day.
I've done a video on the Best Time to Knock Doors. It's important for you to keep a pulse on the neighborhood because each neighborhood can be different.
And you're going to find some areas where retirees are home during the day.
So, remember, don't go out at the wrong time.
Roofing Sales Best Practice #3: Go at the Right Time
What is the right or best time to go knocking on doors?
It depends on the day and the community.
Generally, though, the prime times are shown in the table below.

The bottom line is that you want to go out at a time when you know you can make sales. Also, remember:
You can still be out, knocking on doors, as it gets dark. You can just use that time to line up your appointments and inspections.
Be respectful of people's time and be thoughtful about when you're showing up. You don't want to show up at 9 p.m.
What about Sundays?
Every market is different. In some communities, it's not appropriate for religious reasons. So, don't knock on doors on Sundays in those areas. In other, less conservative communities, it's totally acceptable to be knocking on doors on Sundays. And, sometimes, you won't know until you try.
The worst thing you can do is piss someone off by knocking at the wrong time.
But guess what?
You're going to end up pissing some people off in door-to-door roofing sales. It happens. We can't please everybody. So, again, one of the worst mistakes when you're trying to open up a new neighborhood is showing up at the wrong time.
When you're getting into a new neighborhood, stack the cards in your favor and show up at primetime — that's 3 p.m. to 7 p.m., Monday through Friday, or 10 a.m. to 3 p.m. on Saturdays.
Roofing Sales Mistake #4: Cherry-Picking
Cherry-picking is when we drive around, looking for the perfect house that speaks to us. This can be a good tactic sometimes but not when we're trying to crack open a new neighborhood. I've been guilty of this. I'm driving around, and I'm just waiting for my Spidey Sense to tingle. You start thinking:
When's a good opportunity?
Is the homeowner outside?
Can I catch them at the prime moment?
Again, I've had really good success doing this at times but NOT when I'm trying to open up a new neighborhood. That's because it's a game of numbers, and I need to be knocking on doors to drive results and get traction. I need to start talking to people to have a reason to be there.
So, cherry picking is not a good way to open up a new neighborhood.
Roofing Sales Best Practice #4: Hit Every Home
Instead, focus your time on hitting all of the homes down the street.
Don't cherry-pick or wait for that right or easy opportunity.
Hit ALL the homes on the block.
Roofing Sales Mistake #5: Taking the One-and-Done Approach
This is probably the worst mistake in roofing sales, followed by the BEST advice. Honestly, if I could only give you one piece of information, it would be this — don't make the one-and-done mistake.
This is when you knock on the door, no one's home, so you move on to the next neighborhood. Or maybe you were rejected at the first door, so you move on to another neighborhood. And then rinse and repeat.
With the one-and-done method, you make the mistake of thinking you worked a neighborhood after just knocking on a couple of doors without any luck.
No, you didn't work that neighborhood. You barely even started.
Roofing Sales Best Practice #5: Take a Multi-Touch Approach
The best practice here is what I call the "multi-touch-marketing approach." I've done an entire video on the Multi-Touch Approach. It blends all of the touches you need to become familiar.
After all, who do you buy from?
People you know, people you like, and people you trust, right? That's Sales 101.
So, let me ask you if you show up one time, do they know you yet?
No, they have no clue who you are. And if you're a smaller company or if you've never been in that neighborhood, you will never get traction because you are fighting an uphill battle.
But when you pair the SLAP Formula that I teach with a multi-touch approach, you can build familiarity because you're:
Showing up
Leaving a letter at the door
Showing back up
Sending a letter in the mail
With each visit, you have a reason to be there that is relevant to that homeowner. There's a familiarity that builds from seeing you in the neighborhood, driving by your yard sign, and hearing the neighbors chattering about you. Suddenly, you become the world's largest roofer.
It doesn't matter if you have a billboard, a $50 million marketing budget, or whatever else. The only thing that matters is the people you're serving in that neighborhood.
So, your mission is to get in the neighborhood and then stick and stay to get in that neighborhood. Some folks may even camp out in a new neighborhood to breathe familiarity.
More on Multi-Touch Marketing in Roofing Sales
Before we wrap up this entire concept of the multi-touch approach for breaking into your first neighborhood, I want to share a few things with you. First, check out my video on my Multi-Touch Marketing Approach for a deeper dive into that.
You can also get more on the multi-touch approach as an add-on to the Battle Pack or as an add-on to my Complete Sales Strategy. With this add-on, I help and guide you through a 7-day sprint, literally telling you what to do, what to say, and what materials to use — I walk you through it all while giving you access to the materials you need.
You can also take it up another level, with access to the Roofing Sales Success Formula, which is the Battle Pack, plus my sales strategy, canvassing strategy, the objection strategy, closing strategies, and ground-up training for everything you need to dominate a neighborhood after you crack it open.
Of course, we have to crack open that neighborhood first.
Recap: The Worst vs. the Best Ways to Open Up a New Neighborhood
Doing a quick summary, check out the table below for the five worst versus the five best practices for opening up a new neighborhood.
Want More Roofing Sales Strategies, Tips & Videos?
Subscribe for the latest roofing sales training videos and get a copy of my Pitch Like a Pro roofing sales training video library. It includes a ton of videos on roofing sales best practices, as well as every video I've ever done, organized by category, along with a bunch of tips, tricks, and more. It's great for new people and seasoned veterans, and it's updated all the time to help you and your team smash your income goals and give every customer an amazing experience.
Also, check out my Marketing Battle Pack for instant access to 70+ pieces of my proven, turnkey roofing sales and marketing materials. It's an entire suite, specially designed for sales teams, managers, and owners, providing:
Scripts
Scheduling
Direct Mail Letters
Door Hangers
Goal Projection Planners
A LOT more!
It's affordably priced and comes with a 100% money-back guarantee. There's also a playlist of instructional videos in there, explaining every single thing. So, you can watch the videos, and you'll know exactly what to do.
Thanks for joining me, and I look forward to sharing more with you in the next blog.